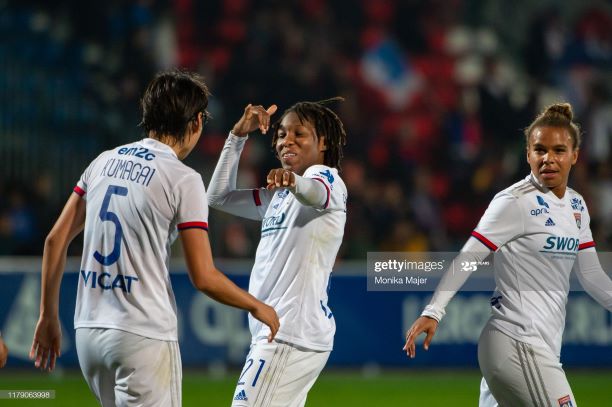 Olympique Lyonnais are gunning for yet another European crown. However, this year may be their toughest challenge yet.
Star striker and all-time UEFA Women's Champions League top scorer Ada Hegerberg has yet to recover from an ACL rupture in January, leaving them with a massive gap to fill in their attack to fill in. This is without mentioning the not inconsiderable task of getting past Bayern Munich in the quarter-finals.
No Ada, no party?
It cannot be overstated how important Hegerberg is to this Lyon attack. The Norwegian striker has scored a ridiculous 144 goals in just 118 league matches for the French outfit, as well as 34 goals in as many games on the European stage. She was a Ballon d'Or winner in 2018, the first female recipient of the award and is still arguably one of the best female footballers in the world.
So how do Lyon replace her?
A potential stand-in striker that would be familiar to English viewers is, of course, Nikita Parris. The Lionesses regular has been an effective force upfront for Lyon this season, bagging 17 goals in her 23 matches so far this season for Lyon. She would also seem to be the intended replacement for their missing star as she took Hegerberg's centre forward role for the Women's French Cup semi-final victory over Guingamp on Sunday.
Another alternative could have been Jessica Silva. The Portuguese forward had only played a bit-part role in Lyon's season, only making six appearances, but she had been trusted in the Champions League. Silva played in three of Lyon's four matches and scored once.
However, Silva suffered the same ACL injury as Hegerberg in March and will likely be facing a lengthy stretch on the sidelines. Silva's injury has left Lyon's attacking options seriously depleted, with the French giants unable to field a full bench against Guingamp.
The only other option at Lyon's disposal is Eugénie Le Sommer. The 31-year-old has been a Lyon player since 2010 and has always been a regular through their glory years, though she has made just over half as many appearances this season as she did in 2018/19.
Like Hegerberg, Le Sommer has been a remarkably consistent scorer for Lyon. Across her 307 games for Lyon, she has netted 268 goals, including four seasons where she netted more than 30 goals. Despite her many years of service and remarkable scoring record, she will likely occupy the position on the right that she took up against Guingamp.
Munich in the way
Unlike in the men's game, Bayern Munich are far from the dominant force in Germany. Instead, they operate in the role of second best, behind Wolfsburg in this case. However, this reflects better on Wolfsburg than it does on Munich.
Domestically, Wolfsburg are unstoppable. They are enjoyed an unbeaten season in the Frauen Bundesliga and only dropped points twice. Despite this, Bayern still have a fearsome record. They won 17 of their 22 league matches and only lost twice. Victory will not come easily.
However, unlike their French counterparts, they have not blitzed anyone in Europe. Bayern only got past the round of 32 against Göteborg on away goals courtesy of a 93rd-minute goal from Mandy Islacker in the first leg.
The Germans managed to beat Kazakhstani outfit BIIK Kazygurt in the round of 16 with an aggregate score of 7-0, but this pales in comparison to Lyon's 11-0 and 16-0 score lines. Even without Hegerberg, Lyon would still have 18 goals which is double Bayern's tally.
Only three Bayern players have scored more than once so far in Europe. These are Islacker, Carina Wenninger and Lina Magull who have all scored twice. For comparison, Lyon have three without Hegerberg. Even in the league, their top scorer only finished ninth in the Frauen Bundesliga scoring charts, this being Jovana Damnjanović with 11 goals. Lyon are clearly a far more free-scoring team than their German opponents. However, without their star player and a paper-thin attacking complement this could still change.
Another factor to consider is that Lyon still haven't concluded their domestic season. A week before the match, they played a cup final against Paris Saint-Germain to wrap up their domestic double. This is in contrast to Bayern, who ended their season on 28 June. This could spin in one of two directions, either Bayern will be fresher and with a greater level of focus and preparation or Lyon will have their competitive edge and use it to their advantage.
The days of Lyon facing minnows are done and they will face a much tougher ask in Bilbao.