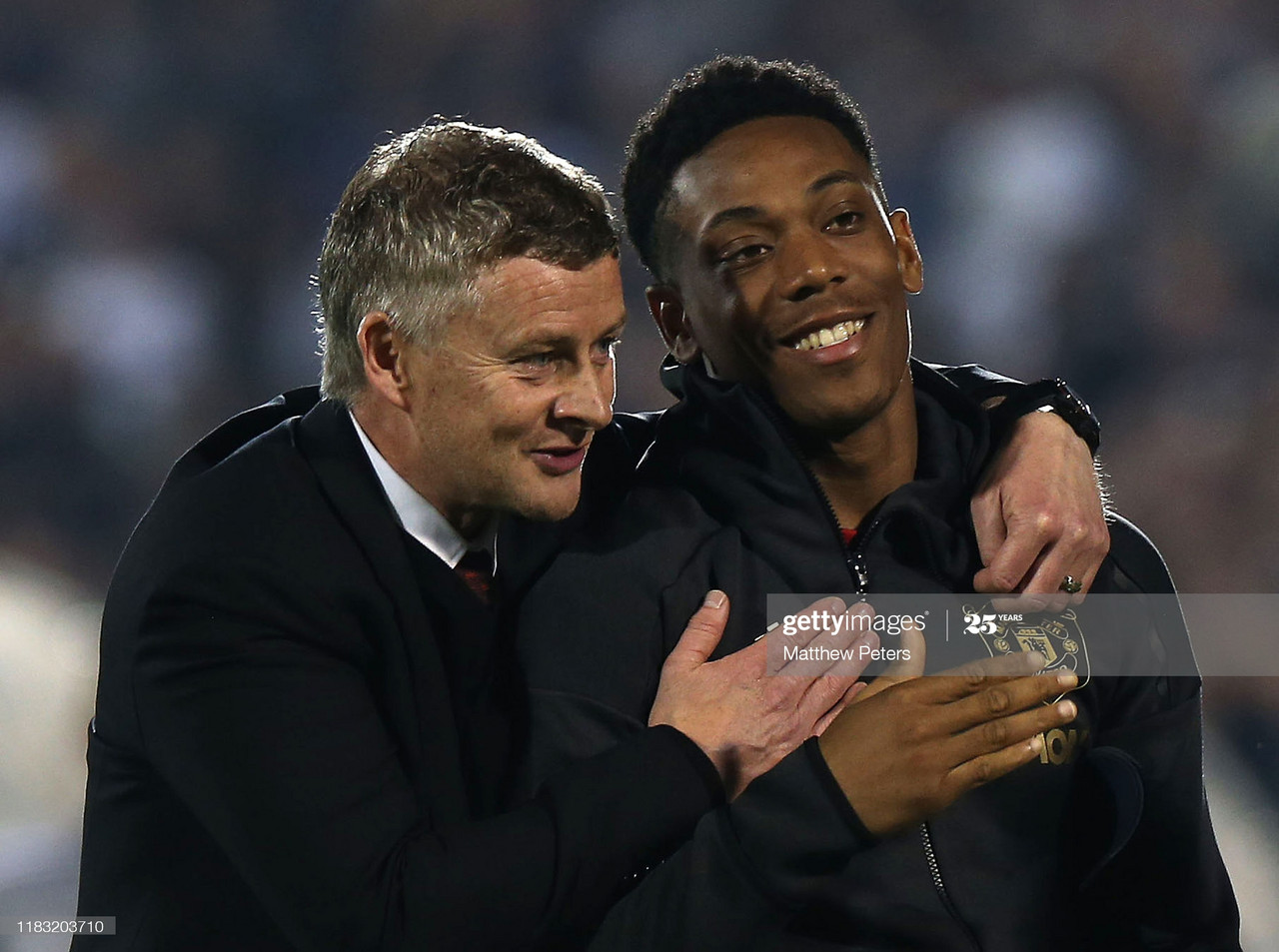 Manchester United striker, Anthony Martial, is thriving under Ole Gunnar Solskjaer and the United boss has recognised the French goalscorer's development.
Teammate and signing of the season, Bruno Fernandes, has stolen the spotlight after scoring 11 goals and assisting eight in his first 21 appearances for the club. The Portuguese midfielder's last three goals have come from penalties, all of which Martial earned.
Many were unsure where goals would come from when United failed to replace Romelu Lukaku but Martial has killed that concern.
Solskjaer says Martial is 'impossible to stop'
Solskjaer has heaped on the praise for his striker who has looked a different player since the Norweigan manager's arrival. Not only has his performances improved, but it seems his attitude and body language have followed suit.
Under Jose Mourinho, Martial was either pushed out to the wing or the bench when Zlatan Ibrahimovic arrived and stole his number nine shirt.
Martial won yet another penalty on Monday night in their 1-0 win vs Copenhagen. Fernandes converted the penalty to send United to their 17th European semi-final.
"He's [Martial] impossible to stop at times, when he gets the ball into his feet and he drives at people. His balance, he can go either way. So the only thing now is to put that ball in the net again," Solskjaer said.
In Solskjaer's pre-match press conference he admitted he believes Martial is at the 'best level of his career': "Physically, he is at the best level of his career and I'm just looking forward to seeing him improve. There's more to come from him."
Martial is United's current leading goalscorer with 23 goals in all competitions and has contributed 12 assists. 20 of his goals this season have come from inside the box.
Favourite for United's player of the season?
In a season that took United months to find their rhythm, they have a few clear favourites for player of the season.
Fernandes joined in January and arguably saved United's season, Marcus Rashford was in the hottest form before he suffered a back injury but Martial has been present in 48 games from a possible 60.
Martial has scored the same amount of goals this season as he did in the 2017/18 and 2018/19 seasons combined.
United have not had an attacker named as their player of the season since Javier Hernandez back in the 2010/11 campaign.
For United and Martial their everlasting season continues when they play either Wolverhampton Wanderers or Sevilla in the semi-final of the Europa League on Sunday night.