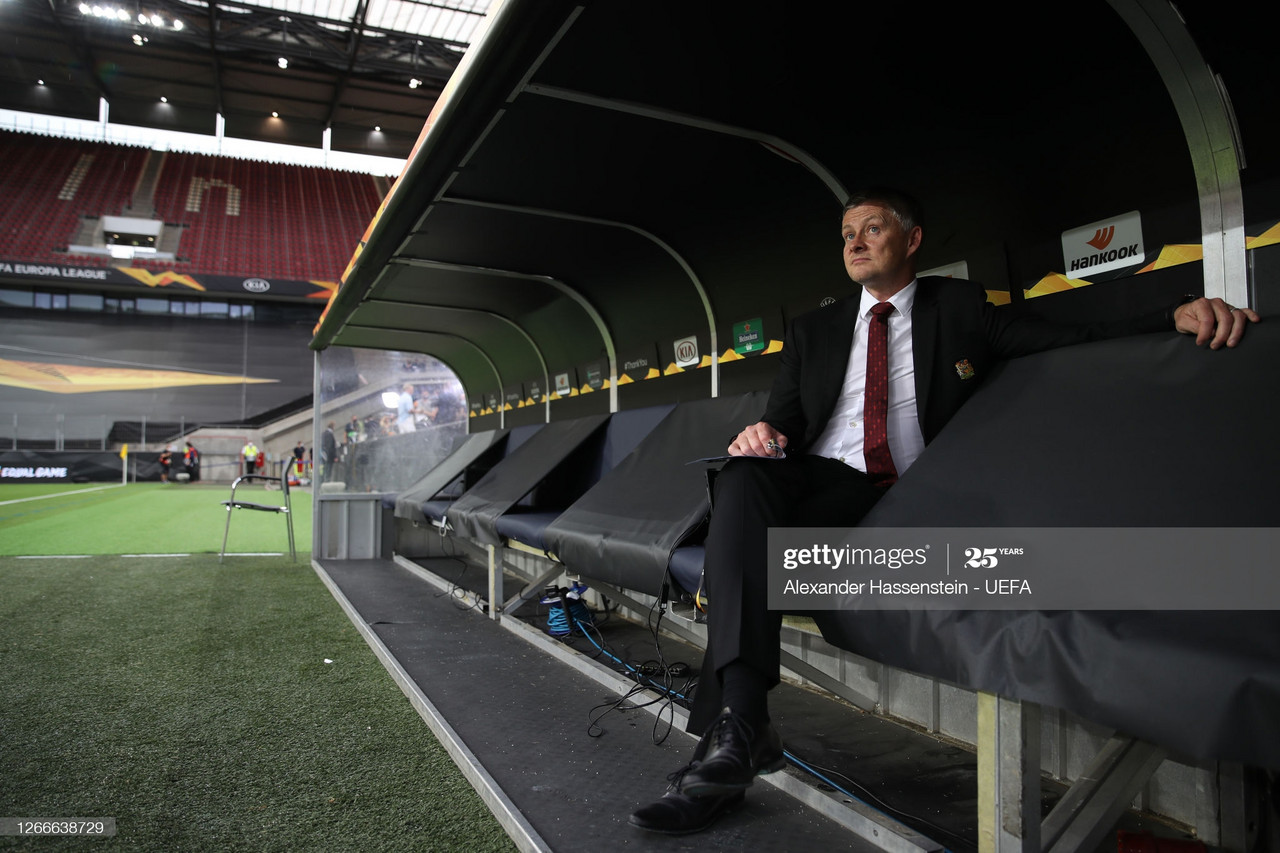 The 87th minute. That's when Ole Gunnar Solskjaer made Manchester United's first substitution (a triple change) after they went behind against Sevilla in the 78th minute of the Europa League semi-final in Cologne.
With a good percentage of the Man United starting XI already appearing jaded at various points during the second half, Solskjaer still kept delaying some obvious substitutions after multiple nervous glances towards the resources available to him off the bench.
Solskjaer has just under a month to prepare
With Man United's 2020/21 Premier League season set for a delayed start against Crystal Palace on September 19th at Old Trafford, Solskjaer has roughly 25+ days to ideally shape his squad with the necessary reinforcements, although the transfer window remains open till October 5th.
After a relatively successful 2019/20 campaign post-restart, why are questions being raised regarding the ability of this squad to perform at the highest level next season?
Well, after the addition of Bruno Fernandes in January, United have a fairly strong and well-drilled starting XI that is capable of playing possession-based football as well as hitting teams on the counter. But, with a very high number of games to be played next season at the highest level across the Premier League, Champions League, FA Cup and the League Cup, depth and quality well beyond the first XI is a bare minimum.
Six United players didn't miss a minute after the restart
As per an article by Chris Wheeler in Sportsmail about Man United's lack of squad depth, out of ten Premier League players who played the maximum number of minutes since the restart on June 17th, six of them are Manchester United players including the likes of Bruno Fernandes, Harry Maguire, Marcus Rashford, Anthony Martial, Aaron Wan-Bissaka, and Paul Pogba.
That is a clear reflection of the fact that the player resources at Old Trafford are being overstretched. With competition on all fronts the agenda for the upcoming season, this squad is nowhere near the quality and depth required to challenge across competitions in a jam-packed season with games coming thick and fast.
As far as reinforcements are concerned, Ed Woodward & Co. have been rather slow to get off the blocks, with United among the only four sides yet to make a signing in the Premier League alongside Wolves, Newcastle United and Leicester.
🦊 Leicester
🔴 Man Utd
⚫️ Newcastle
🐺 Wolves

Only four Premier League clubs are yet to make a signing this summer

— Sky Sports Premier League (@SkySportsPL) August 21, 2020
United's pursuit of Jadon Sancho is an open secret now and a saga that refuses to move from a stalemate, despite Dortmund's demand of €120m in transfer fees being as clear as it could be. Beyond that, it has been rather quiet so far despite the areas of improvement being crystal clear.
The Manchester United hierarchy would certainly be happy with Ole Gunnar Solskjaer after the Norwegian club legend helped United to a third-place finish in the Premier League and semi-final exits in the three cup competitions that United were a part of. However, if the cup semi-finals are a reflection of anything, then it's the gross dearth of quality in the United squad.
Bruno Fernandes, Paul Pogba, and Nemanja Matic are the linchpins in the United midfield; the same can be said about captain Harry Maguire, Luke Shaw, and Aaron Wan-Bissaka in defence. The front three of Marcus Rashford, Anthony Martial, and Mason Greenwood have been prolific this season, but the drop in quality beyond that is simply startling for a club of United's stature.
With the 2020/21 Premier League season set to begin in less than three weeks, Manchester United have failed to make a statement of intent in the transfer window so far, while their rivals have managed to strengthen in key positions. More questions will be asked of Ed Woodward and co. and their intent to strengthen the squad with key reinforcements in the weeks to come.
As time ticks on, one is left to ponder whether the United hierarchy has left it all a little too late, or is this the calm before the storm?