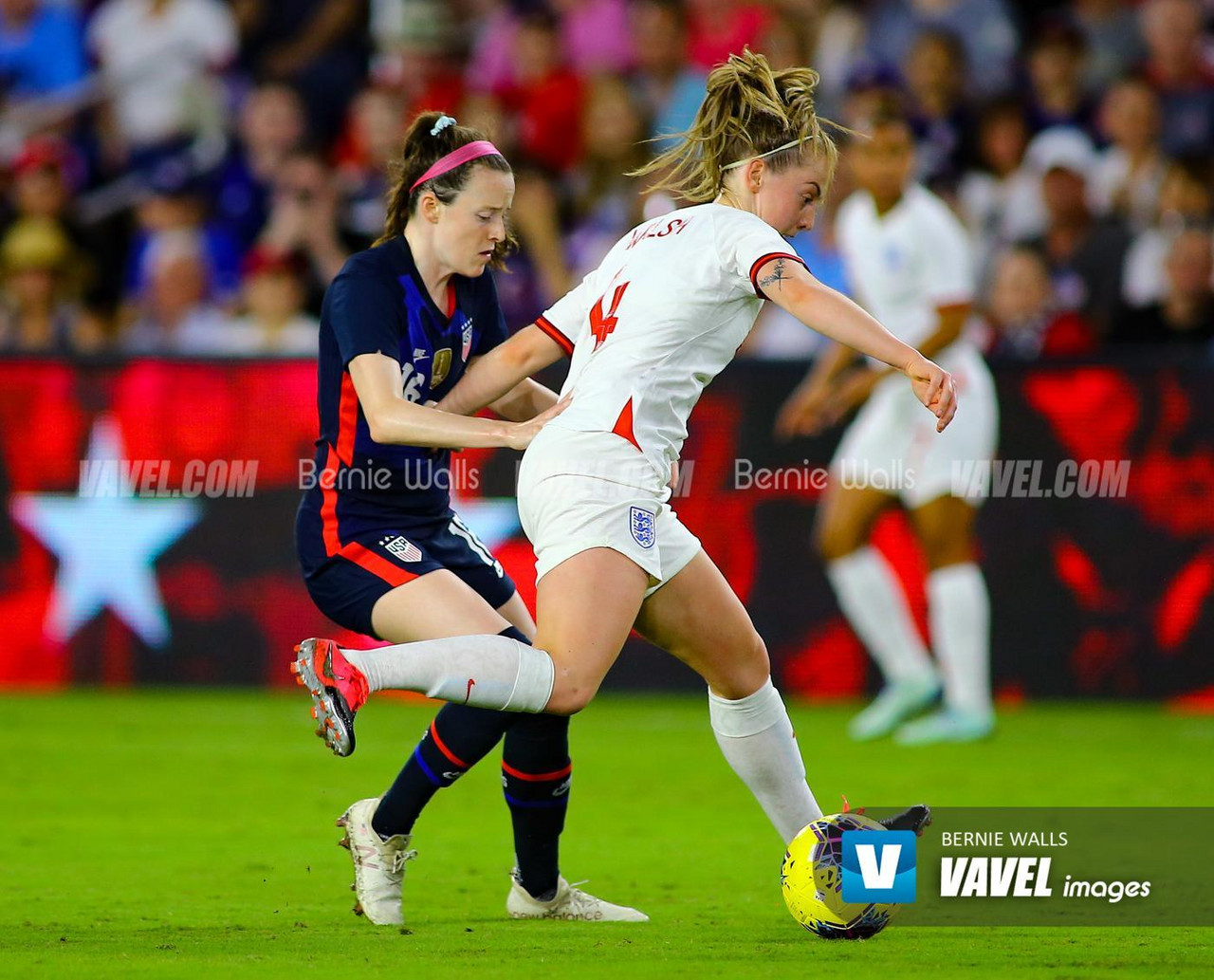 Ahead of the 2020/21 FAWSL campaign, Manchester City have strengthened with a number of new signings. After signing highly-rated forward Chloe Kelly from Everton, the blues have now announced the signings of USWNT duo Rose Lavelle and Sam Mewis.
COVID-19 has had a harrowing effect on football leagues throughout the world, but it is clear how badly the repercussions have been for sport in the United States. With no news as to when the NWSL may resume once again, a number of American internationals made the move over to Europe.
Throughout her time with the Boston Breakers and the Washington Spirit, Lavelle quickly rose to the top and earned a spot on the USWNT. At last Summer's World Cup, the 25-year-old played a crucial role as Jill Ellis' side picked up their fourth title, with Lavelle scoring the second goal against the Netherlands in the final.
Joining Manchester City
It will be Lavelle's first time playing football outside of the United States and she is looking forward to joining the club and moving to the city:
"I do not know much about the city, but I know that the football culture is amazing so I'm excited to experience that. I have a lot of exploring to do when I get there."
Manchester City have been hailed for the facilities at the Etihad Campus which both the men's and women's teams use and it is something that drew Lavelle to the club:
"The club is one of the best in the world and the resources that they put on both sides definitely drew me there
"There's a lot of resources, a lot of support. It's a great environment and something which I felt like I really needed and it's something that I feel is going to really help me grow."
As well as the facilities, the ability to play in European competition and play alongside some top players was also a big factor in the move:
"There's a lot of great players and I've had the opportunity to play against a lot of them on the international stage so I'm looking forward to the opportunity to play with them instead of against them.
"The opportunity to play in the Champions League and compete for so many different titles was also something that was very appealing, I feel like there's just so many opportunities to win.
"I feel like between the resources they provide for their players, the players themselves, the training environment, the competition, it all just seemed like the whole package."
With the season getting underway on the fifth of September, she is currently still in the US and will be aiming to join up with her City teammates soon:
"I'm going to be heading over there soon and then I will have a little bit of a quarantine period, but then, after that if all goes well I should hopefully be joining in with the team."
It will be a major season for the blues, with Gareth Taylor taking the reigns after long-term manager Nick Cushing. Lavelle has spoken to the new head coach about his plans:
"I talked to Gareth and the conversation that we had was about how they wanted to play, how the girls are and how he saw me fitting into that whole equation.
"He was just somebody who I felt like I could develop under and I was going to learn from and he was going to push me to my potential and get better. I'm excited to play under him."
USWNT impact
With Lavelle and Mewis making the move to Manchester, questions have arisen over what that means for their ability to play with the US national team. Lavelle says that the decision to move over to England was one which had the full support of head coach Vlatko Andonovski and general manager Kate Markgraf:
"I obviously had let them know that I was going overseas and they were supportive of me either way - it was my decision to make, if I stayed in the NWSL; great, if I went over; great.
"Obviously, with camps, I'm available when needed if I get called up. I think Sam [Mewis] said it best. If I wasn't ready to take on that challenge then I wouldn't have signed for Manchester City.
"All of the conversations have been good, they have been supportive of me whatever way I went and were willing to work with me on it"
COVID-19 presents challenges to international football more than any other, especially when a number of countries require 14-day quarantine for those who enter. The technicalities of both international and domestic football are something that Lavelle has already spoken with both sides about:
"It was definitely some questions that I had with US Soccer and Manchester City.
"To be honest, I don't think we know how it's going to work yet. Once the opportunity comes up and a camp is available we will sort out the logistics.
"As we know, I feel like with this pandemic things are changing a lot. There wasn't really a definitive answer and I think once the time comes we will have to figure it out."