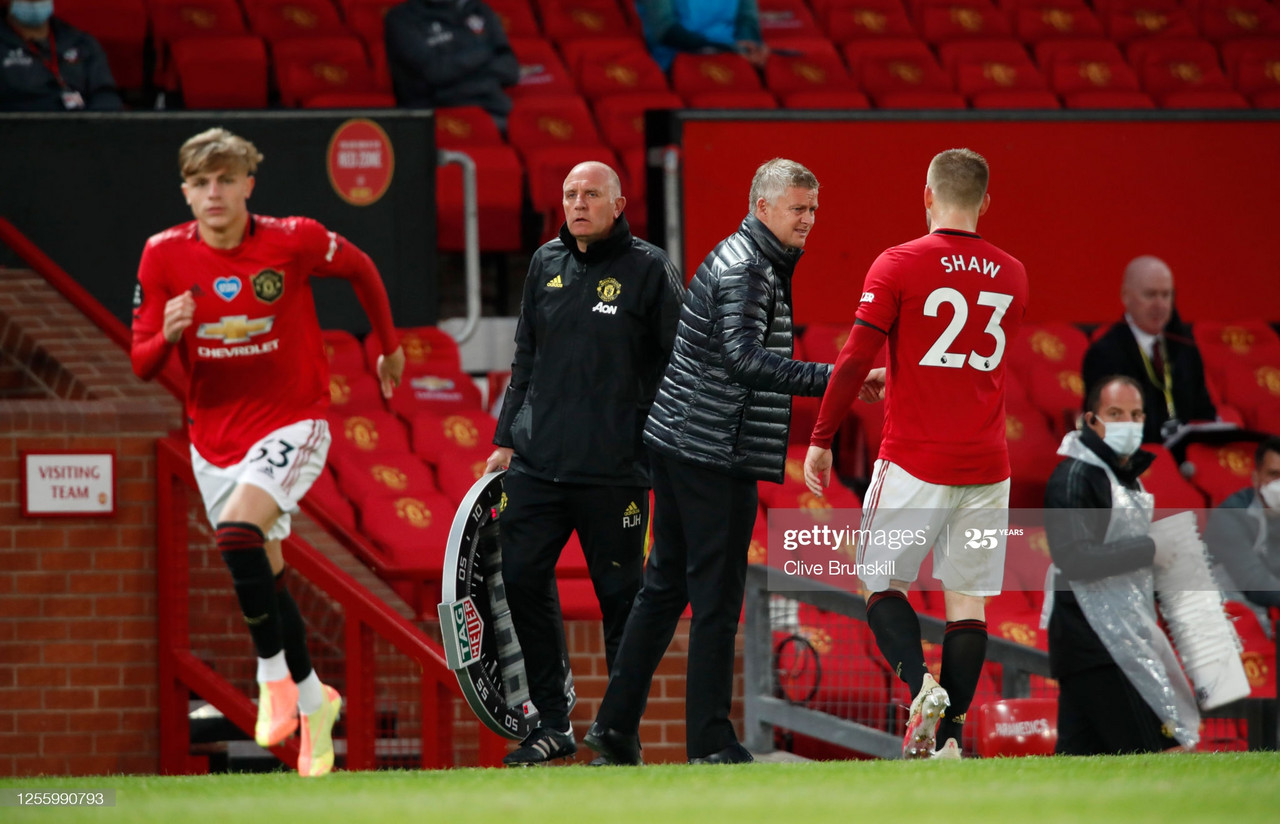 Luke Shaw, it is fair to say, has enjoyed somewhat of an inconsistent six years at Manchester United.
Arriving as a teenage sensation from Southampton for £30m in 2014, United fans expected big things from Shaw, but injuries, a revolving door of managers and poor showings on and off the pitch have halted the full-back from really showing his full capabilities.
However, the emergence of Brandon Williams from United's youth set-up has given Shaw what he has needed for some time now: healthy competition.
Williams, a teenager born of north Manchester grit and soul, has given Shaw the challenge of his life this season by clawing himself a platform to hold the left-back spot when his adversary was struggling earlier in the campaign.
Indeed, it was perhaps most poignant in Kazakhstan – against FC Astana in the Europa League, where United fielded a side of mainly kids who had been bedded in through the youth system. There were three notable exceptions. Lee Grant, the club's third-choice goalkeeper. Jesse Lingard, who scored United's only goal of the game – and Shaw, who looked sluggish against a side that many expected United to trounce.
Ole Gunnar Solskjaer's side lost that match 2-1, but many heaped praise on the youngsters who had helped to shine a light on the up-and-coming talents from the academy. According to Solskjaer, they were 'knocking on the door' of the first team. However, Shaw's performance left much to be desired, and it wasn't long before Williams would really challenge for his place in the side.
By season's end, Williams had made thirty-six appearances to Shaw's thirty-three – though it must be noted that Shaw was injured for the last few games of the campaign.
And for many, the younger of the two full-backs was the better. Shaw's dogged start to the season left many thinking his time at United was coming to a rapid conclusion in favour of the youngster from Harpurhey, Manchester.
Despite the doubts over his future, Shaw must be commended for his work ethic and determination to get himself back into Solskjaer's plans and keeping Williams out of the side, and indeed, upon his return to the starting eleven, he has performed admirably. His overlapping runs from left-back have been missed in his absence, with Williams missing that little bit of experience to get United over the line, especially in their Europa League knockout matches.
It appears that the piece missing from Luke Shaw's game has been some competition, and Solskjaer will surely hope that the seat at left-back will grow even hotter next season – with both defenders attempting to outperform each-other.
In terms of backgrounds and upbringing, United fans will definitely warm to Williams' humble upbringing in north Manchester, with The Athletic's Daniel Taylor speaking to Williams' mother at her café in Harpurhey, The Snack Attack. Williams has cousins who are boxers, and this grit and fighting spirit is seen every time he takes to the pitch.
Videos of Williams' hard-hitting tackles and battles with the likes of Chelsea's Callum Hudson-Odoi have already gone viral on social media – and so the aggressive character of Williams is a real challenge for Shaw to handle in United's first-team. The kid from north Manchester is a handful for attackers, and he will only continue to improve with more exposure to the first team.
What really shows the challenge Shaw has on his hands is the fact that Williams is, naturally, more adept to the right-back position. He was moved to the left-side by United's then-youth coach (and now first-team coach) Kieran McKenna, who saw Ethan Laird ahead of Williams and moved the latter across to progress his development.
And yet, despite playing in perhaps a more unnatural position, it couldn't be told that Williams was in any way uncomfortable as he burst onto the scene this year.
A long-term contract for Williams was signed in August 2020; perhaps a sign from the football side at United that despite improvement from Shaw, his long-term place is far from assured. For next season, United's shaky defence must improve. Aaron Wan-Bissaka and Harry Maguire helped the defence at Old Trafford to improve, but a dependable left-back is required – and Williams could well be that man if he can dislodge the incumbent starter.
However, Shaw's improvement as a result of Williams has ensured his name must not be forgotten – and with a limited pre-season schedule as a result of the COVID-19 pandemic, the battle will be conducted mostly on the training pitch. Once the Premier League returns, and with a Champions League berth for Solskjaer's side, both will get able opportunity to prove their worth – and how much they really want to start for the club.
Williams was, and still is, the exact man Luke Shaw needed to revitalise his United career – and that is a fact that Ole Gunnar Solskjaer will relish.