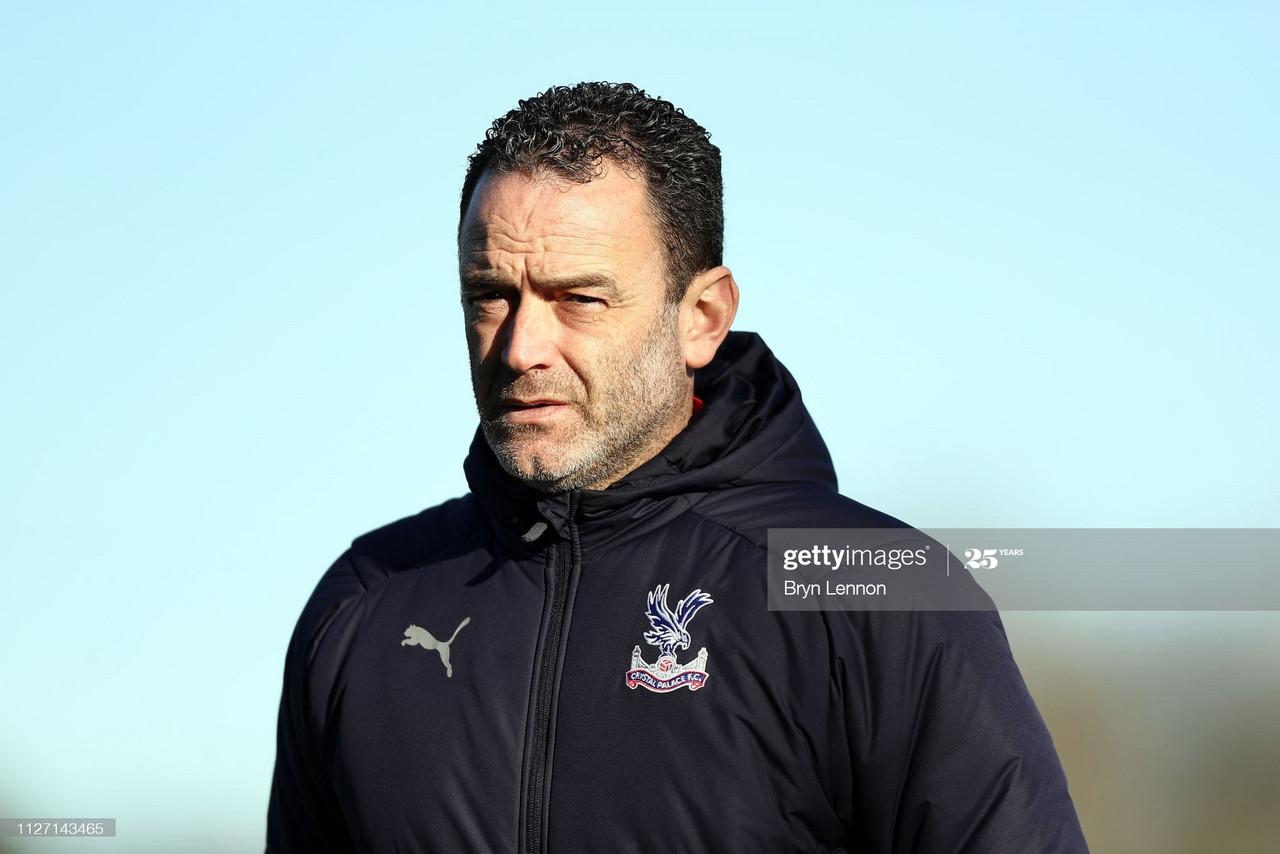 Crystal Palace and Dean Davenport are on the eve of their third consecutive season in the FA Women's Championship, with less than a week away before the league returns after the COVID-19 intermission. Davenport says this pre-season has been a, "busy one, on and off the pitch.
"It's been murder to be honest, a long drawn out process with all the COVID-19 protocols and having to be in our own little bubble. With all the testing, it's been really tough, but it has to be done. We're not the only club who has to do it."
The whole of the women's game, including Palace, had their season curtailed due to the Coronavirus. Davenport's side last took to the pitch in February, as the virus started to sweep across the world. When men's professional football returned in June, the women's game has had to wait in the wings and bide its time.
The break has given Davenport a chance to reflect on last season. He looked back upon, the start, the points they lost, the games they won, but more importantly, he adds, " It's given time to prepare for this season."
"Obviously, there's no good stuff that comes with that, such as releasing players, but unfortunately it has to be done for the club to progress; that's the bad side. The good side, for this year and especially the recruitment side of things, that's gone really well. That's been a massive positive for us this season. I really cannot wait to see them play together. It's going to be exciting!"
Fresh faces
Palace have had a hectic window packed with inspiring new arrivals. Davenport has been thrilled by the work he and his staff have put in off the pitch to make the window a successful one. Palace have signed a fresh mixture of youth and added a rich amount of experience to the side. "It was massive because when the league was cut short, we didn't dwell too much. We had a staff meeting, the first feeling was we couldn't do much about the situation, so let's start recruiting."
"The bulk of our work was done nice and early; there were plans in place and we couldn't speak to players on existing contracts with their respective teams, but as soon as they were available to speak to, we did. Then it was down to me to sell the club to them."
Perhaps one of the most astute signings that the club has made during this pre-season has been securing the signature of goalkeeper, Chloe Morgan, who joined on a free transfer from Women's Super League side, Tottenham Hotspurs. A goalkeeper was a priority for Davenport during the window, following the departure of Lucy Gillett.
"Chloe is a fantastic keeper. She's won our league before and that was a major factor in us getting her in. We all know how important a good goalkeeper is, as soon as I knew she was going to be available, it was a no brainer."
Another signing that has the caught the eye of Palace fans is that of Coral-Jade Haines, who has likewise switched north for south London, after her contract also finished at Spurs, Palace swooped in to tie up a deal. Despite being only 24-years-old, the midfielder has an abundance of experience for her age, having made her Birmingham City debut at 16, before bursting onto the Champions League stage at just 17, making it all the way to the semi-finals of the competition. Haines has also been capped by England at Under-19 level.
"Coral was a late one to be honest," said Davenport, "She didn't leave Spurs until quite late on. She has been umming and ahhing, she came to training for two or three weeks prior to making the decision to sign with us. The best thing about getting Coral in is we got her down nice and early; she saw what we were like, what the club was about, the coaching, the management and looking at the players we had already bought in."
"Once her contract was finished, it was a matter of telling her about the club, telling her where we are going, where we would like to be towards the end of the season, and she wanted to jump on board straight away. I did tell her it would be a roller coaster at times, because that's how it is supporting and playing for Palace, but that didn't seem to faze her."
"She's got that little bit of a spark and a question about her. She's also won our league. It was a matter of getting her in and her showing us what she's got. If someone comes in for you, it's fine, but what you need to do first is play your heart out for Palace first, and she's loved every minute of it."
A signing that may have slipped under the radar, but one Davenport thinks very highly of, is the arrival of forward, Kate Natkiel, from Palace's archrivals, Brighton & Hove Albion. Natkiel arrives similarly with extensive expertise and knowledge of getting promoted from the Championship, having clinched the league title in 2015 with the Seagulls'.
"She is a player, a massive, massive player! She picked up a slight injury in pre-season, but came back to training last week, fully integrated into the sessions, so she will be up and running for the Charlton game next Sunday." He adds, "Three massive WSL signings for us."
Joining the trio of Super League arrivals, Davenport has also plucked two exciting defensive recruits in the shape of Wales international, right-back Ffion Morgan, and Oxford United's 2019/20 Player of the Season, defender, Georgia Clifford.
"The most important thing for us is we have the depth going into the season. Strength and depth are really important for us and we seem to have got that right this year."
Departures
After a summer that has provided much joy, the sadness cannot be hidden over the departure of former captain, Freya Holdaway. Holdaway had spent six years with the Eagles, with her time at Palace coinciding with one of the most successful periods in the club's history.
She was an essential part of Davenport's side, leading the club to two promotions, a Surrey Cup victory, and was the backbone of Palace's 2015/16 invincible season, picking up two personal accolades, winning the Players' Player and Club Player of the Year awards. Holdaway's stellar performances under Davenport saw the defender called up to the Northern Ireland squad for the 2019 World Cup qualifiers.
"It was really difficult, Freya was the only one left of the Invincibles; she was with me for six seasons, my eyes and ears in and around the training pitch and on the pitch as my captain. It's one of those things, one of those difficult conversations you need to have to move forward. To freshen things up, move the club forward and bring in a new captain, as we have with Annabel Johnson, who has been fantastic at present. Freya accepted that; we have offered her chance to become a coach at the club. That is the kind of thing we want to do as a club now. We want to integrate our players to stay with the club forever. Hopefully, she takes that up. If not, it's always there for the future for her."
The upcoming season
This season, Palace will face up to a fiercely competitive Championship. The league contains an abundance of professional outfits such as Sheffield United, who recently appointed former Leeds United men's first team manager, Neil Redfearn, to try and steer the Blades to promotion, and Leicester City, who have just been acquired by King Power to be fully integrated alongside the men's team. Liverpool are also there, looking for promotion at the first time of asking from the Championship.
Davenport, however, relishes this, "Coming up against the likes of Leicester and Liverpool, It's not going to be easy, but we are in a far better place this year than we were last season to compete against these teams. We have aims and goals for this season; our first aim is to beat our points tally from last season, that's the baseline. The sooner we get to that the better. Take away the five full time teams, we will not be going there in a defeatist manner, but if we go there and nick points, fantastic. Our main aim is to become the next team below them, if we get to fifth or sixth, that would be a massive season for us moving forward."
Davenport puts a lot of Palace's excellent preparations to the fast approaching season down to General Manager, Paula Johnson, and the club's Chief Covid Officer, Andy Green. "Paula got the ball rolling straight away; she knew what was going on with the FA being in constant contact with them, plus myself and the players. Paula has been amazing. She built us a base to get back to pre-season. We were one of the earliest teams to go back to training; I think six or seven teams didn't go back until three weeks after we started, which just shows you how much work she put in to get us back playing again. If it were not for Paula and Andy, I'm not sure we would be where we are now."
Palace kick of their new campaign this Sunday away to local rivals, Charlton Athletic. The pre-season has given Davenport and his staff time to develop an emerging squad, built with a generous helping of experience added to a youthful, hungry side, who a ready to shake the core of the Championship. "The players we have signed, the continuity in the club, the girls have a fantastic attitude and are really focused in training – we have had a really long pre-season, which will stand us in good stead. We're in good shape!"