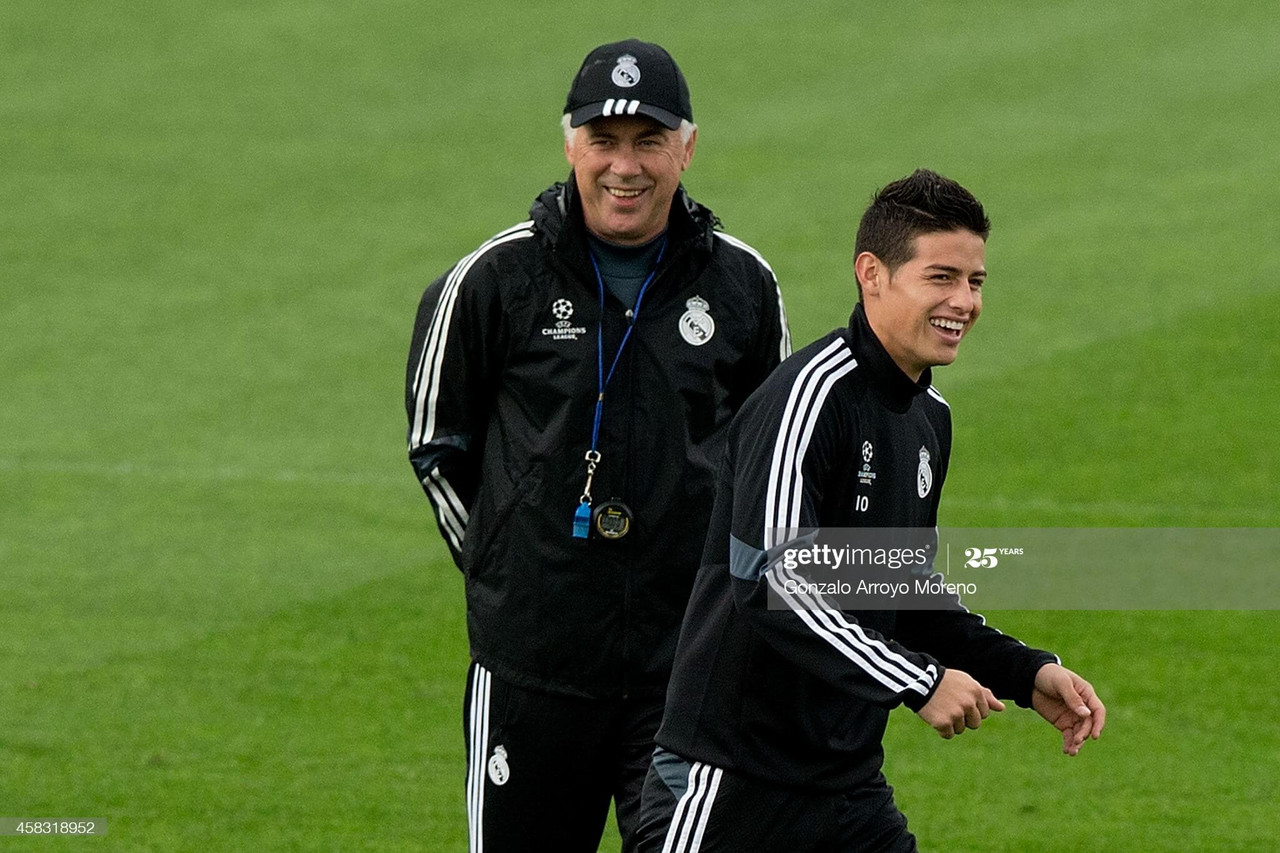 There is an adage in football that clubs should not buy a player on the back of a successful World Cup. During the 2014/15 season that was not the case for Real Madrid and James Rodriguez. When the Colombian arrived in the Spanish capital following a tremendous showing in the 2014 World Cup, featuring six goals and the most picturesque strike of the tournament, he picked up from where he left off.
During his first season in La Liga James was one of the best players in the division; scoring 13 goals and mustering the same number of assists in 29 games - he was consequently named the best midfielder in the league. James was 24-years-old and had a promising career in front of him.
James joined Madrid amid hype and promise
Helping him along was Carlo Ancelotti, who is widely acknowledged as a player's coach. The Italian manager is prone to indulging individual talent over a rigid system of play. In that season Ancelotti asked his players to play a really offensive game, which suited the likes of James and Cristiano Ronaldo, and was more than willing to offer an arm around the shoulder to those that needed it.
What stopped James' Real journey in its tracks was the sacking of Ancelotti and the arrival of Rafael Benitez, whose idea of playing the game was different entirely to Ancelotti's. Instead Casemiro established himself in central midfield and the effervescent flowing game of Madrid slowed somewhat. James was moved to the fringes.
When Zinedine Zidane took over as manager, James was replaced by Isco. The more defensive mind-set that Zidane was willing to deploy prevented James from playing his high-energy, attacking game. Frustrated, James joined Bayern Munich on a two-year loan, mainly because Ancelotti was there.
This speaks of how highly James thinks of Ancelotti. On his first start, the Colombian scored and assisted another goal in a man of the match performance. But despite the Italian manager leaving in December, James still had a productive season, with seven goals and 11 assists in 23 matches. But the next campaign was similar to those that James had become accustomed to - one in which he struggled to have an impact. Bayern decided not to buy him.
Back at Madrid, he started only five league games last season. It was clear that Zidane did not hold James in high regard. A man on the fringes at 29 and with potential left untapped. But perhaps the adage was right. Maybe James could never live up to that three-week showing in Brazil in 2014. Quite possibly that was James at his best and a level that he could never return to.
The admiration between player and coach is mutual
It is with that nagging thought that James joins Everton to once again link up with Ancelotti. The attacker's two best seasons in Europe have come when Ancelotti has guided and tended to him. There is no doubt a bond between player and manager and his latest move highlights it further.
"He knows so much, he knows how to manage teams and I had his trust," James said earlier this year when speaking about Ancelotti. "I played a spectacular season under him." Likewise Ancelotti's admiration for the player is there to read in his autobiography: "I wanted James on the wing for his talents as a footballer. He is a hard worker and not selfish at all: an authentic professional."
There is no doubt that James has a point to prove at Everton, a club that he would not be at if it wasn't for Ancelotti - the reason why Everton supporters are so happy to have the great Italian manager at the helm. There is an element of stardust attached to the signing of James, the type of player that Everton have long wanted to attract. But what they are getting is a player who has not had a consistent season for a while and is untested in the Premier League.
A tale of unfulfilled potential now sees James at the team that finished 12th in last season's Premier League. It is all rather underwhelming for the golden boy of 2014. Yet that is irrelevant. Next to him at Goodison Park will be Ancelotti trying to reinvigorate this fallen star and get close to the displays he put in when the world was at his feet.