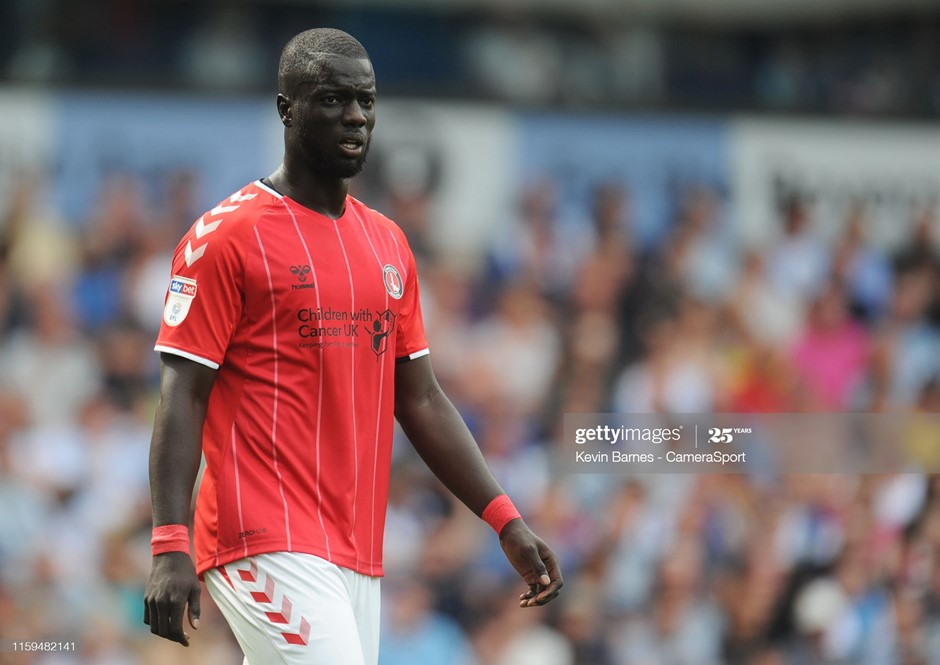 Huddersfield Town have finalised their defensive ranks for the new campaign with the signing of Naby Sarr, the giant centre-back who left Charlton Athletic at the end of last season.
He joins Spanish right-back Pipa, signed from Espanyol, in committing to the Terriers in the week ahead of the new season, which Huddersfield begin at home to Norwich City.
Sarr, 27, has at times been a divisive figure in his time at Charlton, but his performances in the Championship last season, plus the financial implications of the coronavirus pandemic which has made free agents particularly valuable, saw him linked with a variety of second-tier clubs.
He has now signed at the John Smith's Stadium on a two-year deal – here's a look at what he'll bring to Carlos Corberan's side and how Huddersfield are shaping up for the 2020-21 season.
Lows and highs
Sarr arrived in London in 2015 as quite the marquee signing, bringing Champions League and Europa League appearances with Lyon and Sporting Lisbon to the Valley. But that also raised expectations on the 22-year-old, who in reality had only made 23 professional appearances and was a very raw if talented player.
In the heat of the Championship, Sarr struggled to settle, and a series of mistakes saw him dropped from the team. He made only 12 league appearances (scoring one goal, ironically against Huddersfield), and excitement turned to anxiety over his five-year deal and big wages.
He was cast off to Red Star FC, in the French second division, on a year-long loan, but was still not particularly favoured the following season with Charlton in League One. But towards the end of that campaign, Karl Robinson was replaced as manager by Lee Bowyer, and the new man found in Sarr a player who would fit perfectly into his team.
"I can imagine that rough start was tough for him because he is a really quiet lad," Bowyer recently told the South London Press. "He was young and expectations were high because the club had paid a fee for him.
"I don't think he would have got coached the way we were coaching. We got the best out of him and that comes down to coaching.
"It would've been a combination of things as to why he had a bad start and why he had a good end. It's about putting an arm around him – making him realise he is a good player and bringing that out of him, that's why he had a good end."
Sarr was a key part of Charlton's 2018-19 promotion campaign, playing 39 games culminating in play-off final success at Wembley, and he would have another chance at the Championship.
This time he was ready, even if another impactful season wasn't enough to help the club avoid immediate relegation. With Charlton's financial predicament, another deal was not possible as his original contract came to an end, and Huddersfield have stepped in to keep the Marseille-born player in England.
A perfect fit?
Sarr was a divisive figure for much of his time at Charlton. Beyond the disappointing start at the club, even in the promotion season there were some famous incidents, being sent off against AFC Wimbledon in the first minute, and scoring an early own goal in the play-off final win.
Occasional mistakes continue to be part of his game, which is never ideal for any centre-back, but for any coach it is a matter of weighing up the benefits he brings to the team with the potential risk.
He is always going to be notable on the pitch for his size; at six foot five he overshadows any striker, and he has the strength and power to physically dominate most battles.
Sarr's size belies his skill on the ball, however. From his development at Lyon, and briefly playing for Sporting, he is a cultured player on the ball, highly comfortable as expected now of any centre-back at the top level.
It appears a promising mix for new Huddersfield head coach Corberan, who is looking to return the team to passing and pressing principles after Danny Cowley's spell at boss, along the lines of Marcelo Bielsa's team during Corberan's time at Leeds United.
Corberan said of Sarr's signing: "He has good physical attributes that fit the demands of Championship football, and at the same time he feels comfortable on the ball."
Likewise head of football operations Leigh Bromby, the man ultimately in charge of recruitment at the club, said: "He's a player identified through our recruitment process that we believe can be successful in our style over the short and long term.
"There was understandable interest in Naby as, like Danny Ward, free agents with good Championship experience in their mid to late 20s are a rare commodity. In addition, left-sided centre backs who fit that criteria are even rarer.
"He's got great background and pedigree as a footballer, growing up in top-level, possession-based teams in Lyon and then Sporting CP. Combined with his natural physicality, that is a rare mix."
Strong defence
Skipper Christopher Schindler remains the rock of the defence, but there are plentiful options at centre-back now after Richard Stearman partnered the German for much of last season.
Stearman is unlikely to be the favoured man in Corberan's set-up, and while Tommy Elphick will also look to challenge when he makes his return from long-term injury, Sarr provides a compelling option.
And that's not forgetting Terence Kongolo, who is currently injured and spent the second half of last season on loan at Fulham. If he stays at the club he is another player well-suited to Corberan plans, and still has the enormous potential to live up to the club-record fee paid for him.
Combined with the addition of Pipa, a Spanish under-21 international, on the right flank where Demeaco Duhaney was previously the only option, and the real promise shown on the left by Harry Toffolo since joining Cowley in moving from Lincoln City, Huddersfield now have a secure defence in place.
The issue turns to the attack, where Danny Ward is a promising addition but one which will not cover for the seemingly imminent departure of Karlan Grant. Such a precious source last season of that rarest of commodities, goals, his sale would give them a significant problem. Keep a newly-committed Grant, and it could now be a very different story to the struggle of last term.