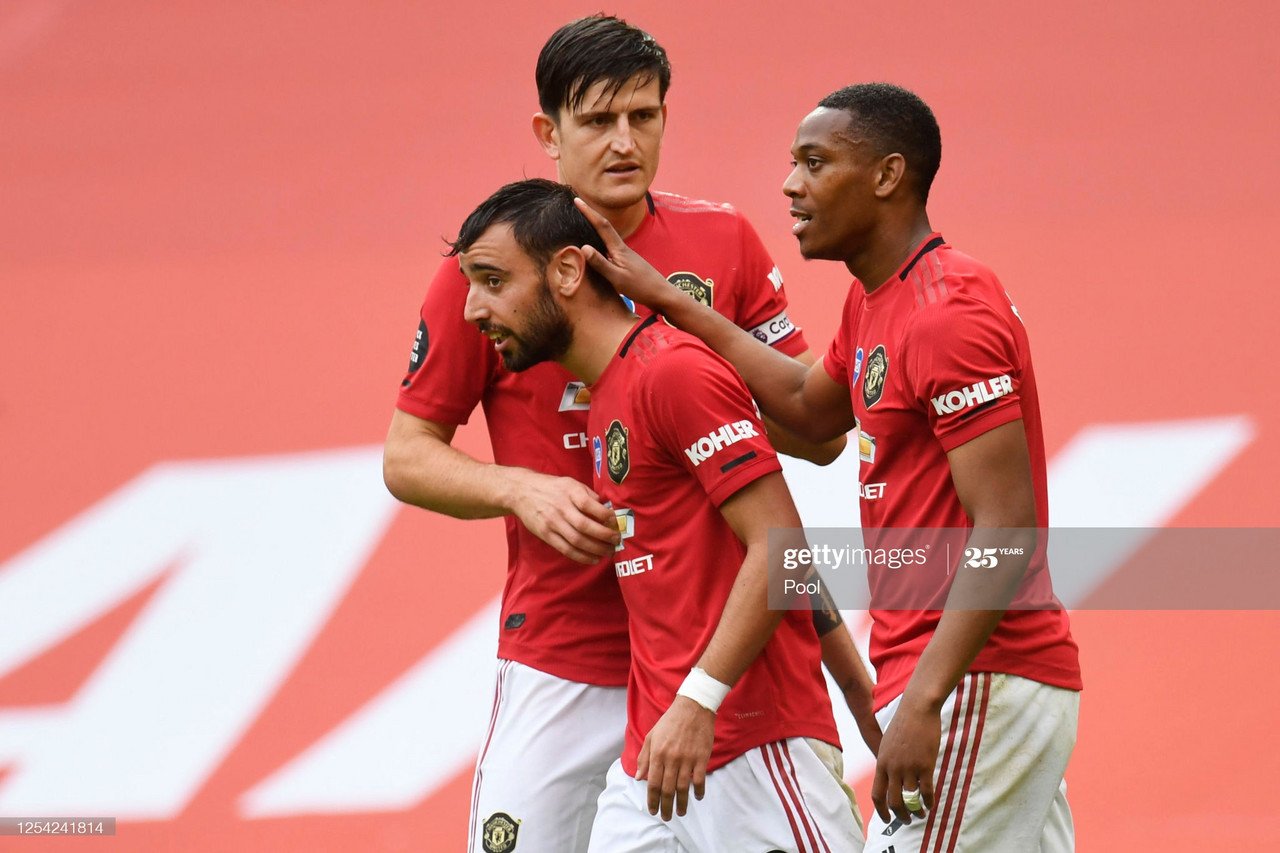 34A third-placed finish in 2019-20 could have been seen as a false position for Manchester United, but for others, United's strong second half of the season (with a slight hint of limping over the line) confirmed them as England's third-best club.
Ole Gunnar Solskjaer's side are now geared up for a second full season under the Norwegian, with plenty of twists and turns inevitable for a packed schedule over the next nine months.
As mentioned previously, the excellent form after the arrival of Bruno Fernandes in January saw a rapid ascent up the table, but to have any hope of challenging the top two this year, it is imperative to begin as they mean to go on.
While a title fight is probably unrealistic for United, a top-four finish must be the absolute minimum if they are to continue to grow, though improvement from London's top sides means that Solskjaer's side must be more consistent.
However, United (at time of writing) have made just one signing this summer – with the usual rumour mill swirling in the background – and require further investment in order to progress this year.
Ultimately, with a schedule that sees United fighting on four fronts this term, it will be what happens in the final month of the transfer window that determines whether Solskjaer's side continue to develop, or whether they stagnate once again.
United's pre-season has been short - but not as sweet as most fans would have liked.
Solskjaer's side have played just one friendly in the preparation for the new campaign, as his side narrowly lost to Aston Villa away from home.
A much-rotated side saw few big names, but a debut for Van de Beek. Scott McTominay, a player who was largely absent during the restart earlier in the summer, played well; as did youngster Teden Mengi from the substitutes' bench.
While United went down to Dean Smith's side, it looked like Solskjaer's side controlled much of the game and it was a lack of a cutting edge in the final third that cost the side, playing in their new, zebra-themed change attire.
However, don't take this lack of pre-season as an opportunity to downplay United's opportunities for this season. A prolonged holiday was what most of the players looked in need of at the tail-end of their European adventures – with several tired legs in their semi-final defeat to Sevilla.
Transfer business
This is where United's season hangs in the balance.
While the capture of Ajax's battle-hardened box-to-box midfielder Donny van de Beek could turn out to be a shrewd piece of business from United's recruitment team, it is the drawn-out, on-again-off-again negotiations for Borussia Dortmund winger Jadon Sancho that, if completed, could see United's hopes for a genuine title race boosted significantly.
Van de Beek has shone for Ajax in both the Eredivisie and the Champions League over the last two seasons, with excellent performances in the latter, when the Dutch outfit were just ninety seconds away from playing in the final.
A dynamic midfielder that can play behind the striker and in front of the defence, van de Beek instantly improves United's strength in numbers.
Solskjaer has been rumoured to be in the market for another centre-half; looking for a partner – ideally left-footed – for captain Harry Maguire. Though both Victor Lindelof and Eric Bailly showed flashes last year, neither looked consistent enough and positioning was a real cause for concern for United last term.
With Dayot Upamecano's contract release clause expiring in June, United could wait until next summer before pulling the trigger on what would be an expensive purchase.
The signing of a new left-back also feels likely before the transfer window shuts. Both Luke Shaw and Brandon Williams impressed at times last year, but consistency in the back four is a must in order to challenge properly.
Though rumours of United being in the market for players will continue until the transfer window closes on 5 October, some departures have already been confirmed as Solskjaer continues to shape the squad in his own image.
The permanent transfer of Alexis Sanchez to Inter Milan was confirmed, with his extortionate wages finally free from United's books.
Young winger Tahith Chong will continue his development in the Bundesliga, with a one-year loan at Werder Bremen, while promising midfielder Dylan Levitt will be turning out for EFL League One side Charlton Athletic.
The departure of defender Chris Smalling to AS Roma is expected to be announced over the next few days.
Who is Manchester United's key player?
This should be the easiest decision to make in this preview.
The signing of Bruno Fernandes in January completely altered United's fortunes last term, with his attacking prowess a crucial factor in Manchester United's rise in form and subsequent unbeaten run from January.
The midfielder linked up with Paul Pogba after the restart, and the duo looked impressive in midfield in front of Nemanja Matic.
His twelve goals and eight assists – including seven penalties – ensured United looked a much better outfit after January.
United's academy is world-renowned and the youth structure really seems to be churning out some highly-talented youngsters at this moment in time.
Last season, many would have said Mason Greenwood, and the excellent form from the teenager would have confirmed those predictions.
Full-back Brandon Williams also emerged out of nowhere in the middle of last season, but the right-footed left-back certainly put any doubts to bed with some impressive performances.
This year, many of United's most promising youth prospects have been linked with temporary moves away, with Levitt already confirmed to spend next season at The Valley.
Highly-rated Hannibal Mejbri has certainly caught the eye with some sparkling performances for the Under-18s, but it may be too soon for him to really challenge the first-team, especially with the arrival of Van de Beek.
Perhaps the most likely scenario is a breakthrough for centre-back Teden Mengi, who spent the restart training with the first-team squad. This would be even more likely if United do not sign a centre-back this window, with the October 5 deadline creeping ever closer.
Mengi, last year's U18s captain, also led the U23 side that thrashed EFL League Two side Salford City in the EFL Trophy recently.
Solskjaer is a huge fan of Mengi, telling the club's website that: "Teden's got something special in him. It's about picking the right moment to give him a chance. Brandon Williams did exceptionally well last season, coming in as a defender."
Opening Day
Saturday, 17 September - Matchday One | Manchester United vs Crystal Palace
The Derbies
Saturday, 12 December - Matchday 12 | Manchester United vs Manchester City
Saturday, 19 December - Matchday 14 | Manchester United vs Leeds United
Saturday, 16 January - Matchday 19 | Liverpool vs Manchester United
Saturday, 6 March - Matchday 27 | Manchester City vs Manchester United
Saturday, 24 April - Matchday 33 | Leeds United vs Manchester United
Saturday, 1 May - Matchday 34 | Liverpool vs Manchester United
Final Day
Sunday, 23 May - Matchday 38 | Wolves vs Manchester United
I've got to err on the side of caution with Manchester United this season. Their late-season form showed signs of a real team gelling together, but under no circumstances can there be a period like there was between October and January again.
Some of the football was a real chore to watch at times – and this is down to a multitude of reasons: squad depth, the absence of Paul Pogba and Bruno Fernandes, injuries – but the squad looks to be improving and Ole Gunnar Solskjaer's vision is slowly coming to fruition.
This season really depends on the next month or so of the transfer window. While a title challenge now seems distant, if Jadon Sancho is signed, along with perhaps a centre-back, there is a chance to really push that points gap from thirty-plus down to ten or fifteen.
It's about constant improvement and continuously getting better. The added challenge of the Champions League looks attractive, but I am still dubious to whether the side has the depth and quality to compete properly.
I would really be happy with pressure on the top two, whether that's a third or fourth-placed finish (hopefully the former!), but Champions League qualification is a must. A cup would also be handy as well, considering it's now three years since we've lifted a trophy.
United will be facing a really tough challenge this season – but if they can achieve those goals, it would put any remaining doubts about Solskjaer's suitability for the job firmly to bed.