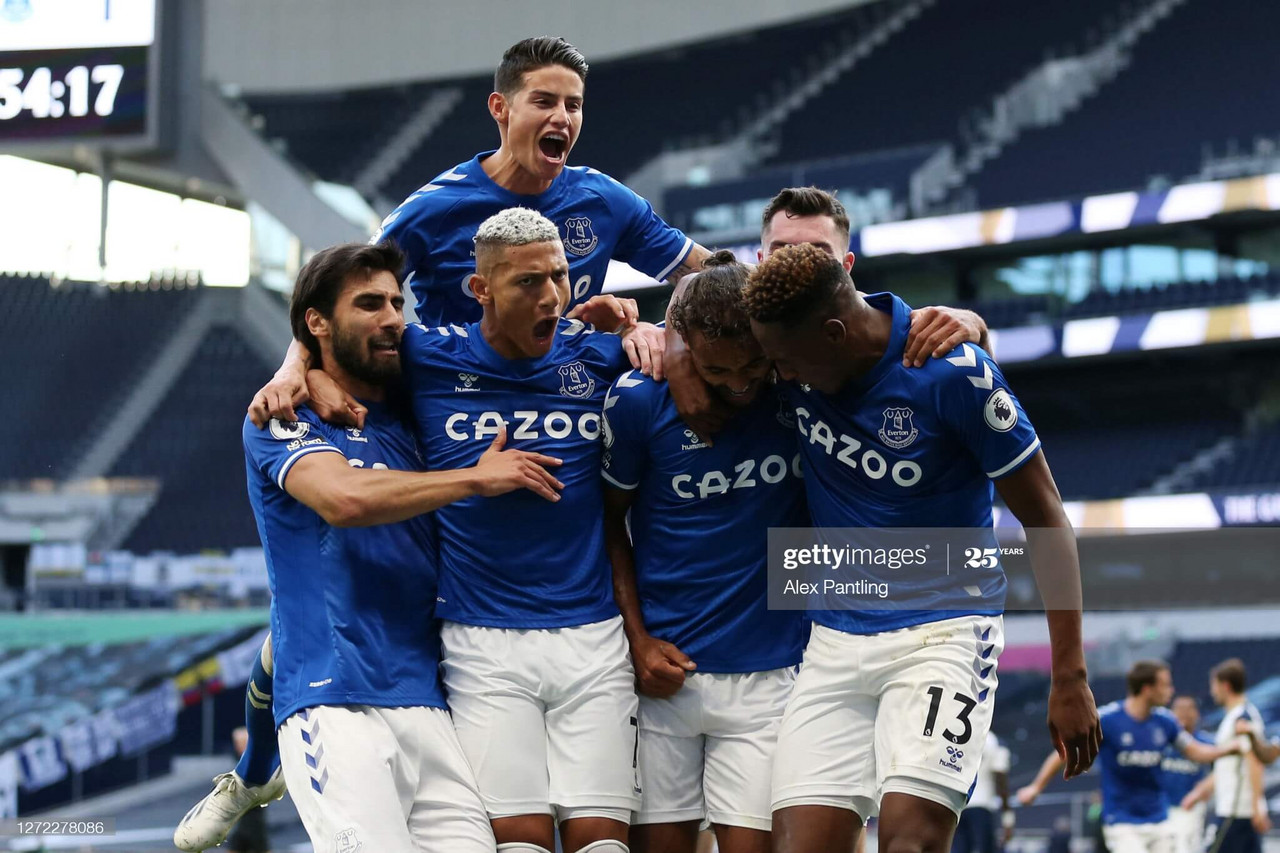 Everton could not have envisaged how easily their first win of the season was going to come against Tottenham Hotspur. Carlo Ancelotti's team won by a single goal but they dominated their hosts to such an extent that the spectacle suffered to an extent.
The three points kickstart Everton's season with many positives for Ancelotti to take from a game in which his side should have added to Dominic Calvert-Lewin's headed second-half goal to further exemplify their dominance.
Huge psychological step taken
Apart from scoring a few more, Ancelotti could not have asked for much more from his team in what became a fairly one-sided affair. The hoodoo of travelling to an elite team and returning with little has been broken - this was Everton's first win away to one of the Premier League's so-called 'big six' since beating Manchester United in December 2013, an embarrassing run of 40 matches.
Whether Spurs can be considered a 'big six' team at the moment is another matter but the visitors were far superior and this victory will provide confidence for the coming weeks. Getting the season started on the right footing was key for Everton who have seen so many false starts and unfulfilled potential. There is definitely something for them to build on with games against West Brom and Crystal Palace to come in the next few weeks.
New signings start and settle
Ancelotti was not afraid to throw all three summer signings into the starting XI and they all justified their selection in a 4-3-3 formation. Allan slotted nicely into the base of a remodelled three-man midfield. The former Napoli player was quick to the ball and played with his head up looking for the pass to propel Everton further up-field. It was noticeable how Allan spotted any danger that came from Spurs' attacking midfielders. He plugged the gaps and brought a sturdy presence in front of the defence.
Likewise, Abdoulaye Doucoure, who has Premier League experience from his time with Watford, had a nice enough debut. He was full of energy alongside Allan. The pair are a clear upgrade on some of the elements that have made up Everton's midfield in recent seasons and that they gelled so quickly stands the pairing in good stead for a productive season.
James shows glimpses of creative flair
It was James Rodriguez, though, who Evertonians wanted to watch more than anyone else. His signing from Real Madrid is an interesting one and his first game for the club certainly whetted the appetite for more. "The performance after four days of training was outstanding," was Ancelotti's verdict of the Colombian's afternoon work.
There were more than enough touches of class, poise and vision to offer a glimpse of what James can bring to Everton on the right of the attack. He was most threatening when drifting inside, cutting on to his left foot, and had Hugo Lloris scrambling across his goal with one shot that curled just wide. A clipped cross that he sent towards Richarlison should have been dispatched into the net.
Nevertheless, this was not a debut without fault. He was reluctant to track back with Ben Davies and often him and Heung-Min Son doubled up on Seamus Coleman - luckily for Everton, the right-back is one of the most dependable in the division but James will quickly learn that he must put a defensive shift in too. Also James visibly tired after an hour and was substituted just prior to full time but this was an encouraging start to his career on Merseyside.
Lack of life in Tottenham
All of Everton's credit is due but they were hardly given a game by Spurs. Jose Mourinho's side were unimaginative and slow; even a switch of shape at half time could not halt Spurs' lacklustre showing. There was no press to try and unsettle the visitors, rather just two flat lines of four passing sideways in a predictable manner waiting for something to happen.
At times it looked like Spurs didn't even expect to have any of the balls - such was their ineptitude when in possession - let alone make in-roads when they did so. This was a poor showing for the first game of the season when energy and a forthright mindset are expected at the very least. Of course, the summer break was shorter and this season is different and lacking so much but still, if Spurs could only manage this then someone better help them when their schedule takes a turn for the worse with games coming thick and fast.
This was Spurs' first opening day defeat in five seasons and the first ever for Mourinho as a manager. "I'm disappointed with the performance," he proclaimed afterwards, "I didn't like my team." In truth, no one did today.