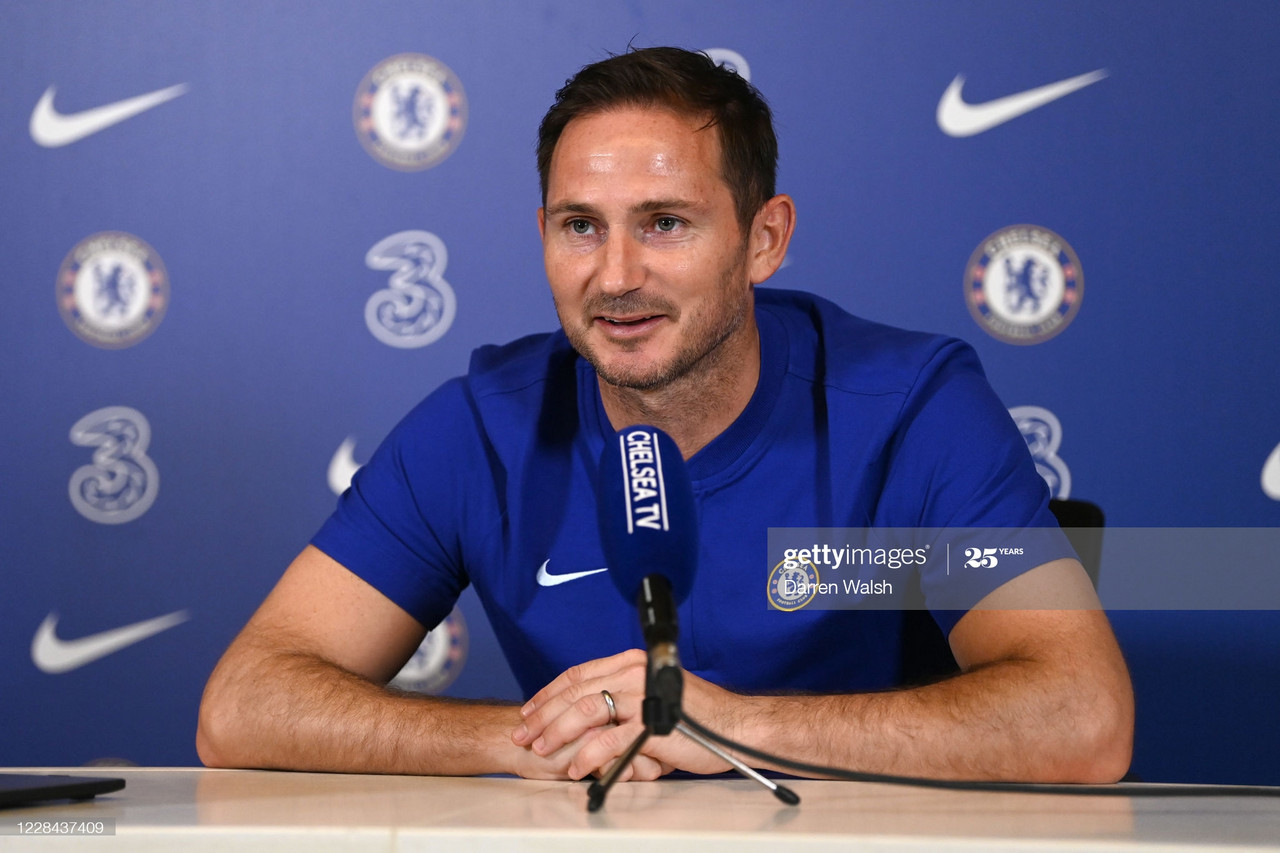 Frank Lampard has addressed the added pressure his side will face following a prodigious summer transfer window ahead of the 2020/21 Premier League season.
The Blues' all-time top goal scorer claimed he will be looking to thrive on pilling outside pressure as he eyes the Premier League title.
Lampard continued by insisting that his side has a high ceiling to reach amidst nurturing a rocketing trajectory of potential in a bid to close the 'gap' with Liverpool and Manchester City.
A rebuild project
Roman Abramovich opened his war chest, gave the green light and handed the reins over to Marina Granovskaia. A fiercely renowned negotiator. The most powerful chess piece on the football transfer market.
Lampard handed Granovskaia his shopping list and the Blues Director went to town.
Chelsea fans watched in awe as their beloved club slowly transformed into a revitalised European titan.
The arrivals of Kai Havertz, Timo Werner, Hakim Ziyech, Thiago Silva and Ben Chilwell saw rival fans around the world tremer in fear - Chelsea were back…
However, Lampard understands the new-found pressure to perform following his marquee signings.
"I understand there will be a lot of talk about the players we've brought in, and we were very joined up on the business we wanted to do to improve the team," said Lampard. "We've done it hopefully in a good way. We should be excited, but we should also have a slight word of caution that we need to work with the new players to get them settled into the team and get the team working as well as possible.
"Other people can talk about us, challenging or not. In the last two seasons we have finished a lot of points behind Liverpool and Manchester City, so we have to first look at closing the gap and build confidence by getting the team working well together.
"I'm not jumping ahead and making any predictions on us.
"When you look at the teams who have dominated in recent years, they are a story that has run over a few years in terms of recruitment, coaching and improvement on the training pitch that translates to the pitch.
"It's not a simple story that bringing in players must win the league, it doesn't work that way."
'I thrive off pressure'
As a player, Lampard stamped himself in the world football history books as one of the best midfielders of all time. A decorated Englishman; three Premier League titles, four FA Cups, a Champions League and a Balon D'Or runner-up. A serial winner.
He will be looking to do the same, this time from the dugout, alongside Jody Morris under the lights at Stamford Bridge.
"Expectations to deliver are always there at a size of this club, and I thrive off that pressure," insisted the Chelsea manager. "I didn't come into this job to fight for fourth place, although that was an achievement last season.
"I didn't come here to bring Academy players into the team and say I made this many debuts. No, I came here to try and win.
"Any club at our level has to tick the major boxes, and recruitment is a huge part of that. We have been able to bring in players, that changes the landscape, and we are ready to go.
"We want to move in an upwards direction, and the work starts now. It's been a broken pre-season for everyone, and with new players you have to work very hard, very quickly, and we will do that.
"The pressure on me to do better than last season should be standard, regardless of anything. That comes with the territory of this job."