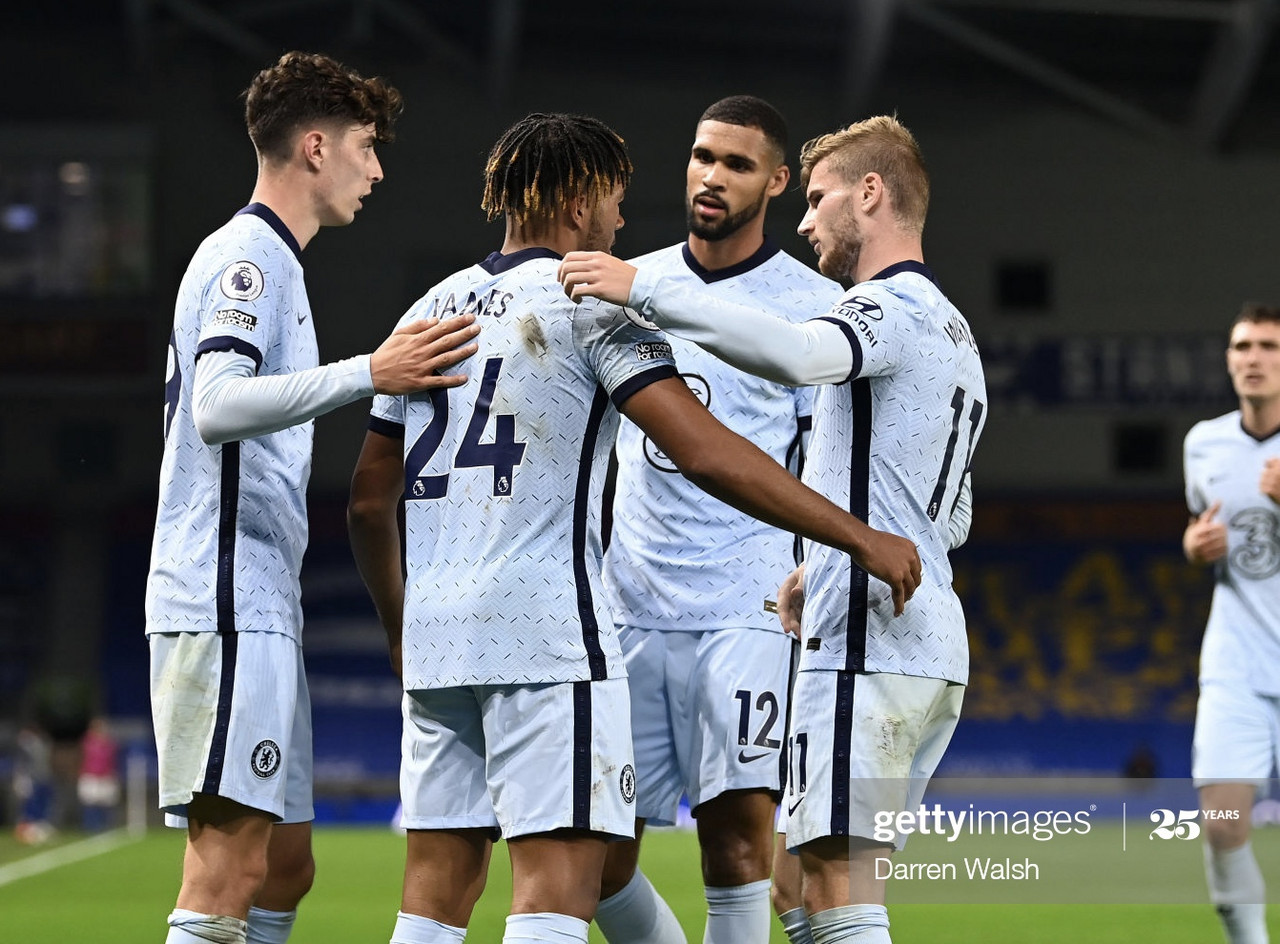 It was a sad viewing for Chelsea supporters last night.
And I'm not talking about the flattering 3-1 scoreline either.
I'm talking about the substandard display of Ruben Loftus-Cheek...
About last night.
After yesterday evening's game, it seems like many supporters have changed their opinion on the 24-year old midfielder.
Some of the fanbase took to twitter to claim that his injury, that caused him to make only 9 appearances last season, isn't to blame for his poor performance- but rather his poor decision making and lack of commitment on the ball.
Others quickly defended Ruben, who joined the club aged eight, suggesting the midfielder just needs more minutes on the pitch to fully recover after the horrific injury that kept him off it for so long.
With very little room for mistakes this season, can Frank Lampard really afford to give him the game time he so desperately needs when chasing a place in the top three? Or is his days in Chelsea blue coming to a sorry end?
A game to forget for RLC.
Upon reading Lampard's line-up ahead of the 8:15pm kick-off last night, it was a surprise to see Ruben-Loftus Cheek in the Blue's starting XI.
Even more surprising was the position in which he was deployed; playing a 'number 10' role just behind new striker Timo Werner.
It was well reported before the game that Kai Havertz would make his awaited debut- in which he did- on the English south-coast after transferring from Bayer Leverkusen for £70+m earlier this month.
However, with fellow new comer Hakim Ziyech out with a knee injury and Christian Pulisic still recovering from the injury he sustained in the FA Cup final, it meant Havertz was shifted out to the right flank- away from his usual central position.
As a result, the opportunity arose for RLC to play in a more advanced role- one that former coach Antonio Conte was so keen play him in.
Playing in a 4-2-3-1 formation, it was an interesting tactical ploy from Lampard, attempting to play RLC and Werner high up the pitch in order to make space for Havertz to receive out wide, whilst allowing Mason Mount to make forging runs from deep against a strong, five-man Brighton defence.
With the competition so high in the midfield and attacking areas, it was a great chance for RLC to make a statement and lay claim as to why he should be regular member of the first XI.
But, the game didn't go as well as he would have hoped.
Making way for compatriot Ross Barkley in 61st minute, RLC's numbers were extremely disappointing. The midfielder only completed 67% of his passes, with a pass accuracy of 50% in the final third.
Furthermore, he failed to register a single take-on, chance, interception, tackle, cross or shot on goal- painful readings for a player dubbed the 'Lewisham Ballack'.
Five minutes after his substitution, Chelsea found themselves 3-1 to the good (albeit a lucky deflection from Kurt Zouma's strike).
From there on in, the Blue's killed the game off, with particular mention going to Barkley who came in and did exactly what Lampard would have expected of RLC- dictating possession, progressing the ball up the pitch, making forward passes and finding pockets of space in front of the back five.
Wrong position, maybe?
As last night demonstarted, he can't play as a 10 or as a winger.
Therefore, he must operate playing in a deeper, 'number 8' role, with room to run forward with the ball.
For example, pairing in a double pivot with either N'golo Kante, Mateo Kovavic or Jorginho, as Nemanja Metic did a few years ago, will allow him to drive from deep with the pitch in front of him- a position he's shown to be far more comfortable in.
The injury itself.
Ruben looked a shell of himself yesterday and leaves question marks over the long terms implications the injury will have on his career.
What's even more frustrating is how the injury came about itself.
A ridiculous friendly in the U.S midseason, two weeks before the Europa League final in Baku, saw him sustain a serious Achilles injury on pitch in terrible condition.
Before the injury RLC had looked superb under Maurizio Sarri and was probably in the best from of his senior Chelsea career- forming a productive partnership with Eden Hazard.
As we all know, the injury swiftly put an end to his progression.
But what makes the injury even more worrying, is the number of athletes who actually fully recover from it- with only 60-80% returning to pre injury performance levels.
In short, a ruptured Achilles is a career killer in many sports- not only in football- and makes it seriously tough for pro's to reach the heights they were hitting previously afterwards.
It's one of the worst common sports injuries we see as football fans, and is in many ways harder to recover from then the infamous ACL tear.
In terms of the Premier League, Santi Cazorla was deprived 668 days of his Arsenal career; an agonising two years on the sidelines that saw him undergo 11 operations.
Now at Villarreal, the former Spain international has been ravaged by an Achilles injury since October 2016 - one that not only threatened his career, but also his ability to walk.
Pundits verdict.
Following the game, Sky's Monday Night Football pundits Gary Neville and Jamie Carragher had a lengthy conversation about how RLC career at Chelsea has stalled.
The catch? They failed to mention the ruptured achilles that wiped out 13 months of said career.
Carragher believes that he has only been "showing up" for the last 5 season because he was on a huge wage from such a young age.
He added:
"When he was at Crystal Palace you thought 'what a player'.

He's got to say he wants to play every single week. He's not grabbed his chance tonight.

'If you get your chance you have to grab it. He's had his chances now.'
This judgement may seem harsh, yes- but like us all, Carragher is only venting his frustration because he knowns what immense potential RLC has.
Neville conveyed a similar stance and suggested Chelsea should look to move him on:
"I thought, Ruben Loftus-Cheek, he's been given his chance.

I thought he was really disappointing. I don't think Loftus-Cheek can complain. He's been given games.

I don't think he's ever grasped his chance yet. There's going to come a point when they're going to cash in and get £25million for him."
What's next?
RLC was bad last night. Simple as that.
He hasn't looked particularly good (other than that driving run and scooped assist for Tammy Abraham versus Crystal Palace at the back end of last season) since he came back from his injury.
The injury isn't an excuse for his performance, lets make that clear. But it is still relevent context.
He desperately needs a consistent run of games and couple good performances to regain confidence and momentum.
Will that be at Chelsea? That is yet to be decided.
With competition for places being higher than ever, another loan move may be beneficial on his road to recovery.
This is a proven strategy, as Zouma spent two season away from the Bridge at Stoke City and Everton respectively, when he suffered a terrible knee injury against Manchester United in 2016.
Now, Zouma is a regular starter for Chelsea.
Wherever his career goes from here- whether that's out on loan or remains at the club- it's undeniable that Loftus-Cheek was grasping his chance pretty emphatically until that fateful friendly in Boston.
Fingers crossed we can see him return to his 'best' in a Chelsea shirt.