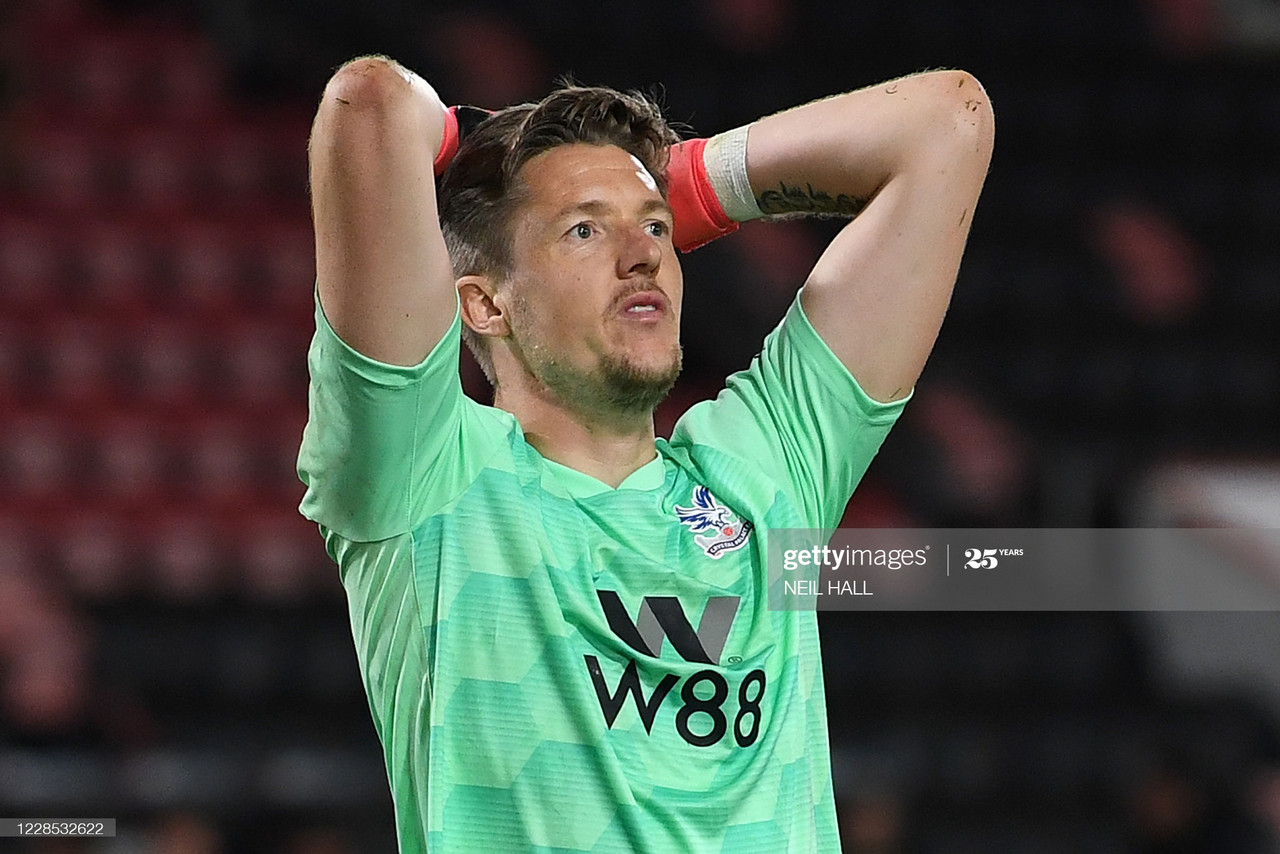 Crystal Palace played out a 0-0 draw with AFC Bournemouth before losing 11-10 on penalties, as the Eagles exited the 2nd round of the Carabao Cup.
It is also the second season in a row that they have exited the Carabao Cup on penalties after playing out a stalemate with Colchester United last year and losing 5-4 on penalties.
The game was slow and non-eventful for the entirety of the 90 minutes with Palace having the best chance in the first-half through academy youngster Nya Kirby, who tested Asmir Begovic in goal.
The second half was dominated by Bournemouth but Palace had a few half-chances in the last 15 minutes of the game. It was no surprise to see that the game went to penalties.
The Cherries were the first to miss a penalty when Wayne Hennessey saved a penalty from Begovic. Hennessey had the chance to win the tie for Palace but he blazed his penalty over the bar.
With the penalty shootout at 10-10, David Brooks stepped up to convert his second penalty of the shootout. Luka Milivojevic missed his second spot-kick to send Bournemouth through to the third round to face Manchester City.
Penalty woes for Palace once again
This is the second time in a row that Palace have lost in the second round of this competition due to a penalty shootout. The Eagles have had bad luck in this tournament since 2012 when they lost to Cardiff City on penalties in the semi-final.
This defeat isn't as embarrassing as Colchester but it's a missed opportunity for Palace to go on a cup run. They haven't had a decent cup run in this competition since the 2011/12 season back when they were a Championship club.
Palace haven't won a penalty shootout since the 2001/02 season when they won 5-4 on penalties after a 1-1 draw against Everton.
Why was Tyrick Mitchell dropped?
Academy graduate Mitchell was excellent against Southampton and it was a shock to see that Jaroslaw Jach started in his place.
This was a decision that would soon become regret with Jach having a poor game at left-back as he is naturally a centre-back. Mitchell was left on the bench and didn't play a single minute against Bournemouth.
It is likely that Mitchell would've had a better game and this could have resulted in a win for Palace without going to the lottery of penalty shootouts.
Schlupp and Eze should've been swapped
It was clear to see that Jeffrey Schlupp was out of position when he was played as a striker to partner new signing Michy Batshuayi.
Schlupp was largely uninvolved in the game and it was also disappointing to see new signing Eberechi Eze making his full debut on the wing.
Eze could've made a new partnership with Batshuayi up top and it would've made Palace a bigger threat to Bournemouth's defence. Schlupp likes to run with the ball from midfield and his abilities were nullified as a striker. These mistakes in positioning was a big reason for Palace's early exit.
Opinion: Hennessey has to be replaced in January
Public enemy number one in SE25 didn't do himself any favours on Tuesday night when his penalty kick was hit wildly over the crossbar.
After saving a penalty from Begovic, Hennessey had the easier job of keeping his penalty on target to give himself a great chance of sending Palace thorough to the next round.
Instead, his penalty miss made the shootout level and Brooks converted his penalty to put the pressure on Milivojevic. The Serbian missed his penalty and Bournemouth are through instead of the Eagles.
Palace will need a new backup goalkeeper that is reliable enough to replace number one Vicente Guaita if he gets injured. Hennessey is only trusted in cup games and we can see why he doesn't play any league games.
Palace will now have to wait until after Christmas to begin another cup competition as they will certainly aim to do better in the FA Cup.