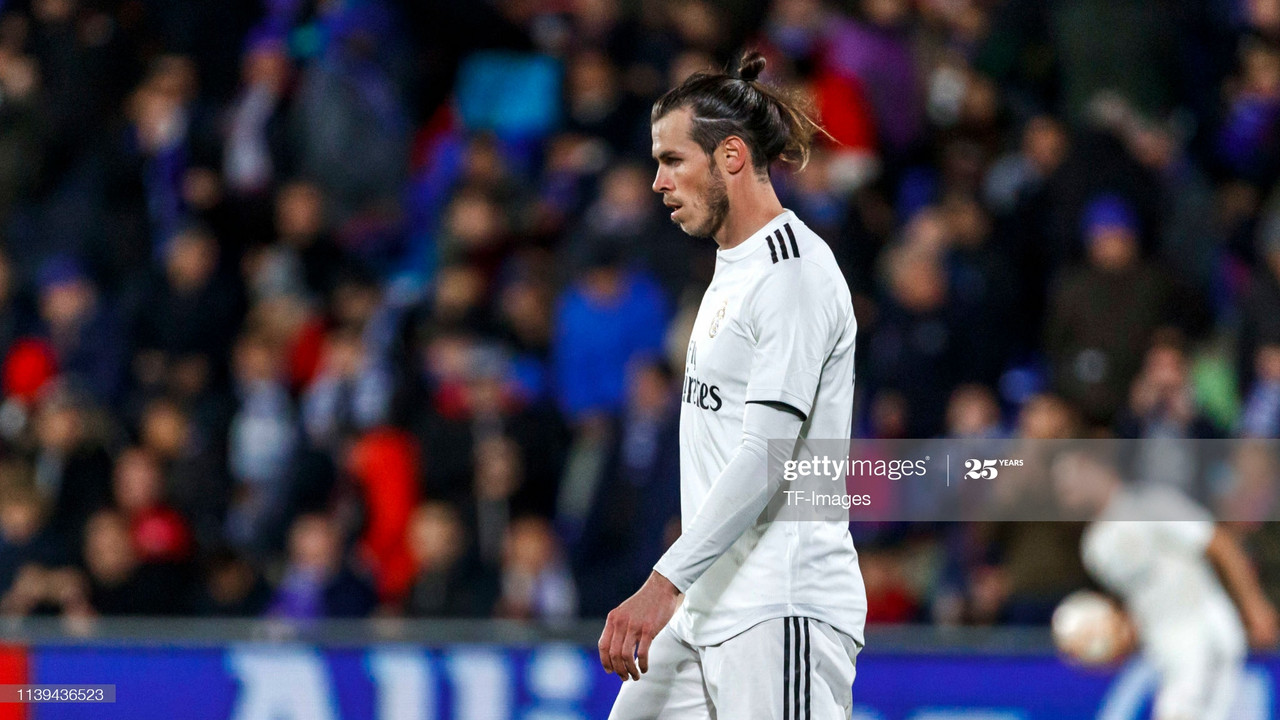 According to ESPN, Tottenham Hotspur have now moved ahead of Manchester United in the race to sign Gareth Bale from Real Madrid.
Jose Mourinho has reportedly made it clear to chairman Daniel Levy he needs attacking reinforcements this summer.
The Welsh international is clearly incredibly unsettled in Spain – with his relationship with manager Zinedine Zidane at an all-time low.
Is now the time he finally returns back to the Premier League?
If so, will it be Spurs that pull off the audacious transfer to bring back one of the most loved players in their recent history?
One massive problem looms over Bale's inevitable move away from Spain – the funds needed to draw him away.
His wage at Madrid is ridiculously large, and despite the mass interest from top teams to lure him away – they will struggle to match that wage for a 31-year-old.
With the fee becoming less year on year, the transfer has slowly become more likely.
Following on from that, a massive breakthrough in the saga occurred last week, as Madrid reportedly are willing to pay 50% of Bale's wages at his next club.
This has made the transfer more realistic and has given clubs hope of capturing the Welsh international.
Even with this, Bale's return still feels too unrealistic. If the transfer formulates, he would still become Spurs' highest earner.
This is also mixed with the current financial situation, where their budget has been slashed, and they are currently struggling to fund a back-up striker for around £15 million.
Man United are constantly linked with the forward and they look more likely to be able to fund the deal, with them having a much larger transfer budget.
One thing is clear - Bale would be very happy to play in the Premier League again.
This would be his attempt make sure his legacy does not get tarnished by the happenings in Spain.
Despite rumours of a loan surfacing, this deal feels too much to do for Levy, who operates under a very strict transfer policy.
Forgetting the unlikely possibility of the transfer, dreams of bringing him back to North London will forever be one that sits high up on Spurs' wish list.
Bale set the world alight for Tottenham, transforming himself from a young left-back with potential, to a world-renowned superstar within a couple of years.
It's a love story well documented within the realms of N17, but there is hope that the romance may come alight again.
Ever since his unrest at Madrid started, rumours of Bale returning to North London have been consistently brought up.
He was very close to going to China last summer before Madrid pulled out.
Man United are often in the conversation and they are this summer too, reportedly viewing him as an alternative to Jadon Sancho.
All the romance and good memories aside, would he fit well into this Spurs side? Would he propel Tottenham chances into the top four or win a trophy?
Answers to these questions can never be said with conviction, but one thing is for sure. Bale back at Spurs would only be a positive thing.
There are obvious holes in Spurs' team that are void of the required quality, but there is a very good argument that a wide attacking player is a position that does not improving.
This will be of little concern, as despite being 31 years old, he would bring something unique and something no Spurs player has done – been at the very top of the game.
Bale was a pivotal figure in Madrid's famous 'La Decima', and then the four Champions League wins - scoring arguably the greatest ever final goal against Liverpool in the 2018 final.
He's been there and done it at the highest level – he would be someone the players can aspire and learn from.
As well as that, he still has outstanding quality. The 31-year-old would be an incredibly dangerous figure in Mourinho's counter-attacking outfit, and the possible link up with Harry Kane and Heung Min-Son makes for a frightening thought.
Spurs fans have been crying out for a striker to provide back up for Kane this summer window.
Despite Bale being more natural in the wide positions, it is not unheard of for the Welshman to play through the middle.
Despite it still being just a dream for now, if Levy decides to bring Bale back to N17, it would make everyone jump off their seats and turn their attention to Tottenham.
This would be a statement signing.