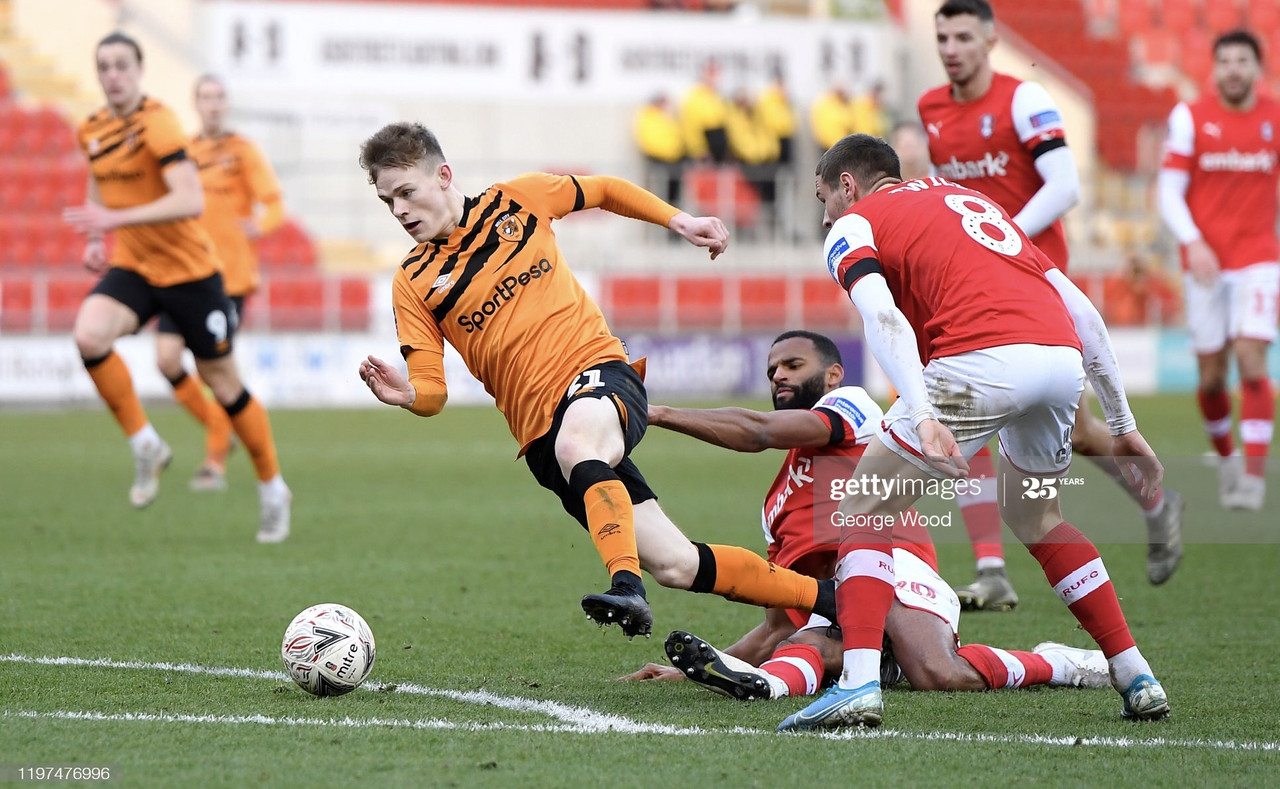 Keane Lewis Potter has the potential to release Hull City from the doldrums this season, a rare home-grown diamond in Grant McCann's rather sparse treasure chest.
Potter's promise has shown early in the season, with two goals in his first two games, and he did more than just impress in his 22 appearances in the Championship. But, Grant McCann has hinted he could keep his jewel concealed in order to protect it.
McCann told Hull Live, "We've got to be careful and play him when the time is right, and I think we'll get a better impact from him then."
The 19-year-old has scratched an itch that has plagued Hull fans for nearly a decade, being the first home grown goal scorer for the side since Nick Barmby in 2011, when Potter was only 10 years old.
There is more to Potter then tropes and clichés of being a young talent, the next rising star, and the future of the club. An aura of magic and prophecy surround him, after being educated during Hull's own golden generation.
Potter sat on the side lines as a ball boy as he watched Andy Robertson, Harry Maguire, Tom Huddlestone and Mo Diame produce the most gracious football Hull fans had ever seen. He was at Wembley when Diame's spine tingling strike from range hit the back of the net to win the most lucrative prize in English football. He has experienced the finest successes with them, winning is etched into his footballing DNA.
McCann has made mistakes in shielding Potter in the past. He was brought on late during the 5-1 drubbing at Stoke, the final game before lockdown, with McCann commenting to Hull Live after, "a 19-year-old, playing with that energy and verve, some of the boys need to look at him and what he delivered when he came on. I was really pleased with him. My biggest mistake was probably not starting him if I'm honest."
For Potter to show that quality and spark in the Championship when the game was dead, showcases a guile and desire of a man playing for the badge, something a tigers shirt has been missing during a period of passing ships of loan players and free agents.
Hull do have good options for the third division, Josh Magennis will score a lot of goals this year, as will Tom Eaves should he remain injury free- but Hull have a chance to invest in giving Potter starting XI spots, and reaping exponential rewards in the future.
League One provides a platform for Potter to experience real playing time, rugged old-fashioned play, poorer pitches, and the pressure of a promotion push- education integral to adding character to his raw, undeniable talent.
The amalgamation of his winning DNA, pride of Hull, and natural ability that can only equal positive outcomes. A home-grown hero that the fans have not seen the likes of for 10 years could re-establish some fibre of faith in a system that has cast them into the catacombs.
Promotion is demanded, rebuilding and growth is essential. Potter is a beacon of the rebuild. If not now McCann, then when?