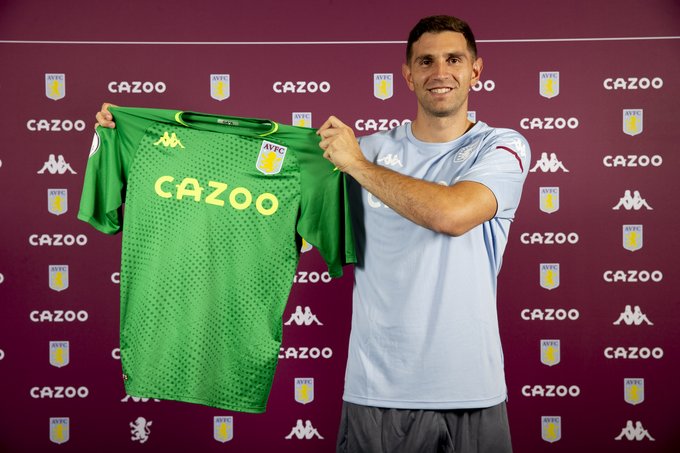 Aston Villa have completed the signing of Arsenal goalkeeper Emiliano Martinez.
The fee is reported to be in the region of £16 million and the Argentine shot-stopper has signed a four-year deal at Villa Park.
Adios Arsenal
Martinez said goodbye to the Gunners in an emotional social media post last night.
In a four minute video on his Instagram account, he posted an emotional speech cut to highlights of his spell in North London. He spoke at length about his affection for Arsenal and waiting for his chance:
"I always had a feeling that I would get my chance at Arsenal. I was always trying to come back to the club I love. I did it. I waited. I got past the frustration because football is not always as easy as everyone thinks."
Villa boss Dean Smith has also spoken to the club's media about how happy he is at the capture of Martinez:
"We know how highly Arsenal rated him and we watched his outstanding performances in a trophy-winning top side.
"We moved for Emi when we saw the opportunity, as it is rare to be able to buy a top class goalkeeper who hasn't yet reached their peak".
Fitting in
It has been questioned why Villa needed to sign Martinez, considering they already have three goalkeepers with the potential to fit into the first team picture.
Ørjan Nyland, Jed Steer and Tom Heaton all have had runs in the Villa first team over the last two seasons to relatively mixed results. However, all three of them have had a major injury over that time. Nyland and Steer both suffered Achilles injuries while Heaton suffered a freak but severe knee injury.
Since the start of the 2018/19 season, Villa have fielded no less than six different goalkeepers due to injury issues and poor form. It is hoped by bringing in Martinez, who has a clean injury record that they can finally get some consistency between the sticks.