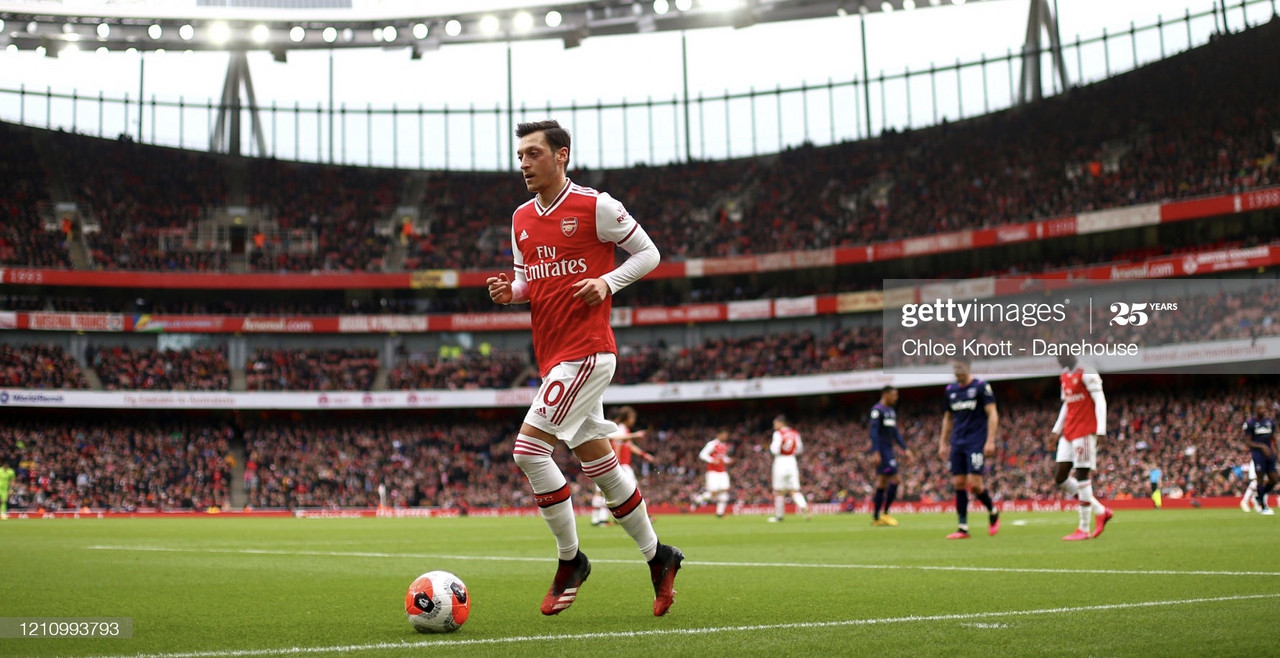 Mesut Ozil was once a huge signing for Arsenal but now he may well be wondering how he can work his way back into the side, especially with Mikel Arteta looking to use the 3-4-3 formation.
Ozil was a key player for the North London side between 2013-2018 but over the last two years, his game time has dropped due to injuries and being left out of the team.
The midfielder has appeared 184 times for the Gunners, scoring 33 goals and picking up 58 assists since joining in 2013. In Ozil's first four seasons with the club, Arsenal averaged 2.0 points per game with him in the side, however this has dropped to 1.57 over the last three seasons, showing a decrease in his influence on the team.
The German international has had plenty of highlights in an Arsenal shirt up to now, including a wonderful solo goal against Ludogorets in the Champions League and matching Thierry Henry's assist record in the 15/16 season, registering 20 assists.
Where does he fit in the team?
With the way Arteta looks to want to set up his side this season, there doesn't seem to be a place for Ozil. The 3-4-3 formation has been the one of choice so far this season and the German doesn't really fit the system as he is much preferred as an attacking midfielder, which Arsenal do not use.
If the midfielder was to work his way back into the side, he may well find himself pushed out wide either operating from the left or right wing in the front three. With the signing of Willian and form of Pierre-Emerick Aubameyang and Alexandre Lacazette, he may well find it a tough task to get ahead of any of those ahead of him, a list which also includes Nicolas Pepe and emerging star Bukayo Saka.
This is the question which much have passed the Arsenal hierarchy many times, with the German earning an astonishing £350k per week. Ozil is amongst the highest paid players in the Premier League and one of the issues may well be other teams not being able to afford him.
As the midfielder approaches 32, his contract with the club is up at the end of the 20/21 season, this may well be the perfect time for the club to cut ties with the midfielder and go their separate ways.