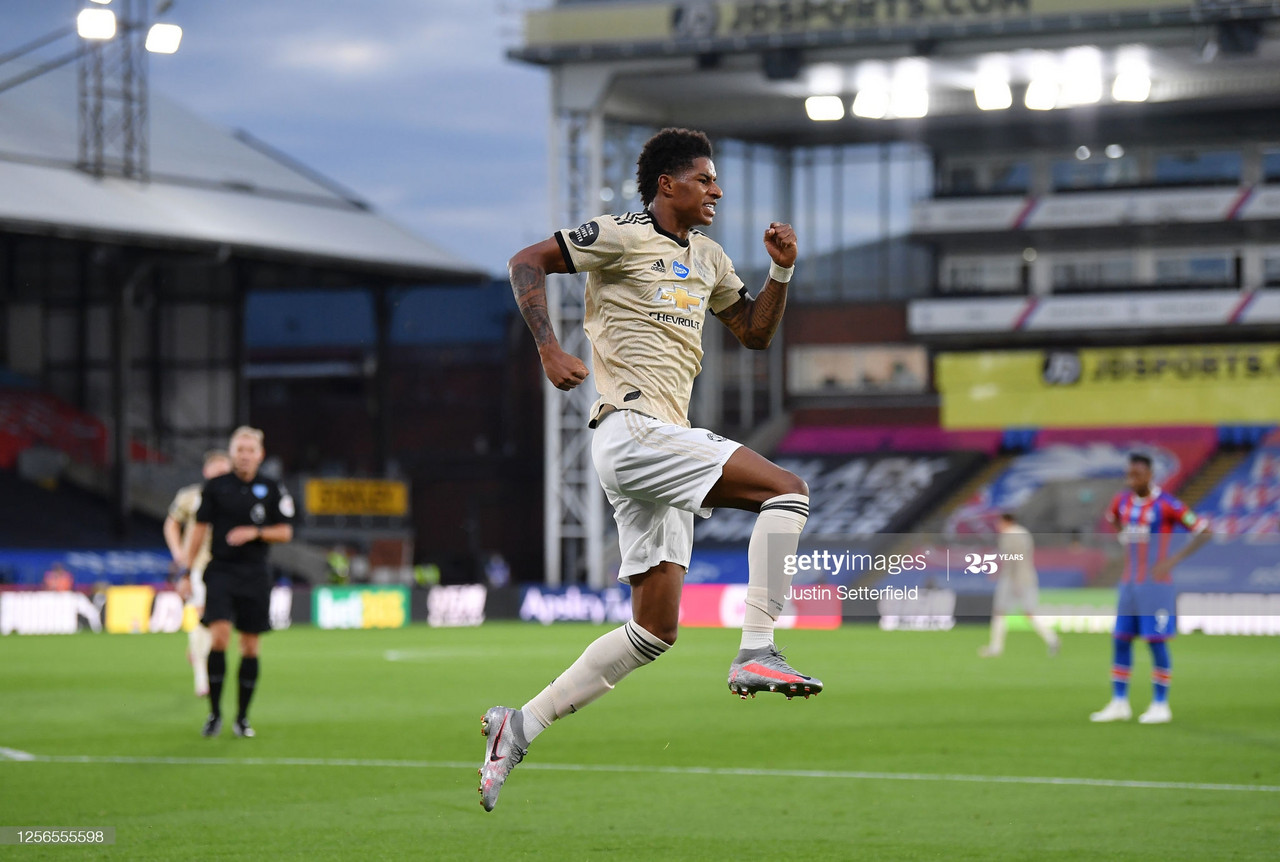 With Manchester United's season opener against Crystal Palace almost upon us, how will Ole Gunnar Solskjaer approach his team selection?
With Donny van de Beek the only summer arrival, at the time of writing, and no notable departures, the first team squad is almost identical the one Solskjaer had at his disposal last season.
Working under the assumption that no new arrivals or departures will be announced before Saturday, here is a prediction of how the Reds could line up:
The potential line-up:
GK - David De Gea
With much media speculation about the new rivalry between the Spaniard and Dean Henderson, it is expected that Solskjaer will remain with last season's number one and give De Gea a chance to prove himself.
Any decision against this could bring turmoil in the dressing room, as making such a senior figure as De Gea unhappy is probably not a risk worth taking.
RB – Aaron Wan-Bissaka
Undoubtedly one of the first names on the team sheet, Wan-Bissaka has quickly established himself as a stalwart under Solskjaer at United.
With his back up option, Diogo Dalot, seemingly out of favour with the Norwegian it seems Wan-Bissaka's place in the lineup is secured for a long time to come
CB – Harry Maguire
Despite recent controversy, Maguire is still United's captain and their best centre back and will be treated by Solskjaer as such.
Any doubts or fears of Maguire being dropped were squashed when Maguire started against Aston Villa last weekend, all but confirming his place in the starting 11 on Saturday.
CB – Victor Lindelof
Despite all the speculation defensive reinforcements, it appears Lindelof has maintained his place next to Maguire this season.
Following an arguably inconsistent season, this could be make or break for the Swede as he looks to finally cement his place in the team and fans' hearts.
LB – Luke Shaw
His presence down the left was severely missed at the back end of last season, something Solskjaer has surely noted.
Having regained his fitness in the nick of time, Shaw has surely tied down the left-back spot on Saturday.
CM – Paul Pogba
Having recovered from Covid-19, United's World Cup winner will be a sure-fire starter on Saturday providing he is back to full fitness.
CM – Nemanja Matic
Following his retirement from international football, Matic has been able to spend the last two weeks preparing for Saturday's opener.
Having rediscovered his form last season, he is likely to maintain his place, leaving new arrival Van de Beek on the bench for his debut.
AM – Bruno Fernandes
The saving grace of United's season, Bruno is undoubtedly United's most important player at this moment in time.
Following the arrival of his child last week, Fernandes should be raring to pick up where he left off last season.
RW – Mason Greenwood
Following a rollercoaster of a week for the young attacker, Saturday acts as the perfect opportunity for Greenwood to put the negativity behind him.
Saturday could also act as an opportunity for Greenwood to prove his worth in the midst of United's pursuit of Jadon Sancho, who would more than likely replace him.
LW – Marcus Rashford
Mr. Manchester United, Rashford is a favourite of both the fans and the boss and will have his placed in the side granted because of this, assuming he's fit.
However, following his poor end to last season he needs to work hard to keep his place, with his merit only lasting a finite amount of time in Solskjaer's mind.
ST – Anthony Martial
Coming off the back of his best season to date, as well as his first international call up in a long while, Martial will be full of confidence going into the new season.
The Frenchman will be looking to hit the ground running on Saturday in order to improve on a stellar campaign last time out.