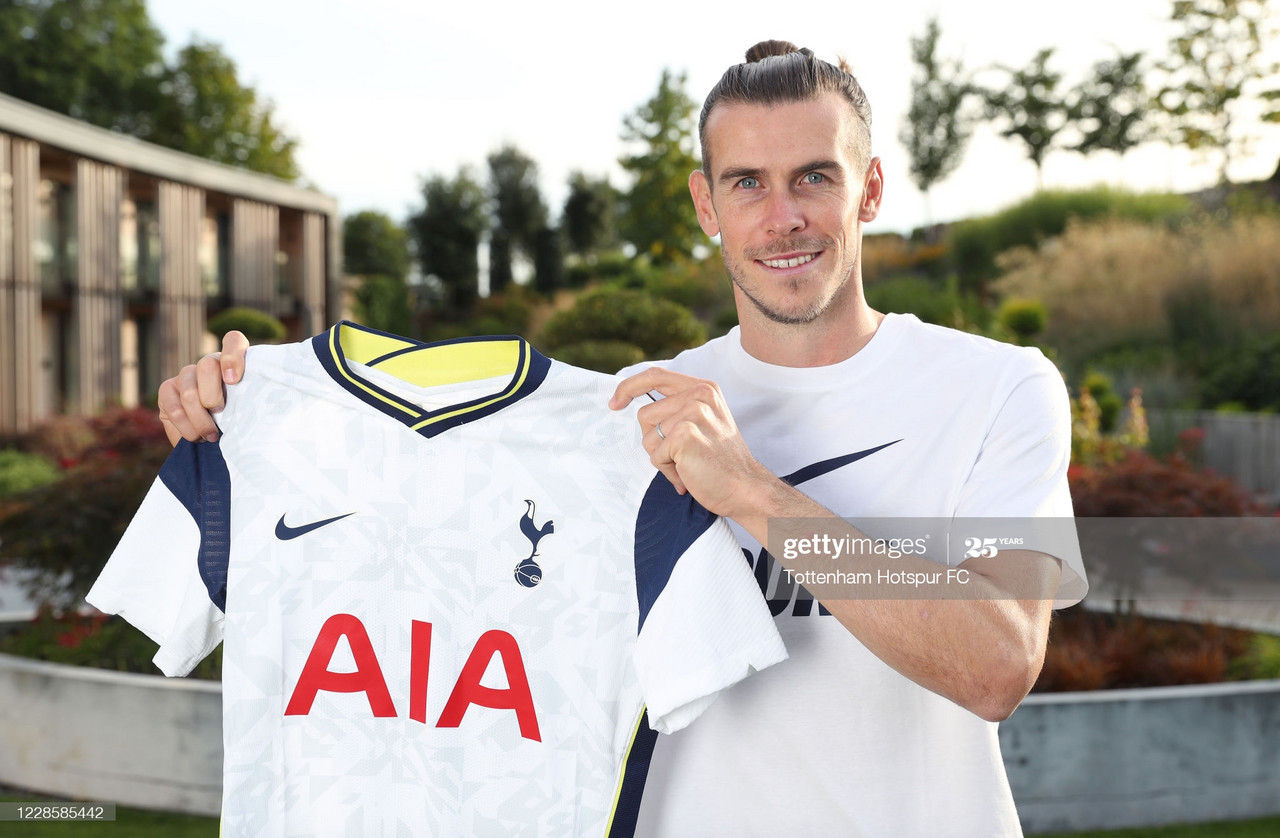 Tottenham Hotspur have re-signed Gareth Bale from Real Madrid on a season-long loan in a stunning deal that sees the Welshman return to North London, seven years after he left for a world-record deal.
Manchester United were very keen, viewing the potential loan deal as a Jadon Sancho alternative, but Bale has expressed his desire to reunite his love story at Tottenham.
The 31-year-old's 600,000 per week wage at Real constantly held back any potential departure, even the elite's in football not being able to fund the deal for the forward.
Since his unrest and falling out with Zinedine Zidane, Madrid offered to pay 50% of his wages to any potential suitors.
Daniel Levy, who has always desired to bring Bale back, saw this as a great opportunity to finally see Bale return to N17.
Jose Mourinho is also a huge admirer of the forward - shown by his previous ambitions of acquiring him at Real Madrid and then Manchester United.
This massive deal has seen Spurs fans understandably thrilled that they're reunited with one of their most loved players in recent history and also someone who transforms their attack.
STATEMENT SIGNING
For so long, there have been massive calls for Levy to show more ambition. The common argument is the lack of investment after the title chases in the peak of the Mauricio Pochettino era.
This capture of a world-class player mixed with how complicated the deal is and the finances of his wages – is a massive step in the right direction.
There can be no hiding from this excellent showing from Levy – he's clearly had a change of policy.
After previously reportedly struggling to allocate the funds for a back-up striker, and now overnight he's prized Bale and Sergio Reguilón away from Real.
Many have illuded he's finally touched into the 'special connection' he's got with Madrid that he struck after the sale of Luka Modric in 2012.
It's become a source for jokes in the coming years after, many thinking it's only benefiting the Spanish giants after they stole Bale for a world record fee.
But it appears the Lilywhite's are finally getting their side of the deal, capturing two players from Madrid in quick succession.
This signing is a statement, and not only from Levy to his doubters – but to their Premier League rivals.
ON THE PITCH
Forgetting the outside romance surrounding this deal, Bale represents outstanding quality for Spurs in the final third.
He immediately adds another dimension to Mourinho's counter-attacking outfit.
Nowadays, Spurs are often is happy to allow teams a hold of the ball, with the hope that players like Harry Kane or Heung Min- Son can kill the opposition on the transitions.
That sounds dangerous as it is, but if you add Bale to that equation, that makes for a very dangerous front three.
He has very similar attributes to Heung Min-Son, mainly in terms of his direct dribbling, and his ability to use both feet.
They are also versatile and very fluid in the forward areas, both comfortable playing through left, right and the middle.
This will be a devastating weapon for Spurs to use throughout the season, not only in resting certain players, but inter-changing throughout the match to confuse opposition defences.
All current wingers do bring certain qualities, but the unfortunate truth is that he is a massive upgrade on Steven Bergijiwjn, Lucas Moura, and Erik Lamela.
One thing tailored to Bale's brand is set pieces. Many Spurs fans saw him score countless brilliant free-kicks with that wand of a left-foot, seemingly mastering the technique of the 'knuckleball' (When the ball kicked at very low spin, which results in a zigzag trajectory).
Christian Eriksen took the free-kick throne from the early days with great success, but the Dane's presence on them slowly faltered.
Ever since Spurs have seriously lacked a danger from free-kicks. Kane has tried to claim them, but it is one of the only things the England captain isn't particularly brilliant at.
Having a dangerous presence over a free kick is only a good thing, It gives Spurs another dangerous outlet to score more goals.
Some concerns have been raised, however, at Bale's recent trend of becoming an injury-prone player.
His downfall at Madrid had many factors, and constantly being stalled by injuries is one of them.
Especially now at 31-years-old, there is a feeling that Bale might not get as much game time as fans would like – considering the fixture pile-up they have to face.
So many positives, barely any negatives. Bale makes Tottenham a better team – simple as that.
WE MEET AGAIN
Seven years ago, Spurs had to say goodbye to their self-made superhero for a world-record of £85 million.
Many thought that was the end of the romance – with Bale destined to his life in Madrid and so on.
Since his unrest in Spain, there have been links back to Spurs almost every transfer window. These usually led to nothing concrete and were usually rubbished by most.
His finances, mainly his wage, were the barrier holding him back from leaving Madrid. However, ever since reports came out that Real were willing to let him go and subsidise a part of his wage, the transfer seemed a lot more plausible.
Levy's eyes seem to light up, and while also bringing in Reguilón, saw a fantastic opportunity to reunite one of Tottenham's best players of the modern era.
Bale made it obvious that his place of destination wanted to be his former club rather than Man Utd. He knows the area, and clearly still holds Tottenham dear.
The fans love him and continued to adore him even during his ventures in Real. He never spoke a bad word about Spurs whenever he was questioned.