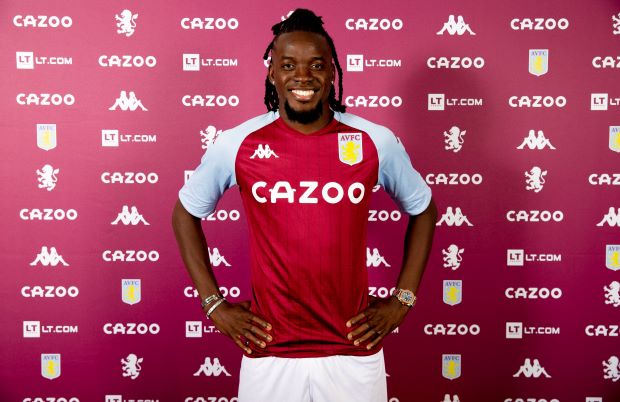 Aston Villa have announced the signing of winger Bertrand Traore from Olympique Lyonnais.
The Burkina Faso international has signed for an undisclosed fee, which is reported to be in the region of £19 million. The length of the contract hasn't been officially disclosed by the club, but it is reported to be a four-year deal, in line with the deal given to Emiliano Martinez earlier this week.
A European tour
Traore's adventure around the European leagues has brought him full circle and back to England where he started his professional career.
After being poached from the Auxerre academy as a 15-year-old, Traore started his professional career at Chelsea. He went on the typical loan move for a Chelsea youngster, joining Eredivisie outfit and Chelsea's sister club Vitesse Arnhem in 2014. He impressed in the Netherlands, bagging 16 goals in 42 appearances, which proved to be enough for Jose Mourinho to keep him around for the 2015-16 season.
However, Antonio Conte again chose to loan Traore out, this time back to the Netherlands with Ajax. Traore again impressed in Amsterdam, this time enough to earn a permanent move away from London. Lyon opted to sign Traore for £8.8 million in 2017 after Traore played 90 minutes of a Europa League final defeat to Manchester United.
He impressed in his first two seasons in Ligue 1, particularly in his first season due to his performances alongside Mariano and Memphis Depay. However, he endured a difficult final season in France. He scored just one goal in the league and lost his side the Coupe de France final by missing in the shoot-out. He was derided by Lyon fans for his apparent poor work ethic and low productivity in his final season.
Just what the doctor ordered
A major issue for Aston Villa last season was the lack of defensive output from the wingers.
Take Burton Albion's goal against Villa in the Carabao Cup this week for example. All of Villa's defenders were perfectly in line with each other, but because Anwar El Ghazi failed to track back to help out the defence, Burton had enough space in the area to score. With new arrival Matty Cash being a largely attacking right-back, it is necessary for Villa to have a winger who's willing to put the hard yards in defensively.
When ranked by SmarterScout, Traore was described as "average in attack, with excellent ball retention, outstanding as a defender, very good in the air as well". These are all very encouraging signs for Villa, but not so for El Ghazi. Following his ho-hum performance against Burton, it is likely that Traore will take his place in the side to link up with Trezeguet and Ollie Watkins.