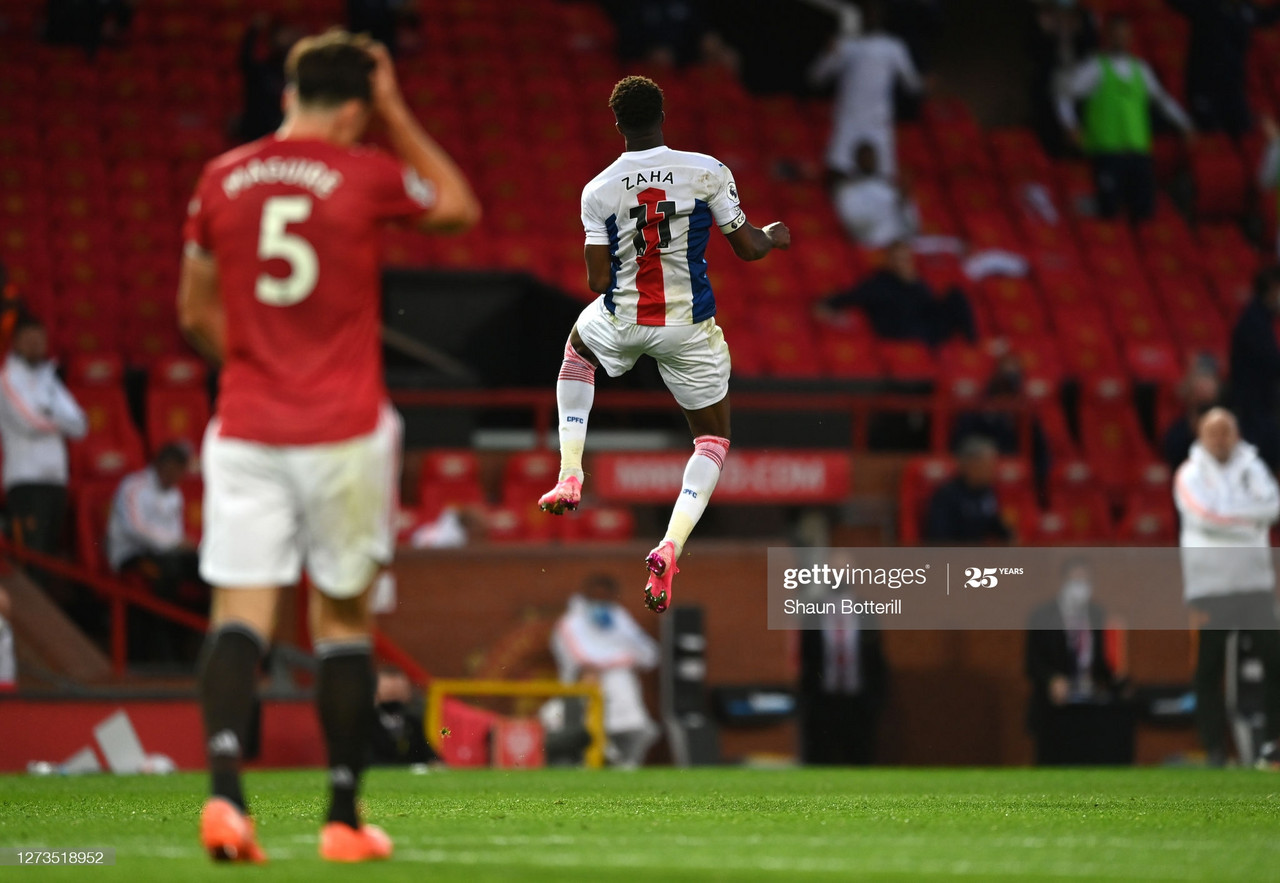 In a must-win game for Manchester United, Ole Gunnar Solskjaer's men put in a poor showing and failed to secure an opening day victory for the first time since 2014, where United lost 2-1 at home to Swansea City.
It was a former red in Wilfried Zaha that made the difference for Palace, netting a brace that secured the points, but how did the current men in red perform, player-by-player?
David de Gea: 6/10 – While many believed the return of Dean Henderson would give De Gea the proverbial 'kick-up-the-backside' he needed to get back to his best, the United 'keeper put in another poor showing between the sticks. While a penalty save – which, in truth, got chalked off thanks to a questionable VAR decision - may make up for his performance and give him a point extra, the Spaniard should be looking over his shoulder for a potential replacement.
Timothy Fosu-Mensah: 4/10 – Fosu-Mensah showed sparks at the tail-end of last season to show his United career may have some signs of life, but his performance against Palace was what many have come to expect from the once-promising defender. A dogged performance at left-back and could not deal with the pace of the opposing attack.
Victor Lindelof: 3/10 – Though the centre-back partnership with Harry Maguire looked to be on stable footing at the end of last season, Lindelof's abysmal performance struggles to see him get higher than a three this afternoon. A handful of mistakes, and at fault – in part or in full – for all three Palace goals, including a handball for the original penalty.
🤔 The correct decision? This was the handball that handed #CPFC a penalty against #MUFC.

Watch on Sky Sports PL
Follow #MUNCRY here: https://t.co/WU7kHHos72
Download the @SkySports app! pic.twitter.com/LFNPPc8v3I

— Sky Sports Premier League (@SkySportsPL) September 19, 2020
Harry Maguire: 5/10 – The United skipper was probably the best out of the back-four today, but that accolade is rather futile given how dire the backline against Palace. The defender looked stable in the midst of chaos at times, but he will not escape criticism from a horrific performance that he should have dealt better with, especially with the captain's armband.
Luke Shaw: 5/10 – If rumours are true that United are looking at replacements for a left-back, then this performance from Luke Shaw vindicated them. He looked solid on the overlap at times but couldn't get anything going today – and many would argue he was at fault for Andros Townsend's seventh-minute opener, after being unable to keep up with the goalscorer, allowing him to slide home at the back-post.
Scott McTominay: 5/10 – While Scott McTominay has better days in him, today's average showing is perhaps defensible considering how little he played after the restart in June. By no means was his performance excellent, but he showed promise going forward and connecting with the defence, and even challenged the goal at times with a good curling effort from outside the box. However, there wasn't anything particularly spectacular about McTominay today.
Paul Pogba: 5/10 – United fans called for Pogba to sign a new contract over the summer after excitement over a possible connection with Bruno Fernandes, but the likely-extortionate wages were not justifiable in a sluggish showing from the centre of the park today. Pogba had chances to create several chances today, and came close from outside the box on a few occasions, but there was much left to be desired from the Frenchman today.
Bruno Fernandes: 6/10 – Bruno Fernandes, fresh off his victory of the Sir Matt Busby Player of the Season award for 2019-20, put in an unremarkable performance against Crystal Palace today. While even the weakest of days is still usually a seven-out-of-ten for the dynamic attacking midfielder, there was little to shout about for Fernandes, who couldn't get much going with an unreliable supporting cast.
Daniel James: 4/10 – Where did this selection come from? Mason Greenwood's exclusion from the first-team may have been his slap-on-the-wrist for his Icelandic rendezvous with Phil Foden, but Solskjaer may have regretted it given how poorly his replacement played today. The winger was absent for the entirety of the forty-five-minute showing before he was hauled off at half-time, and the jury is still out on the Welsh international.
Marcus Rashford: 5/10 – Marcus Rashford's uninspiring showing after the restart continued today as the forward looked dejected from the proceedings; the forward was missed on the left today. While the poor performance of Shaw on his side didn't help, Rashford couldn't produce the sparks he usually flashes – it looked like his nagging injury still hasn't subsided and it couldn't come at a much worse time.
Anthony Martial: 5/10 – Rewind just three months ago, and Anthony Martial was often the coolest man in any room he walked in to; dazzling on the grand stage of Old Trafford. However, Martial today looked eerily similar to the grumpy, miserable striker that moped throughout many of the Jose Mourinho days at Manchester United. He was not fed enough today, but this is no excuse for the frontman, who really should be creating his own destiny, rather than waiting for everyone else to do it for him.
His showing today was a call-back to the lazy days of seasons gone by, and everyone at Old Trafford – including Martial himself – must ensure last season was not just a one-hit wonder.
Mason Greenwood: 5/10 – If Greenwood hadn't been introduced at half-time, there likely would have been riots outside Old Trafford calling for the new number eleven – but even after his entry, the forward was never involved enough on the right. He'll start sooner than later, but both his and James' abject performances only raised further attention to the need for a right-winger, sooner rather than later.
Donny van de Beek: 6/10 – A limited pre-season with United made it that Van de Beek's debut for United was but a half-an-hour cameo from the bench, but the midfielder's slick finish to halve the deficit may have forced himself into Ole Gunnar Solskjaer's selection plans. He did look solid going forward and suited the red shirt – but more needs to be seen from the Dutchman before he can cement himself as a starting-calibre midfielder.
Striker Odion Ighalo was also introduced later on in the half, but not for long enough to be given an accurate rating.