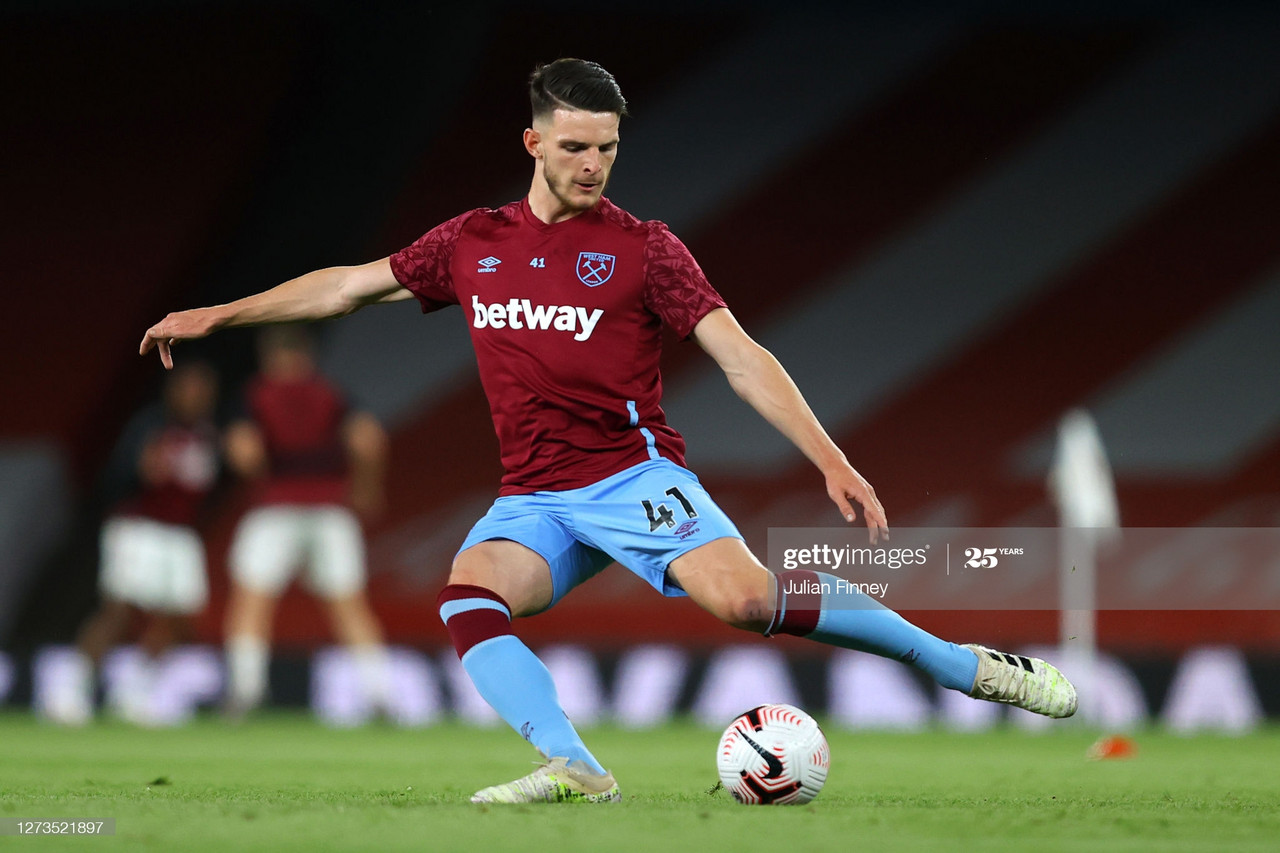 Ever since the summer window opened on July 27th, it has been well-documented that Chelsea manager Frank Lampard has been after former academy talent Declan Rice from West Ham United.
Initially wanted as a centre back, the 21-year old is now considered an option in midfield- a position Rice has made more then 100 appearances in for the Hammers.
Though Chelsea are arguably most equipped in the middle of the park- with players such as N'Golo Kante, Jorginho and Mateo Kovavic all able to play in said roles- it begs the question: why does Lampard want Declan Rice?
What Lampard wants
The signing of Declan Rice would welcome some much needed balance to the current Chelsea squad.
Going all out in the attacking positions- signing the likes of Timo Werner, Hakim Ziyech and Kai Havertz- has left the Blues top-heavy, leaving Lampard with little alternatives at the base of midfield.
Against Liverpool, Kante was deployed to the right of midfield- with Jorginho playing deep- in a 4-3-3 (a role former boss Maurizio Sarri often used the World Cup winner in).
This shift in position suggests that Lampard no longer considers Kante as someone who can play in front of the defenders, and wants a new addition to sit back and hold.
A greater presence is needed, too- someone who has the mindset to break up play using their physicality rather than charging down the opposition to win back the ball.
Declan Rice: in numbers
Since making his Premier League debut in 2017, Rice has transitioned from a tall, physical centre-back into a natural, lone, technically-effiecient pivot midfielder, and he has made the holding midfielder role his own whilst playing in East London.
As his metrics show, the England international is one of the best defensive midfielders in the league. Per 90 (percentile rank), Rice makes 2.34/3.21 successful tackles, 6.24/21.6 successful pressures, 11.8 recoveries, 2.05 interceptions, 1.63 clearances and 1.34/2.21successful aerial duels.
In defensive play, Rice demonstrates exceptional spatial awareness- reducing runs or passes in the central areas by zonal marking.
In offensive play, he is great at guarding the central areas whilst the ball is in transition and constantly evades his markers through his off-the-ball movement.
Because he's instructed to guard rather then maraud the centre of the pitch, he rarely drives forward with the ball.
While this is highly beneficial to ensuring more solidity at the back from counter-attacks, it means Rice isn't involved in the build up as much as the other midfielders- such as Ruben Loftus-Cheek, Ross Barkley or Kovacic.
In terms of his passing, he's very direct and prefers to play "safer" passes.
As a result, his passes hardly ever get intercepted, as shown his statistics (passes completed per 90, completion percentage): - 38.8 total, 86.0% - 0.87 short, 50.8% - 27.4 medium, 91.7% - 10.6 long.
Why Rice?
The Premier Leagues embracement and consequent evolution of the 4-3-3 under the likes of Pep Guardiola and Jurgen Klopp has clearly influenced the way Lampard wants to set up his Chelsea side.
In terms of how they transition the ball, the basic features of both Manchester City's and Liverpool's systems are very similar
Both like to build play by using three defenders and two midfielders on the half-way line, with five players further forward to attack the four oppositional defenders.
One of the ways the back three takes shape in offensive play is when the pivot in the three man midfield drops between the centre-backs. At City, Rodri and Fernandinho are both astute in this role, while Fabinho at Liverpool is also excellent.
When this happens, this acts as a trigger for both full-backs to bomb forward and stretch the play- essentially playing adding another set of wingers in the final third.
But what happens to the midfield when the full backs push forward? Well it is the two midfielders (usually number 8 type players) who drop deep to provide cover and do all the dirty work. This ensures that the team has two defensive blocks in central zones in case the oppositional overturn the ball and break on the counter.
However, with the players currently at Lampard's disposal, no midfielder is able to slot in-between the defenders in order to turn a two into a three.
And Lampard didn't have to look too far to find his man.
Steve Holland, former Chelsea coach and current England assistant, has helped implement the 4-3-3 formation into the national team alongside Gareth Southgate.
Amongst Hollands intentions to make the most of the several players who use to the aforementioned system at their respective clubs, Declan Rice has emerged as the a clear contender for the defensive midfield spot.
A player who is industrial, versatile and could sit in as a centre-half; Rice ticks all the boxes for what Lampard is after.
The Transfer
The Blue side of London seems like the perfect fit for West Ham's star asset. Yet a problem lies with the actual possibility of a deal being agreed between the two clubs.
West Ham have stated on no uncertain terms that they will be letting go of their current vice-captain, despite their touted £75m price-tag.
Furthermore, they will also be reluctant to sell such an asset so soon after the meltdown caused by Grady Diangana's departure to relegation rivals West Bromwich Albion earlier this month.
For anything to take place, Rice may have to try to force the issue, a step he may be resist taking given the bond he has built with West Ham supporters.
The Hammers stance might ease however as we edge ever closer to the window shutting October 5th.
Possible Plan B?
For the time being, it looks like Chelsea only have one option- at that's Declan Rice.
If they don't secure him this window, its just a matter of when- whether its in January or next summer, it's almost certain that the Blue's will get their man.
This persistence to sign their number one target is a sign of Chelsea's recruitment policy returning to its best with owner Roman Abramovich backing of the Lampard's vision.
Twittered famed sports journalist and transfer reporting extraordinaire Fabrizio Romano claimed: "At the moment, I do not have any other information about Chelsea working on a different player."
"But I think it's because this summer they say 'okay these are our targets'."
"They have been so convicted on their target and they are going for their targets. For sure, they'll have a plan B but I don't know if Chelsea want to spend money on a player they are not convinced to sign."
Romano went on to add that: "The mentality of Chelsea this year is to win"
"For example, Liverpool are a fantastic club and they have a fantastic manager and a fantastic team. This is also thanks to what they have done over the years"
"They wanted Salah, they got salah, they wanted Allison, they got Allison. The same for Van Dijk, for Mane, for many top players because they were convinced about that player."
No matter what happens, it will be interesting to see how Chelsea attempt to prize Rice away from West Ham.