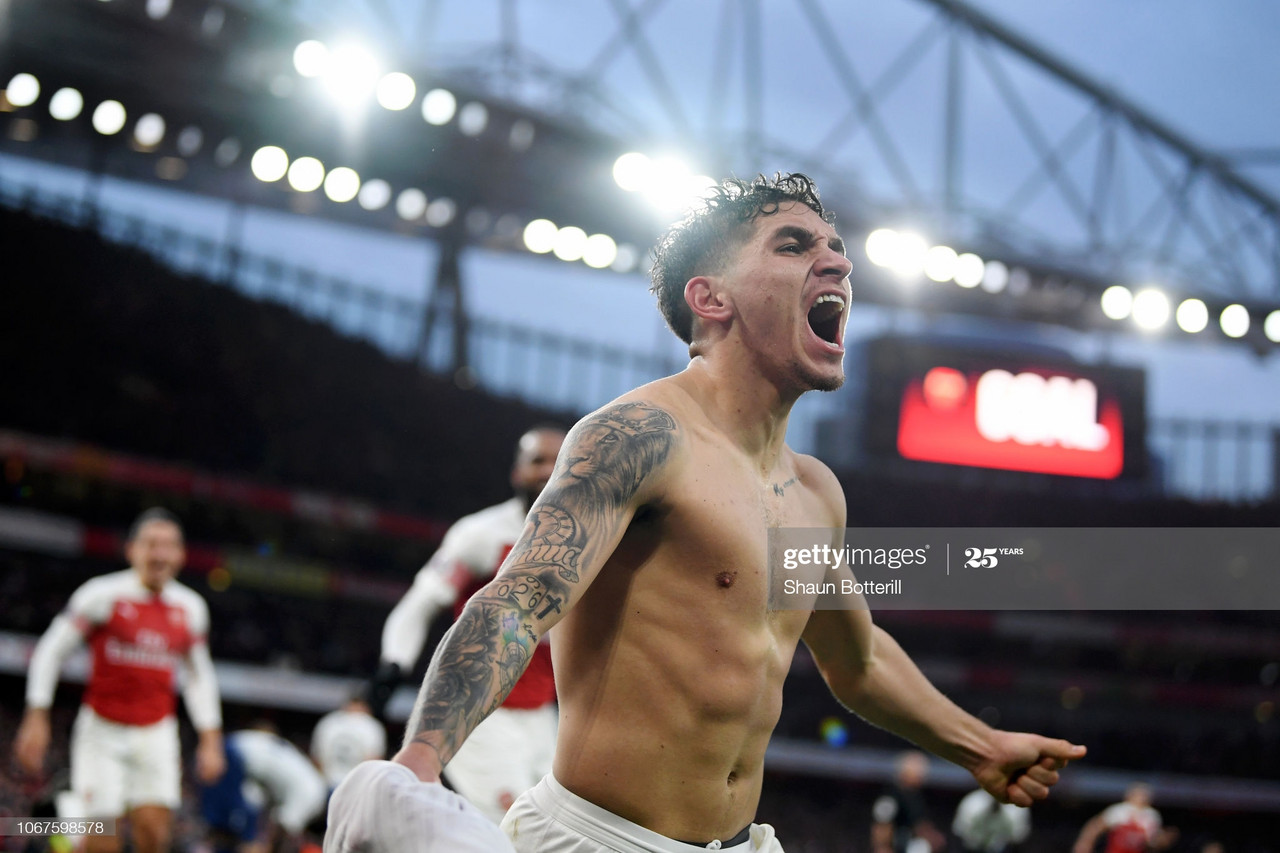 Lucas Torreira has been at Arsenal since July 2018, with many at the time excited by the prospect of having a midfielder who would be prepared to do the hard grind in the middle of the pitch.
However, in recent weeks rumours have continued to surface suggesting his time with the Gunners could be coming to an end soon, with the likes of Torino and Atletico Madrid linked with his signature.
Being played out of position at times under Unai Emery's management alongside a number of injuries has meant that he hasn't quite lived up to the expectations of the Arsenal faithful.
However, it's hard to deny he's had his fair share of stand-out moments in North London along with being many at the club's fans favourite for a decent period in his first season.
The Ronaldo Audition
30th June 2018. Torreira is lining up for Uruguay in a FIFA World Cup Round of 16 match vs Portugal. Now as you can see by the date, this is just under two weeks before he has even signed for Arsenal.
However, many at the time were so confident that the deal was going to happen, many eager-eyed Arsenal fans paid particular attention to Torreira to see what sort of midfielder they were getting.
He certainly didn't disappoint them.
Up against Cristiano Ronaldo, the 5ft 6 midfielder certainly passed the test, keeping him quiet throughout the game, limiting arguably the best player on the planet to half chances and free kicks, in what wasn't the best performance from his team.
The constant work rate and effort showed excited the Gunners, as they believed they had found the sort of protection to defend their poor defence, not seen since Patrick Vieira.
Key Man
Having been away from the starting lineup since a sending off vs North London rivals Tottenham, just over a month later Torreira was lining up for the first time, against Napoli in a Europa League Quarter Final 1st leg.
Arsenal took the lead early thanks to Aaron Ramsey, before just over 10 minutes later, Torreira intercepted a pass and charged in to fire a low shot off Kalidou Koulibaly to extend the Gunners lead to 2-0.
Throughout the rest of the game, he remained an ever-present figure in the middle of the park, working tirelessly to make tackles and set up counter-attacks for his side.
This performance and goal was not only a key one in the push towards the Europa League Final, which Arsenal eventually lost to Chelsea, but also was a stern reminder to all about the importance of Torreira to Arsenal and what they missed when he wasn't around
Acrobatic Lucas
In the stand out period of Emery's tenure, Arsenal were looking to extend their unbeaten run to 21 games in all competitions.
However, a resilient Huddersfield side stood in their way and led by David Wagner were heading towards a key point in their early-season bid for survival.
But Torreira was to have the last say.
Having been heavily involved in the 'dirty' work throughout the game, he stood tallest when it mattered most to claim his side the three points.
With just over seven minutes to go, Pierre-Emerick Aubameyang scrambled a cross into the area heading towards the unlikeliest figure, but Torreira pulled off an incredible over-head kick to clinch his side the win.
Cult Hero
Scoring in a North London Derby will land any Arsenal player into a very special place in the hearts of all Gunners fans alike.
Torreira not only did this, but he showed exactly what it meant to him as well as the fans around the world in what was a crazy match vs Spurs.
After taking an early lead via an Aubameyang penalty, Arsenal found themselves 2-1 behind going into half time.
Throughout the contest, especially in the 2nd half comeback, Torreira pulled off a Man of the Match performance, not allowing any Spurs player a chance to have time on the ball, including a particular incident when he fought to hold onto a ball despite being on the ground, when faced against Dele Alli and Christian Eriksen.
If that wasn't enough, he decided to pop up with a goal.
With Arsenal holding on to a tight 3-2 lead, with about 15 minutes to go, Torreira running through on goal, as if playing as a right winger, was played through by Aubameyang, where he slotted home a tight finish past Hugo Lloris.
The celebrations from the stands were quite outstanding, as to be expected, but what we saw from Torreira was pure emotion as if he was in there with the fans, ripping his shirt off and knee sliding in front of the home crowd almost in tears. Not only did it show his joy at scoring, but also his immense understanding of the Derby, something the fans will always appreciate.
The likelihood of Torreira staying at the club is looking more and more unlikely and although his career with the Gunners won't be ending in the way many had hoped, the fans will appreciate that he was a player who played with his heart on his sleeve and was always 100% committed to the cause.