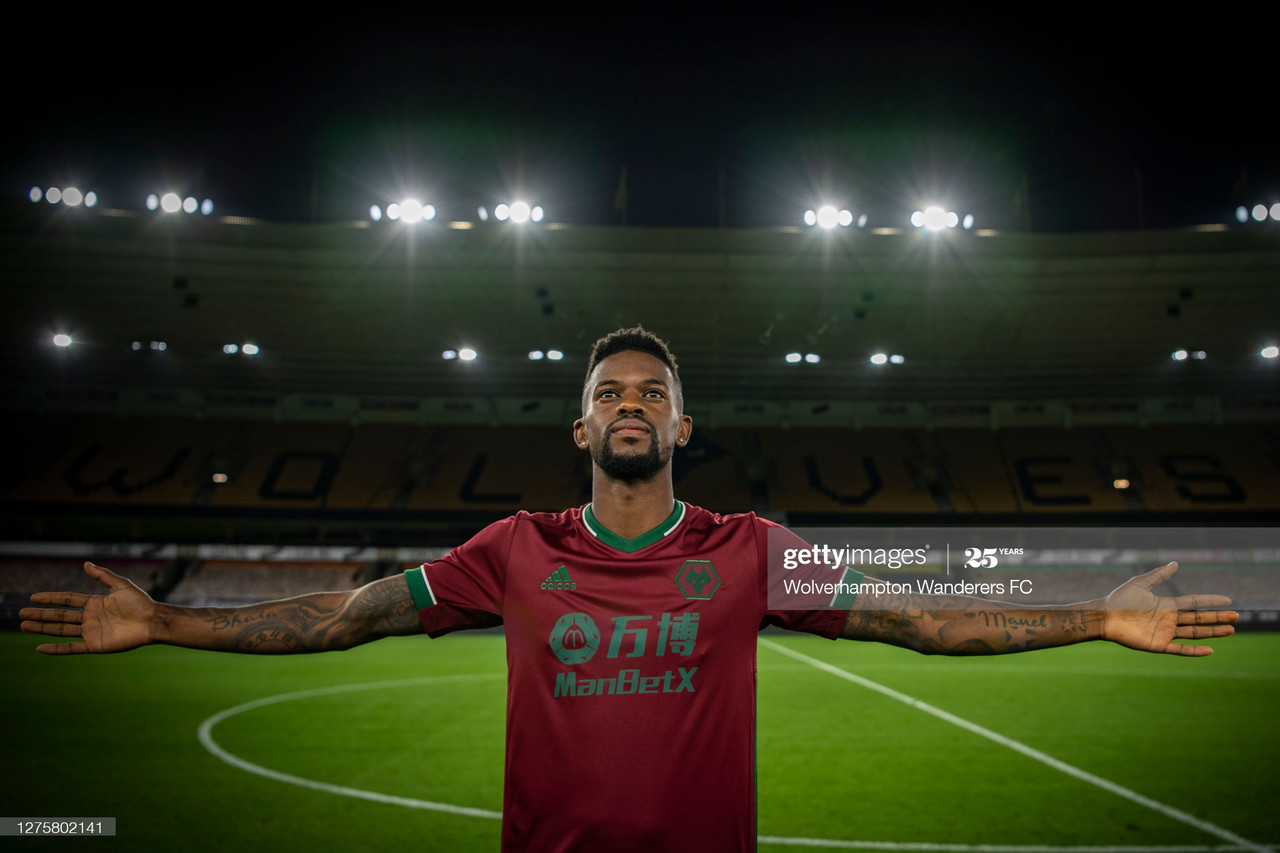 Nelson Semedo has completed a move to the Premier League, switching FC Barcelona for Wolverhampton Wanderers in a deal worth an initial €30million (£27.4million), potentially rising to €40million (£36.6million) with add-ons.
Signed on the night of September 22, Wolves' new number 22 is their fifth signing of the summer, following Fabio Silva, Marcal, Vitinha and Ki-Jana Hoever to Molineux.
Semedo's contract will keep him at the club until June 2023, with an optional extension to June 2025. This will see the peak of the 26-year-old's career spent at Wolves, with him as the natural successor to Matt Doherty in the right wing-back role following the Ireland international's £13.5million move to Tottenham Hotspur.
He brings with him a wealth of experience, having made 124 appearances at right-back for the Blaugrana during his three-year spell at the Camp Nou, and he has also picked up 14 senior caps for Portugal.
"I'm very happy to be here. I'm excited to get started."
When Semedo introduces himself in the dressing room, he will see many familiar faces, being an international team-mate of Wolves' sizable Portuguese contingent as well as a former team-mate of Raul Jimenez's from their SL Benfica days - of his five years on Benfica's books Semedo spent four years in Lisbon, two of them with Jimenez.
Speaking to WolvesTV, he revealed that his decision to join the club was influenced by the current Wolves players he has played alongside before:
"I talked with some of them and they told me very good things about the club, about the team. I hope I can help them to succeed too."
"I'm ambitious and I hope this year we can do very good things, reach the top six and, if it's possible, do something special."
What Semedo brings to the squad
"[Wolves fans] can expect a modern right-back, who likes to attack, [...] a lot of work and a lot of ambition."
Semedo's name should be a regular fixture on Wolves boss Nuno Espirito Santo's team sheets, as the three other players who challenging him for a place in the starting XI - Hoever, Oskar Buur and Luke Matheson, are both young and need more time to develop.
As a result of their youth, Doherty's departure left a weak point in the Wolves squad, and right winger Adama Traore was required to start at right wing-back for the first two games of the Premier League season, weakening the attack by moving one of the league's most dangerous forwards out of position.
The arrival of Semedo will allow Traore to play higher, terrorising left-backs and attacking the byline to feed crosses towards Raul Jimenez without having to worry too much about defensive responsibilities. Semedo will perfectly rebalance the squad for the season ahead.
A focused look at Semedo's contributions in Barcelona's final games of the 2019/20 UEFA Champions League campaign revealed a player being played out of position. Naturally much higher up the pitch than most full-backs without the ball and used to single-handedly covering the entirety of the right flank to make up for the positional inconsistency and low defensive work rate of the free-roaming Lionel Messi, Semedo appears tailor-made for the right wing-back position.
With a back 3 behind him this season, Semedo will have more license to go forward and contribute in the attacking regions knowing that there is an extra man behind him for defensive cover. Wolves' system should be an ideal fit for him, allowing him to play much more comfortably than the back 4 of Barcelona did.
42% of the Wolves attacks through 2019/20 were down the right flank; Wolves attacked that side more than any other team in the league last season. With Semedo and Traore able to use their blistering pace to combine pushing high and with a fully fit Willy Boly providing defensive solidity behind them, it is safe to assume that Wolves will keep exploiting their considerable strengths on the right as they look to move past the 3-1 home defeat to Manchester City with a victory over West Ham United at the London Stadium on Sunday.