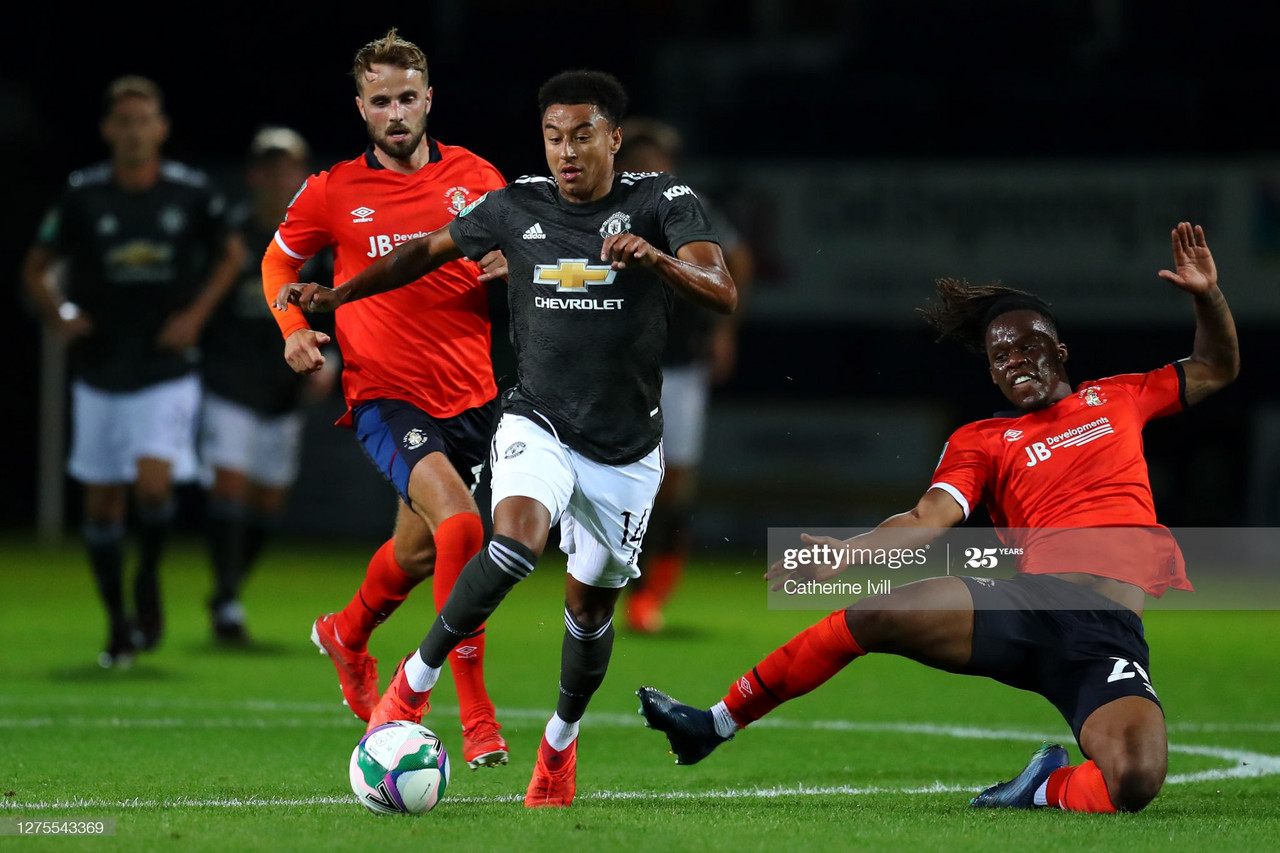 After their dismal start to the season against Crystal Palace, there was a key question at Kenilworth Road on Tuesday: which Manchester United would we see?
For some of us – a greater proportion than you might imagine – the answer was: none at all.
When the visitors emerged, sporting their new dark green away kit, thousands of spectators in living rooms across the country let out a groan. With United in green and Luton in orange, it was set to be a long night.
An important issue in sport
There are more than three million colour blind people in the United Kingdom. To put it another way, at a sold-out Wembley Stadium it's safe to assume that more than five thousand spectators will suffer from the condition.
And yet football seems to give little consideration to the issue. In the era of snazzy away kits, designed to generate clicks and drive up sales, clubs have moved away from traditional colours and towards more problematic combinations.
Take United's green away strip. Adidas claim its design – in 'legend earth green' for those of you playing meaningless branding bingo – harks back to the club's railway-based roots as Newton Heath. Hmm. It sounds more the result of desperate brainstorming than of Med Men-esque finesse.
It's by no means just Manchester United. Almost inexplicably, Everton arrived at Carrow Road in June sporting a bright orange away kit, virtually indistinguishable from Norwich's yellow shirts. Would playing in their traditional blue have been such a burden?
Even the most famous fixture in football isn't safe. El Classico is always all-white versus dark blue and red, right? Wrong. In their 2017 Super Cup fixture, Real Madrid turned out in a turquoise away kit. For the one in twelve men that suffer from colour blindness, the match was a write off.
It's time we encourage players to speak out
In each Premier League squad, the statistics suggest at least two players will be colour blind. And yet very few professionals have spoken about their struggle with the condition.
One is Danish international Thomas Delaney, now at Borussia Dortmund. He recently phoned up a radio station to share his frustrations, after hearing a fan complain about struggling to watch his team.
"It's like different nuances of the same colour," he very eloquently explained. "On the field it was a bit difficult to see who was my team and who was the other. When things are moving fast and people are in your periphery, it gets difficult."
Lars Lagerbӓck, who managed Iceland to their victory over England at Euro 2016, is another: "If the play moves very quickly its easy to end up in a situation where you have a hard time telling if the other player is an opponent or a member of your own team."
Otherwise, we can but point to a handful of ex-players in a variety of sports: Matt Holland, Mike Blair, Sir Ian Botham. The number of elite sportsmen who suffer from the condition, but stay quiet for fear of it affecting their careers, must be huge.
Small changes could make a big difference
There has been a purported effort from those at the top of the game to tackle the issue. In August, UEFA and the FA released an eighty page document outlining the steps clubs could take to better accommodate colour blind players and fans. It advised – quite correctly – that 'the key is contrast'. It's focus, however, was in lecturing grassroots teams on how they might best achieve this goal.
It would be nicer for the millions watching at home if that advice applied to the clubs at the top too.
Watching your team from afar, unable to get to the ground, is hard enough. Please, don't make it any harder.