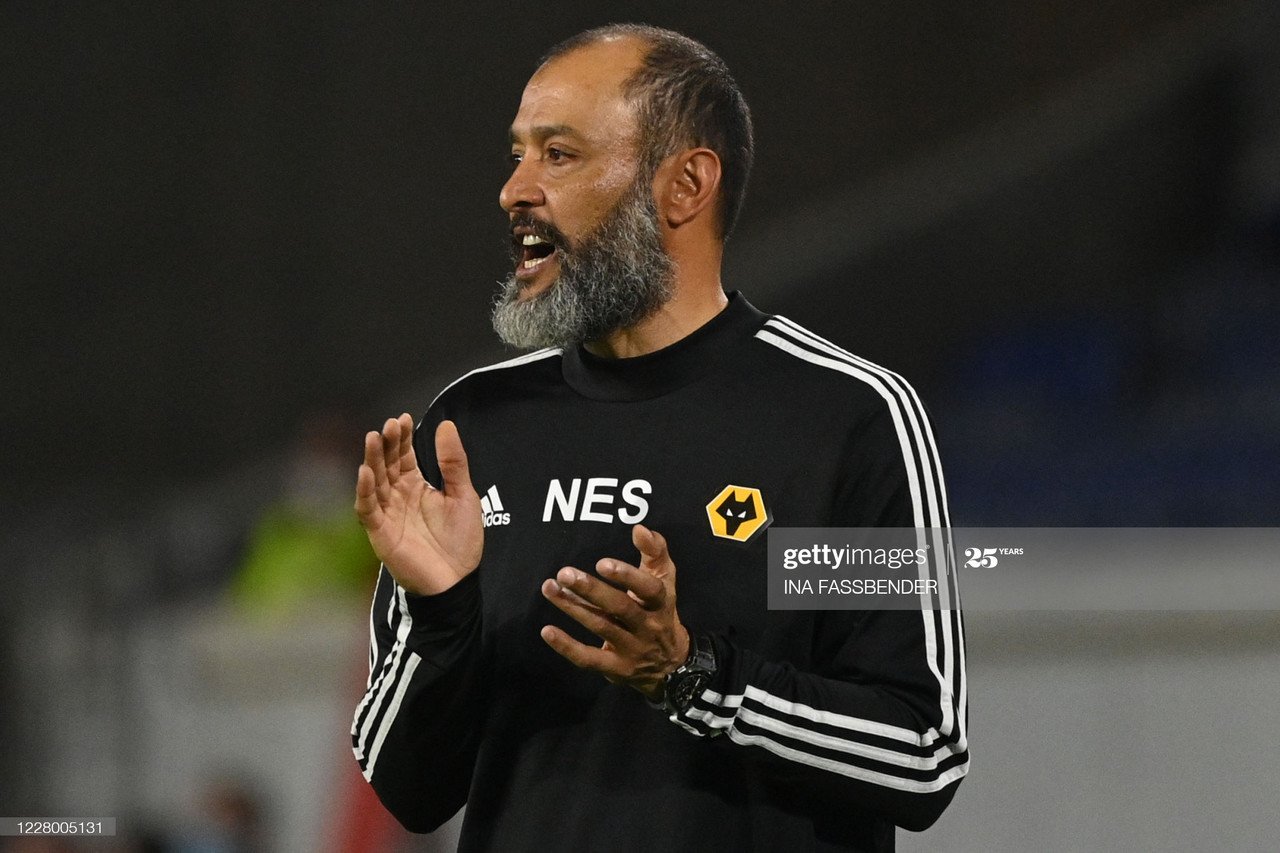 After enjoying a rare week off, Wolves are back in Premier League action as they face West Ham at the London Stadium on Sunday evening.
Nuno's side will be looking to end a run of back-to-back defeats in two competitions, following home reverses against Stoke and Manchester City in the Carabao Cup and Premier League.
Despite losing both league games so far against Newcastle and Arsenal, The Hammers won in midweek cup action against League One Hull.
The game was overshadowed by a COVID-19 outbreak at the London Stadium, meaning Josh Cullen, Issa Diop and manager David Moyes will be unable to attend Sunday's game after testing positive.
Nuno talked to wolves.co.uk to preview the match, and discussed COVID-19, new signing Nelson Semedo and more:
On Nelson Semedo
Barcelona and Portugal right-back Nelson Semedo joined Wolves on Wednesday, after a £27.5m (which could rise to a club-record £37m) fee was agreed between the clubs.
"We're bringing a high-quality player. A talented player. A player who played at the highest level of European football and for his national team. He's a good character, I think he fits, and has integrated very well in the team," Nuno said.
"He's going to compete at the highest level of football, against the best teams around. It's a simple communication to him, so say, 'This is a new challenge which will require the best of you'."
The Wolves boss was coy on whether Semedo would make his debut on Sunday.
"Now, it's normal, all the players, no matter the talent and quality they have, it's all about inside the team what you can give. He arrived two or three days ago, he's integrated well, he's working and let's see how he progresses. We are very happy to have him."
On Marcal's injury
New signing Marcal left the pitch against Manchester City after just eight minutes, with Nuno confirming the 31-year-old had suffered a calf issue that will keep him out of Sunday's trip to the capital.
"He's one of the issues that we have. Let's see, but I'm not very confident that he can be available for this game. It all depends how the player gets better. Now, he's not training, he's in treatment. We had a diagnosis already, he had an injury in the calf, so let's keep on trying to treat him and hope he can get better and be available.
"We have some issues that we have to assess. We had some issues in the last game, some knocks, but we still have the training session of tomorrow."
On Daniel Podence's good form
Winger Daniel Podence has made a superb start to the season, picking up two assists in his opening two games.
Despite enduring a slow start to his Wolves career after signing from Olympiakos in January, the diminutive forward has now established himself as one of Nuno's key players.
"We have to realise Daniel joined us in the middle of last season, just before the terrible situation of the pandemic, so it disrupted the understanding and what we had in mind. I think he finished the season well and he has started this season very, very well.
"He's growing, understanding the idea better. He has talent, he has quality, he's a hard worker and has been able to perform well for the team. We hope this continues, the normal growth of a player within the dynamic of the team."
On West Ham's COVID outbreak
With David Moyes having tested positive for COVID-19, assistant manager and former West Brom boss Alan Irvine will manage West Ham on Sunday. Nuno was quick to wish Moyes a speedy recovery, and had sympathy for The Hammers' situation.
"I wish David Moyes the fastest recovery and also the players infected. What happened to West Ham can happen to any of us, as a club, as a squad. It's tough when you are preparing a game and see you can't count on certain players and you yourself cannot be on the touchline.
"It's very disruptive. There's always this fear that some of us have a problem, how far this contact and infections spread inside your group. It's difficult, everybody knows that. From our point of view, we're not concerned, we are confident and trust the authorities to keep things healthy and safe for us."
On Wolves' perfect West Ham record
Since returning to the Premier League in 2018, Wolves have won all four games against Sunday's opponents and have yet to concede a goal to Moyes' side.
Nuno dismissed the theory that his side's good form against their opponents would lead to victory this weekend.
"We've played good, performed well. All these things made good performances in London and here, but we know Sunday is going to be totally different. A new game, new challenge, we analyse West Ham and we are facing a tough opponent. It's going to be difficult for us.
"Our philosophy is simple. Each game at a time. Our approach is always the same. Don't think about anything else, action after action, inside of the game, compete, our philosophy since day one."