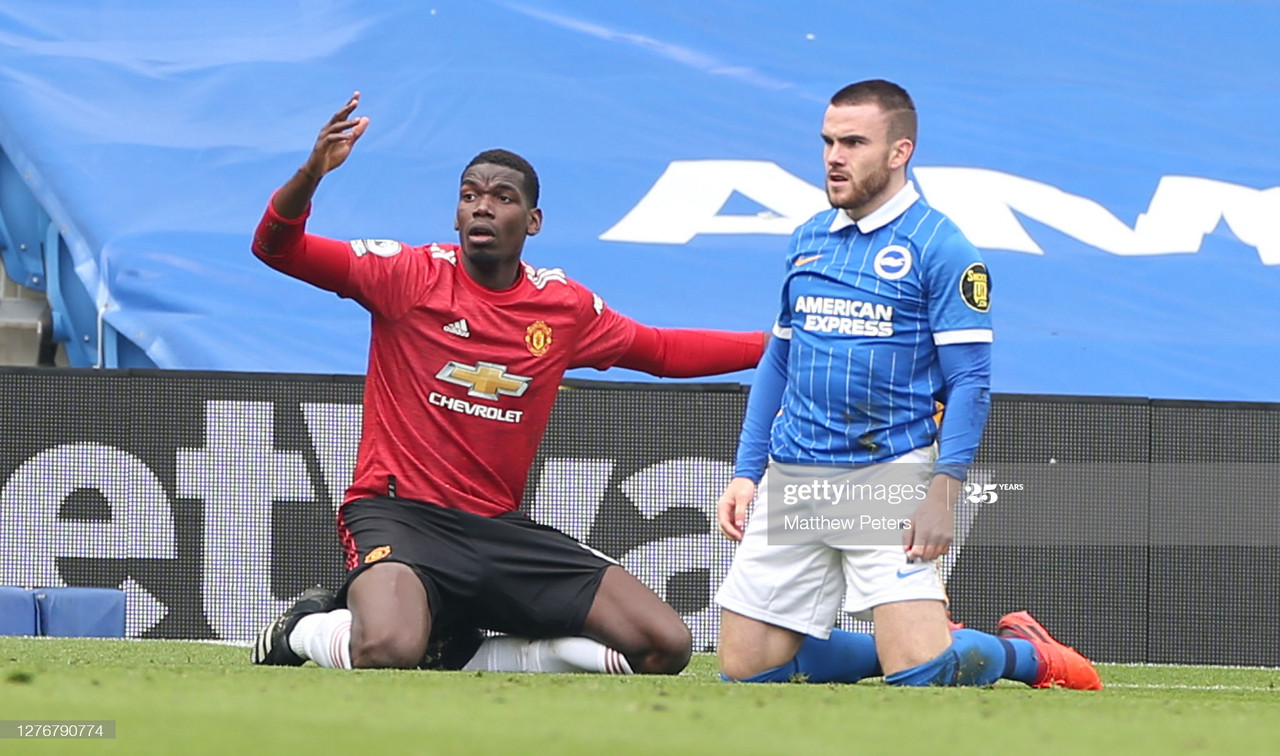 Manchester United's defensive frailties were exposed again on Saturday in their narrow 2-3 win away at Brighton as they failed to keep a clean sheet for the second league game in a row.
The five goals United have shipped in their opening two fixtures is a club record high in the post-Sir Alex Ferguson era and makes for grim reading for Ole Gunnar Solskjaer and his team.
To compound the misery, the five goals conceded came against teams who finished 14th and 15th last season and managed just 31 and 39 goals scored respectively across the 38 games.
While the defence as a whole is looking suspect in their own ways, it became fairly clear yesterday that their task is made no easier by the players in front of them.
Midfield Mistakes
The obvious problem from midfield in a defensive sense came from Bruno Fernandes, who was largely at fault for both of Brighton's goals, giving away a sloppy penalty for their first before failing to track Solly March who converted what appeared to be a last minute equaliser completely unmarked at the back post.
The deeper routed problems came from the other midfielders and wingers, and their apparent defensive deficiencies.
Nemanja Matic, despite making six tackles and interceptions, was dribbled past on three separate occasions by Brighton players, giving them a free run at an exposed defence lacking in confidence.
Paul Pogba had an uncharacteristically poor game by his standards in every regard, however his defensive output was especially underwhelming.
Despite sitting in what appeared to be a pair with Matic to screen the back four, Pogba made zero tackles and interceptions and, while he was only dribbled past once, he committed four fouls in his 65 minutes on the pitch.
Work-shy Winger
The problems also extended into the frontline, especially down the right.
A substantial percentage of Brightons opportunities came from balls into the box from the right which found an unmarked man on the left, often Solly March.
While this initially appeared an issue with Aaron Wan-Bissaka, it was quickly revealed that he was responsible for marking one of Neal Maupay or Aaron Connolly in order to leave one of the centre backs free.
While this is a tried and tested method of defending, it relies heavily on the ability of the wingers to track back and mark the wide players left vacated by the full back sliding across to the middle.
This became an issue very quickly as, despite his attacking prowess, Mason Greenwood's defensive capabilities leave a lot to be desired.
Following Marcus Rashford's impressive finish to put United 1-2 up, it quickly became apparent the Solskjaer's men were happy to sit on their lead and see the game out, rather than pushing to extend their lead.
Despite this, Greenwood's tracking failed to improve, whether it's down to a lack of effort or perhaps a flaw in his fairly mature mentality, it is undoubtedly something that the coaching staff need to rectify sooner rather than later.
With all the press speculation surrounding defensive reinforcements in the transfer market, perhaps the problem is a lot closer to home than first thought.