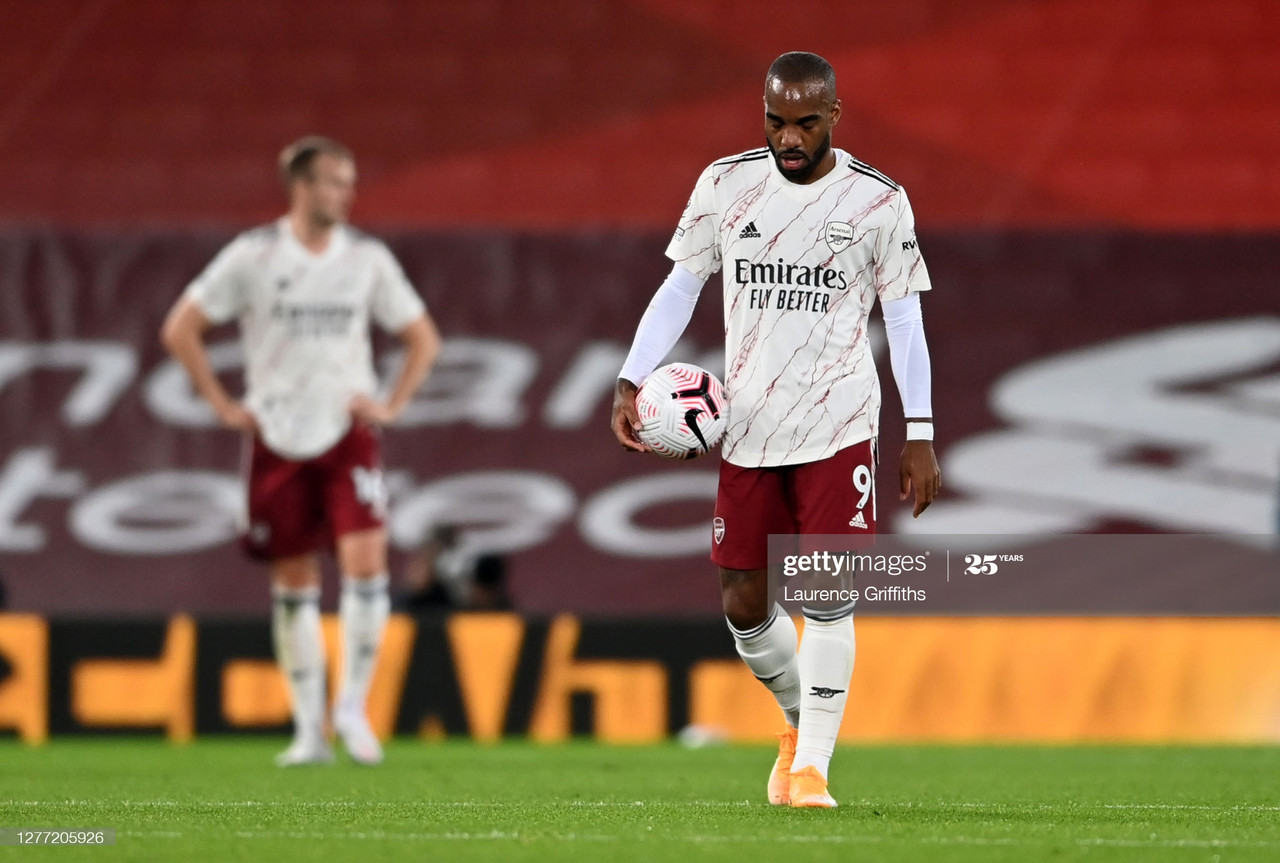 It was a tough day at the office for Arsenal as they left Anfield, knowing their perfect start to the season was now over.
Despite taking the lead after 25 minutes, that lead only lasted three minutes and the Gunners then found themselves behind after 34 minutes, with Diogo Jota wrapping up the points for Liverpool late in the latter half.
There were positives to take away for this growing Arsenal team, but the game showed their is still much to learn to compete against the Premier League big teams.
Liverpool of course are a team of frightening talent, especially in attack, with their front three of Sadio Mane, Roberto Firmino and Mo Salah. It was understandable in that sense why Mikel Arteta decided to play a more defensive side.
However, in that same regard many were surprised not to see Gabriel Magalhaes in the starting line-up.
Having impressed so much since arriving, with his commanding presence at the back and confidence, many questioned Arteta's decision to start David Luiz ahead of him. Many believed he would have had the quality to deal with Liverpool's magic front three.
Despite wanting to focus more on defending, Arteta may have missed a trick not starting the likes of Nicolas Pepe and Bukayo Saka.
With Liverpool playing such a high line, their pace and quality on the ball could have been the key to stretching the champions defence. Pepe did eventually come on, but by that stage was unable to have any sort of impact on the game.
Saka especially was a questionable omission altogether, after how well he had played in the last game vs Liverpool, in the Community Shield, where he caused them all sorts of problems, including the assist for the only goal from open play.
The Gunners looked distraught while The Reds looked up for more when the whistle for the 2nd half went and with that the visitors lacked energy to really create something.
That was until Dani Ceballos came on and Arsenal began to start showing some threat in the final third, but again, like Pepe, it was too little too late to make any real impact on the game.
Same Old Defensive Issues
Despite Arsenal in general showing promise in recent weeks in an area which has been an Achilles Heal for many years, it was yet again the same problems in defence which let them down.
At times the players were too timid when challenging for the ball allowing Liverpool to attack at them and cause all sorts of issues for Bernd Leno in goal.
Leno faced 21 shots against him, the second most Arsenal have conceded under Arteta, with the most being 24, which funnily enough was also against Liverpool.
Closing down was a big issue, this was seen when Jota was given free reign for his goal and there were other occasions as well, where Jurgen Klopp's men were just allowed too much time to shot.
Man marking was another issue, especially seen for the first and second goals. Both Mane and Andy Robertson were given time and space without any interference from a white shirt to find space and nick a goal.
When your playing the reigning champions, complacency is not an option and too many times, The Gunners backline switched off.
Beating Liverpool's High Press
From the start it was obvious that the home sides plan was to play a high press, to counter Arsenal from playing out from the back.
This method worked well and at times the confidence in playing from the back which this Arsenal team had built looked very low, with some nervous moments passing around the area.
However, in general Arsenal were able to break through, but were unable to build any meaningful attack, often being caught offside, with The Reds packing the midfield and playing their defence high up the field.
A real opportunity was therefore missed to switch from playing on the ground, to playing long balls over the top.
Willian and Pierre-Emerick Aubameyang barely left their mark on the game and many felt if The Gunners had been quicker launching counter attacks with long balls, then they both could have caused problems with their pace and skill.
Klopp knew what Arteta had implemented in his side and figured out a way to deal with it, which the Arsenal players failed to adapt to during the match.
By trying to strengthen one area of the pitch, it left another area of the pitch lacking, that being creativity.
This however has been an area for concern for Arsenal for many weeks as it is, and something which needs to be addressed in the final week of the transfer window.
If you read any of the tweets from the official Arsenal account, many of the replies will read "Announce Aouar". After last night, this I'm sure will continue to increase in number.
There were times, such as the goal, where The Gunners could break through or thread the right pass to break the well-worked Liverpool defence, but overall they were unable to create any real clear opportunities with 4 through balls and 8 crosses all evening.
Dani Ceballos played a key role when coming on to try and solve this, but as mentioned, his presence was seen too late to make the right impact.
Mesut Özil was again left out from the squad and many will wonder if his eye for a pass could solve some of the problems facing Arteta's team at the moment to bridge the gap between defence and attack.
This final week of the window will be key in solving this issue of creativity and Arsenal fans will be hoping Arteta is backed in order to get the final piece in his jigsaw puzzle.
Compared to recent years, many were confident Arsenal could get a result at Anfield this time around.
That fact alone shows how far Arteta has brought Arsenal, but the result shows there is still room for improvement.