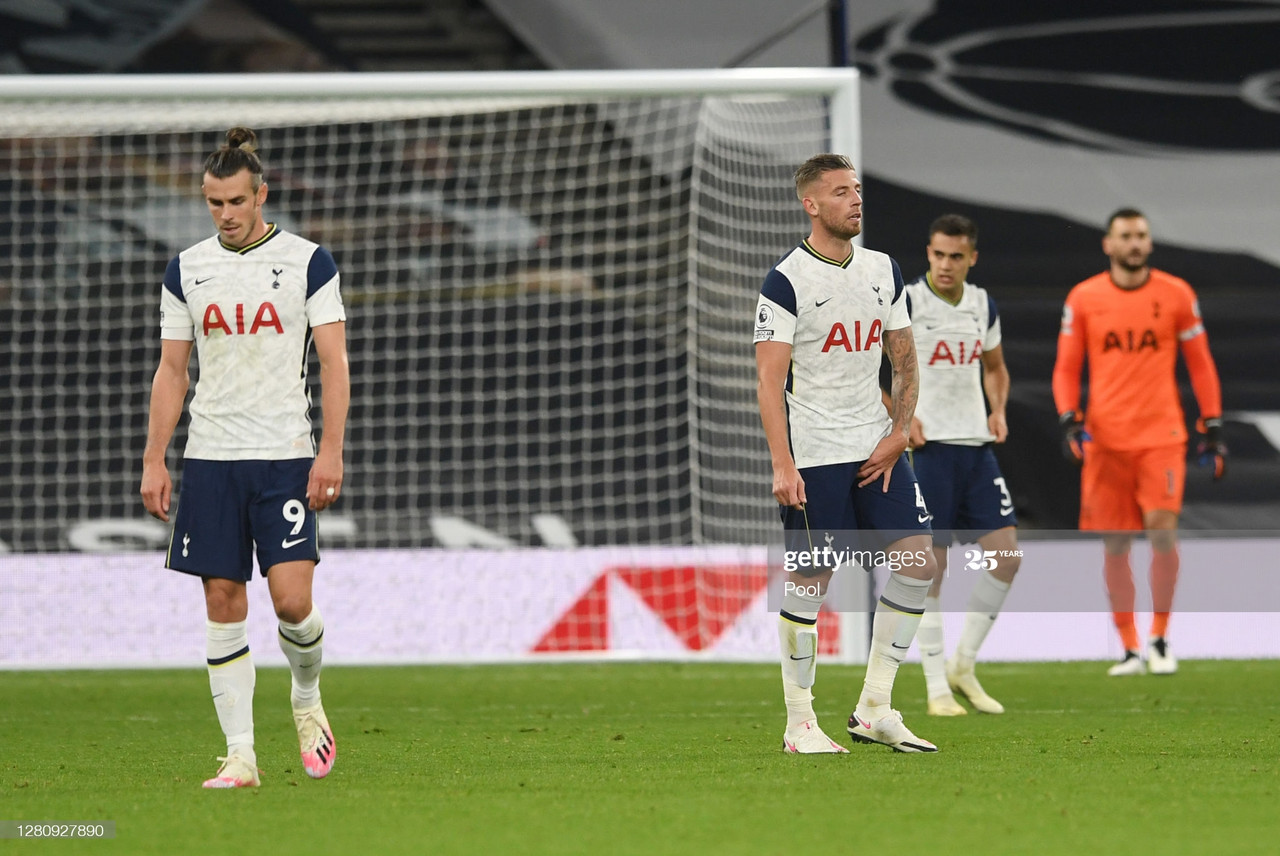 What a fantastic win for Tottenham Hotspur.
Harry Kane and Heung Min-Son looked world-class again, Gareth Bale made his return, and the momentum took another fantastic swing in the right direction.
Hold on a second. West Ham United's eight-minute comeback wasn't a horrible nightmare?
Oh god. This can't be real.
Spurs' London rivals clawed back a three-goal deficit with the most incredible goal you'll see all season from Manuel Lanzini, and that particular stunner came in the last 20 seconds.
'Spursy' is a word thrown around the club when situations like this occur, but even this is out of the ordinary. The last time Spurs threw away a three-goal lead was in 2001 against Manchester United.
Not quite sunk in yet, to be honest.
Right, it's going to be tough, but let's go into detail about this obscene game of football. We can do this together guys.
KANE ARE SON ARE QUITE GOOD
Genuinely hard to believe now, but there were so many positives from that 82 minutes. Kane and Son were the main ones yet again. Surprise, surprise.
It's a broken record, but the England captain and South Korean were absolutely sensational today – especially in the first half.
Within the first 40 seconds, we already saw the duo link-up to devastating effect. As we have seen so often this campaign, Kane dropped into a pocket within the midfield region.
When this pattern of play happens; Son sees a green light and is off like a bullet. That's all well and good, but can Kane find him?
Silly question. He unleashed an outrageous 60-yard pass that curved perfectly in the Korean's path for him to take Fabian Balbuena on and then slot in for Spurs' opener.
This development in Kane's game hasn't happened overnight, but this season his passing ability has exploded. He has grabbed seven assists in the opening five games.
They aren't just lucky two-yard passes, which makes it more impressive. Each one represents fantastic ability.
However, the main takeaway from this is that every single one of them has been met by a Son goal. The wavelength they are on is untouchable right now.
Kane's over the top passes are something to behold, but it wouldn't get as much of a mention if the brilliant Son wasn't such a clinical finisher. He has scored seven goals from just 2.62 (xG) so far this season.
The English striker's first goal was more of individual brilliance, nutmegging Declan Rice with one touch and powering a low strike into the net with the next.
There was a great irony in the fact that Son assisted him there with a simple pass.
Kane then turned into the striker we all knew him for. He climbed high and headed home Sergio Reguilon's brilliant floating cross to make the score 3-0.
It was another breath-taking display from the dynamic duo.
MISTAKES COST SPURS AGAIN
78% of Spurs' goals conceded in all competitions under Jose Mourinho have been from either individual mistakes or set pieces.
When Tottenham were cruising at 3-0, and it sounds ridiculous now, but there were whispers of this Spurs side having the weapons available to mount a title surge.
This will never happen if individual mistakes keep occurring. The defence has been the bane of Mourinho's time at Spurs.
Reguilon and Matt Doherty's arrival provided optimism that defensive woes will improve, but they were brought in for their attacking presence more than anything.
Let's start with the first goal. It's a great cross, but Moussa Sissoko's attempt to nullify Fabian Balbuena was less than impressive – he didn't even jump to attempt to win the ball or try to put the Paraguayan off.
By no means would Sissoko defiantly have got rid of the danger, but it certainly would've been harder for the defender to score.
The next goal is a horror show for Davinson Sanchez.
Andriy Yarmolenko slipped in Vladimir Coufal brilliantly, but Lucas Moura was lazy in not tracking the Czech Republic international.
It was a dangerous situation. He had loads of time on the right-hand side of the box, but just when Spurs needed someone to be calm – Sanchez was anything but.
Coufal whipped the ball into the corridor of uncertainty, and the Columbian got it all wrong. He angled his body in an awkward fashion and went down to head the ball, meaning it guided off his head into his own net.
It wasn't easy to deal with, but it was poor all the same.
The all-important goal third goal may be harsh to be pinned down to an individual mistake, but it was actually riddled with them.
Serge Aurier gave away the ridiculously needless free-kick, which eventually led to the brilliant goal.
He had the ball comfortably, but took a needless extra touch, and then committed a foul just when Spurs needed some breathing space with a minute to go.
Kane cleared the resulting ball well, but it fell to Harry Winks, who poked it away from Declan Rice's attention. This led the ball into Lanzini's path, and the rest is history.
It's hard to blame Winks. 9.999/10 that shot flies over the bar and it's forgotten. But he should've smashed the ball so far away. Not back into the centre of the pitch.
Avoidable mistakes have to be cut from Spurs' game, and quick. If they want to kick into a new gear, they can't rely on their world-class forwards all the time.
This was the narrative before the game – Bale's return. His debut was imminent and there were even reports suggesting he was starting.
Mourinho opted for the sensible approach, placing the Welshman on the bench. It was the 72nd minute of the game that saw the incredible return.
Mainly forgotten now, but it was a great moment. 3-0 up at the time – it was the perfect introduction.
Apart from one massive moment in the 91st moment, there isn't much to analyse on the pitch. Kane fizzed it into him in on the right-hand side and it was the first glimpse of the Welshman on the front foot.
He rolled back the clock as he turned Ogbonna inside out with some world-class footwork, and the Italian defender even fell to the floor as Bale rushed in on goal.
Time stood still. He had a great opportunity to kill the game. Remember, the score was 3-2 at this point. This was it – Bale was about to make it a fairy tale return.
He opted to go near post, but an effective shove from Yarmolenko did enough to put him off and his shot just whistled past the post. He should've scored. Clique, but he did do the hard part.
It's not the perfect debut, but any reactionary comment on Bale's time would be absolutely ludicrous. When his fitness gets to a peak, there is no doubt what he will bring to this Spurs side.
There was a moment before that when Kane picked up the ball deep and Bale and Son both ran in behind at full speed.
Come on, it's not all bad.
Football is a game where things change stupidly quickly, and today was a prime example.
Brilliant results against Southampton and Man United meant there was a great sense of momentum around the club. This was also mixed with the new signings. There was a massive feel-good factor at Spurs.
Even after Newcastle, things were sound, because it was a robbery in the finest form. This was a complete self-inflicted collapse and destroys the new-found momentum around the club.
There is still optimism that Spurs will have a successful season, but in the short-term, this cut will take a while to bruise.
Clique alert again - but it was just one of them days.
Spurs controlled the game and were fantastic until an own-goal and a wonder-goal happened in the dying embers of the game. Again, 99.999% of the time the game does probably end 3-1 or even 3-0.
But today was not one of them days.
Mourinho needs to make sure the hangover doesn't last too long, with the Thursday night game against LASK lurking in the shadows. A trip up to Burnley then awaits them on Monday.
This devasting blow needs to be seen as a learning curve, rather than hold them back negatively going forwards.
Two wins in a row are required now to make this capitulation a long-forgotten memory.