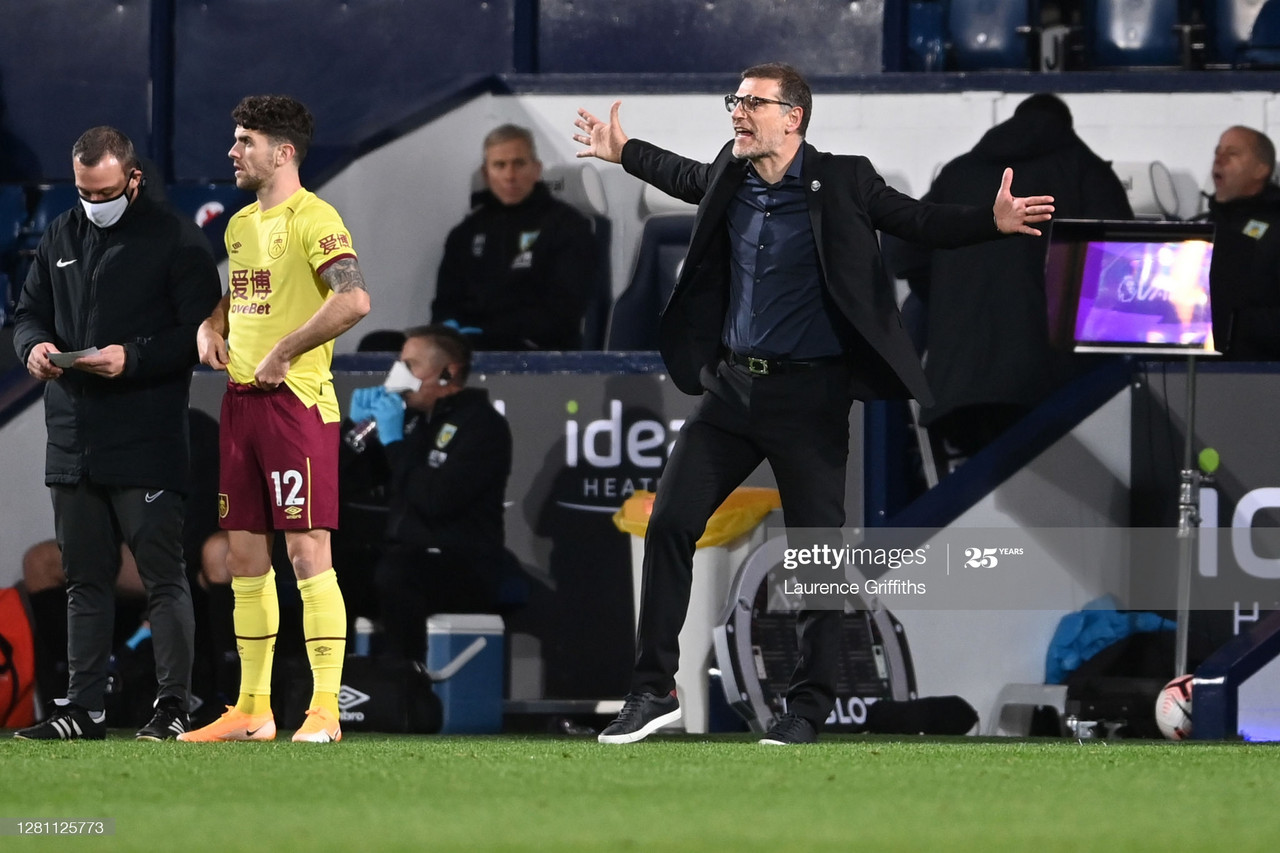 West Bromwich Albion earned their second point of the season on Monday evening as they were held to a 0-0 draw at home to Burnley.
Despite remaining winless, the Baggies are now out of the relegation zone and collected their first clean sheet of the season in the stalemate.
Here are Slaven Bilic's five key quotes following the game:
On the result
Both sides struggled to take control of the game, with Sam Johnstone and Nick Pope producing a number of quality saves to ensure their clean-sheet remained in-tact.
Speaking to the media after the game, Bilic said: "It's a fair result. It's not what we were looking for before the game and our line-up and philosophy showed that.
"We created more than enough to score goals, but to be fair, we have to say that they had three good chances.
"Tonight, I saw a big team effort from the beginning, really good basics, really good organisation and the guys gave me everything," he continued. "We had possession that we didn't have in the first four games and we got a clean sheet.
"We definitely have to use this game as something to build on."
On Sam Johnstone
Johnstone was in good form against Sean Dyche's men, denying Ashley Barnes and Chris Wood.
The clean sheet is the 27-year-old's first clean sheet since the 0-0 draw with Fulham in July, in the Championship.
Discussing his number one's performance, Bilic said: "He made a couple of great saves. That is why he have him. He was very good in the Championship."
"I can tell them they are good enough, but if they don't feel it or get the experience, that's the best way.
"We could of won it, we could of lost it. A lot of positives."
On Karlan Grant's West Brom debut
The Baggies' new striker made his debut against Burnley, only three days since signing from Huddersfield Town.
Despite not playing since July, Karlan Grant impressed his new manager with his performance, having a goal ruled out for offside in the first half.
He said: "He had a couple of chances. He's really good at running behind, he's good with the ball at his feet. He put a smile on my face.
"He showed me more than enough to know he will be a very important player for us, that's why we wanted him.
"This wasn't like any game, this was a game against Burnley where we were looking for a chance for three points," Bilic continued to praise his striker.
"He's going to become better, fitter, get to know the players better. I'm extremely positive from new players."
On Branislav Ivanovic and Conor Gallagher's Premier League debuts'
Former-Chelsea defender Branislav Ivanovic returned to Premier League action on Monday, three years after departing England for Russia.
However, despite being 36-year-old, Ivanovic earned acknowledgement for his performance and contribution for the clean sheet.
"This is exactly why we wanted him. To bring us experience, shape, leadership, quality, and calmness.
"We had possession because the centre backs were really calm on the ball. Both of them dealt with it really well, with the two strikers, very quality strikers.
"Although they had a couple of chances, but Burnley always get good chances when the crosses are coming."
Conor Gallagher had only appeared for the Baggies in the Carabao Cup. Bilic handed the 20-year-old his Premier League debut against Burnley in hope of providing more attacking prowess from midfield.
On Gallagher's display, Bilic said: "Even if this was his 50th game, I would he did well. Especially because this was his debut in the Premier League, he impressed me.
"Very brave, good skill, great legs, extremely front-footed, extremely reliable and responsible. He impressed me a lot tonight. He should be very proud of his debut."
On supporters having to pay £14.95 for the game
During the international break, it was announced that Sky Sports would show the game on their box office channel, charging £14.95 per game.
Their game with Burnley was West Brom's first game on the box office and Bilic believes the game should be affordable.
"It's not my money. It's their money. What can I say about it?
"I think football should be, not free, but affordable. Football is not polo, football is not golf, it's a working-class sport and it should be affordable for everybody."