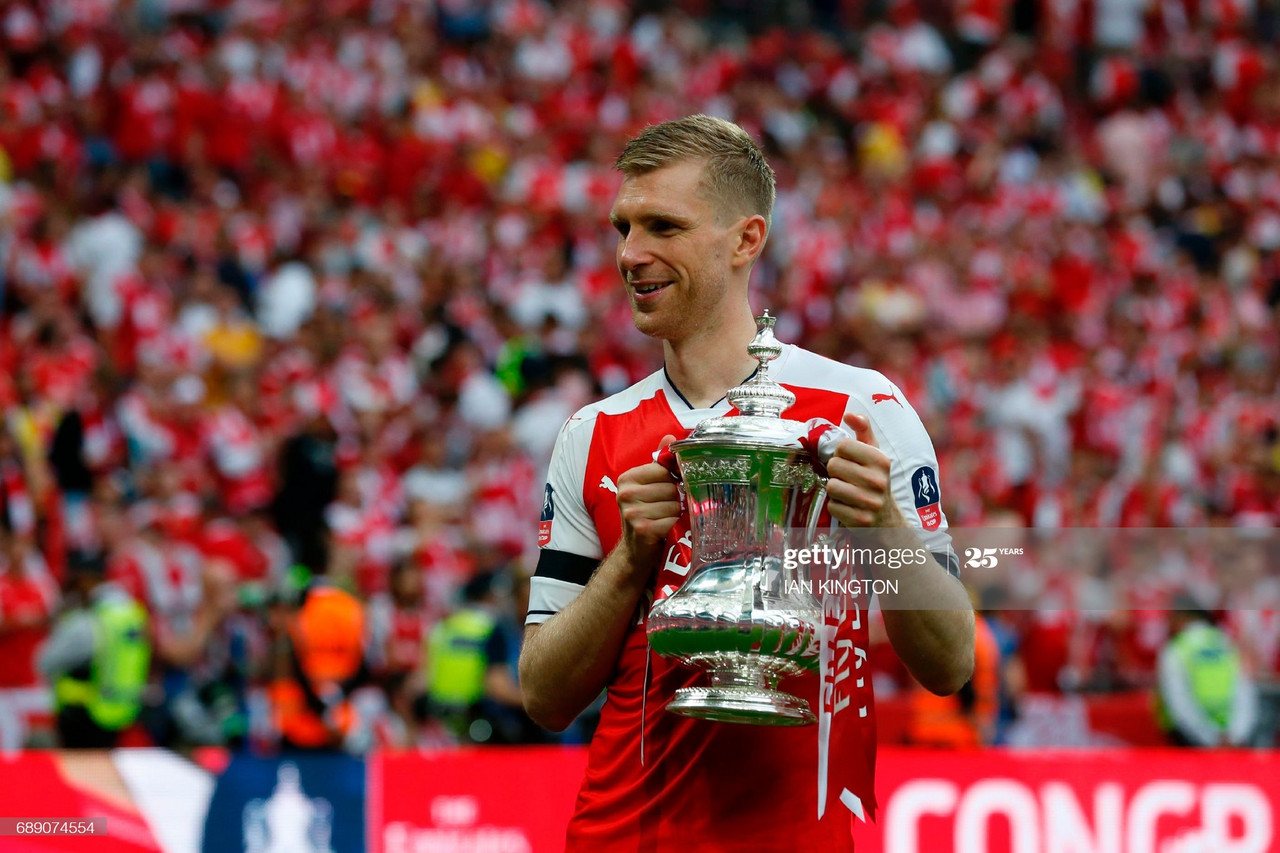 Signed on transfer deadline day in the Summer of 2011, Per Mertesacker went onto to gain 221 appearances for Arsenal and in his seven seasons with the clubs won three FA Cups and two Community Shields.
Though in the podcast he admitted he was probably a panic buy, owing to the 8-2 thrashing to Manchester United at Old Trafford a couple of days before, he soon became a key part of The Gunners' backline, forming a formidable partnership with Laurent Koscielny and even becoming captain.
In that time he certainly had some stand out moments during his time at the Emirates Stadium.
Scoring his first goal...in the NLD
It took some time for the Arsenal faithful to take to Mertesacker. His first season was a mixed one, ending early after an ankle injury.
He was back straight away for the new season and had some positive performances, including a 1-1 draw away to Manchester City.
But the moment which stood out most to get the fans onside was undoubtedly when he scored his first goal.
This goal wasn't against any old team, but was at home against Arsenal's oldest foes, Tottenham.
Scoring against Spurs will put any player high up any Arsenal fans favourites list, but for it to be your first goal altogether just makes it that bit sweeter.
The emotion in his celebration showed just how much it meant to Mertesacker in what turned out to be a 5-2 win for Arsenal and set him up for the rest of his career in red and white.
Helping to End the Drought
Arsenal fans had endured a torrid nine years without a trophy, but in 2014 it looked like they might finally end it.
After getting past the Quarter Final stage of the FA Cup, Wigan Athletic were the opponents at Wembley with The Gunners confident of a win.
Arsenal looked the better team, but found themselves behind after a reckless challenge from Mertesacker himself, allowing The Latics to take the lead.
The German International didn't allow this to get the better of him and with seven minutes to go, turned from villain to hero, scoring the equaliser to keep Arsenal in the game.
The Gunners eventually won on penalties and with Mertesacker starting, went onto win the final 3-2 in a nervy game vs Hull City, as Arsenal won their first trophy since 2005 and Mertesaker won his first in red and white.
The Showstopper Final
In a season which many thought would not only be a last for himself and his manager Arsene Wenger, Mertesacker was called upon to be the hero in the FA Cup Final in 2017, up against the champions Chelsea no less.
Arsenal had suffered some major injuries ahead of the final including Gabriel Paulista and Shkodran Mustafi, while Koscielny was ruled out after receiving a straight red card in the final game of the league season.
Despite playing few games in the 2016-2017 season, it would be up to Mertesacker to take centre stage with Rob Holding, who had only joined that season, to his right and Nacho Monreal, who is more of a left back by trade, to his left.
Few gave Arsenal a chance at getting anything in the final.
However, not only did they win, but they put on one of their best defensive displays of the campaign.
Mertesacker as well as Holding and Monreal played a massive part in that, putting their bodies on the line to defend David Ospina's goal, not allowing Chelsea a minute of time on the ball, dealing with Diego Costa's constant threat throughout the game.
It was truly a remarkable performance from the veteran centre half and not only did he get his hands on the cup, but also on another year at the club he had grown to love.
Mertesacker will always truly be remembered for some top moments in North London and will be remembered fondly by all associated at Arsenal as an individual who always fought for the badge, as he continues at the club looking to be just as successful as a coach.