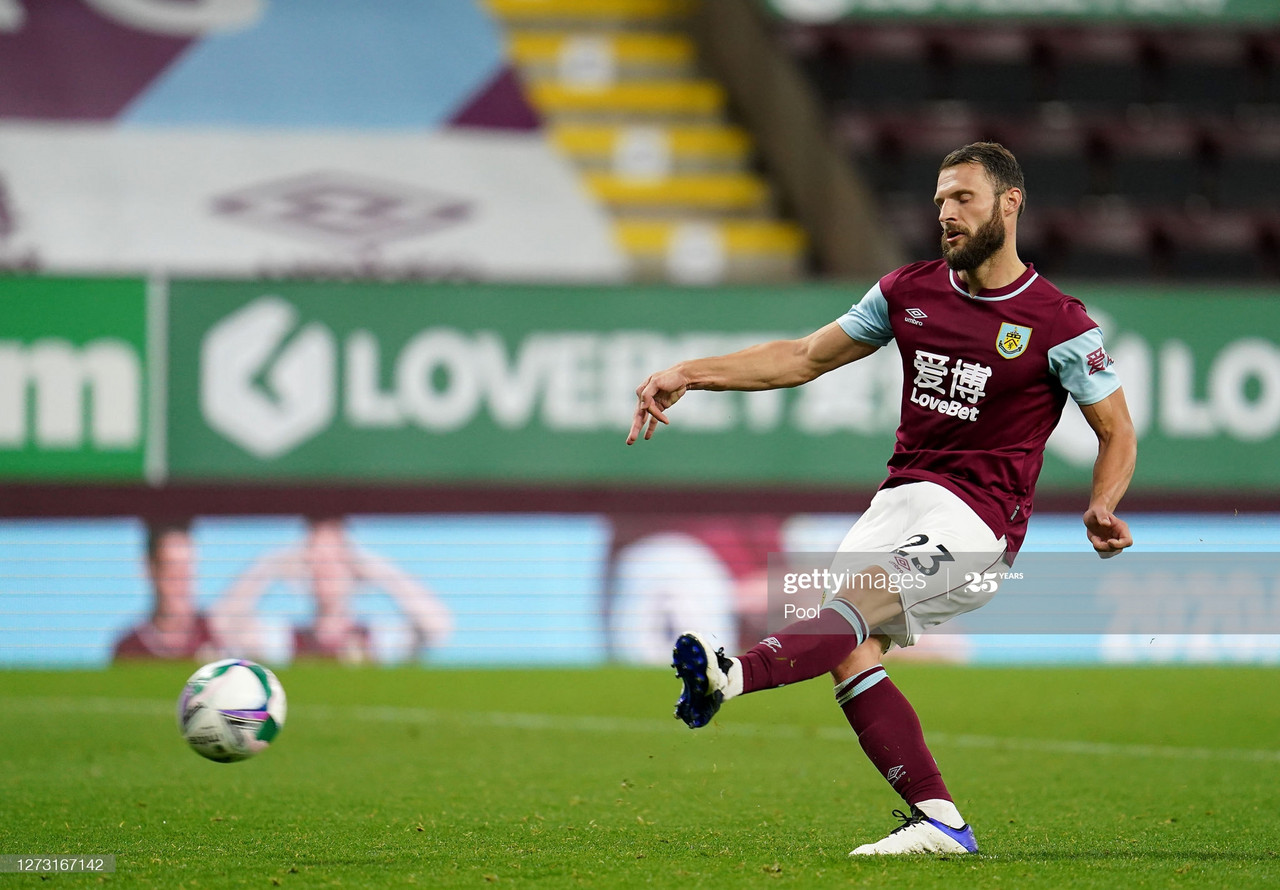 Erik Pieters started at right-back for Burnley in their goalless draw with West Bromwich Albion. He wasn't the best player on the pitch but the Pieters quietly went about his business in a way that should be appreciated and acknowledged.
Pieters, traditionally a left-back, filled the position like the conssumate professional that he is. No fuss. No problems. It's often awkward for a left-footer to play as the other full-back but no such issues were on display at The Hawthornes. And at full-time, it was worth reflecting on the shrewdness of signing the former Manchester United product.
Quietly solid
Last summer, Pieters moved to Burnley for roughly £1-million from Stoke City with Stephen Ward heading in the opposite direction. Ward had been an outstanding servant for Sean Dyche but the Irishman was struggling with injuries. He had also lost his starting birth to Charlie Taylor.
Taylor was injured at the start of the 2019-20 season and Pieters was fast-tracked into the starting eleven; he contributed two assists in a 3-0 victory over Southampton. Pieters actually had a very shaky opening 45 minutes but he certainly grew into the match after the interval. That in-match progression was enough to impress Dyche who decided to keep faith in his new signing.
Pieters went on to become a regular fixture in the starting eleven, forcing Taylor to begin the campaign as a substitute. Taylor did manage to force his way back into the fold after Pieters, himself, suffered suffered an injury as well.
One thing that is often overlooked is Pieters' attacking threat in the final-third. He is capable of delivering an inviting cross and also possesses a rocket of a left-boot. In fact, Pieters has scored some wonderful goals in the FA Cup, including a rasping half-volley against Norwich City. He scored two goals and made four assists during the 2019-20 campaign.
Versatile
Pieters is not a jack-of-all-trades but his versatility is admirable. He had made a positive impact for Burnley on the wing, applying his own interpretation to the advanced position. The 32-year-old likes to get physical with opposition full-back players and elects to play safe passes to retain possession. Sometimes, he can provide the occasional killer pass or connect well with a strike on goal but it's quite clear that he is aware of what he can and can't do.
What Pieters epitomises is the Dyche mentality. Very few Premier League teams would be eyeing up a move for the experienced defender but his attitude and application simply works in this setup. Pieters knows his limitations but he doesn't let that affect his game. He has honesty and integrity; that's good enough for Dyche.
There is an option for a further year on Pieters' contract which ends in 2021. It would seem silly to ignore that simple extension, given that other areas of the squad are in need of more urgent attention.