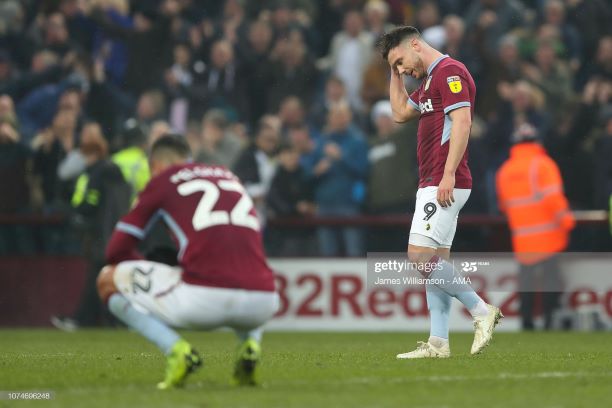 On Friday night, Aston Villa will defend their 100% winning record by locking horns with Leeds United once again.
It will be the first meeting of the two sides since the 2018/19 season, where both encounters provided twists, turns and scandals. The same incident at Elland Road earned Marcelo Bielsa a FIFA Fair Play Award and cost Leeds their faint shot at automatic promotion.
Both games are still talked about today and have generated a rivalry between the two famous old clubs, setting up the mouth-watering contest at Villa Park.
On your marks…
The sides first met at Villa Park two days before Christmas 2018.
Villa Park was set up like a winter wonderland. Santa and his reindeers were outside the stadium and festive cheer was in the air following the turnaround in form under newly appointed boss Dean Smith.
Since replacing the unpopular Steve Bruce in October, Villa saw a dramatic upturn in form. A derby day victory over Birmingham City and a 5-5 thrill ride against Nottingham Forest hit home that a new brand of entertaining, positive football had arrived in Birmingham.
However, there was still a sense of unease. Since opening their play up, Villa began to ship goals at an alarming rate. The defence was on its last legs against Leeds, featuring three right backs and an injured James Chester in their attempt to keep out a side gunning for the title.
Also, talisman Jack Grealish had taken a knock in the previous fixture, a 2-2 draw with West Bromwich Albion. On paper, it did not look good for Villa.
Despite these concerns, Villa raced into an early lead. Tammy Abraham opened the scoring after just five minutes, with Conor Hourihane adding a second 12 minutes later.
Dean Smith's side cruised through the first half, going into the break with a 2-0 lead and looked comfortable. Villa fans were caught up in the hype of a potential play-off push, but it all came crashing down soon after the restart.
Raising the Roofe
A quick turnaround extinguished Villa's lead by the hour mark. Jack Clarke curled home his first Leeds goal ten minutes after the restart while centre back Pontus Jansson pulled the Whites level on the hour mark.
Marcelo Bielsa's famous motivational style had come good yet again. Leeds continued to pound on Villa's door in search of a winner, but it seemed like it would never come.
However, the hosts would end up taking the point away from themselves. Kemar Roofe capitalised on Villa's latest cataclysmic defensive error, a misguided headed clearance from Ahmed Elmohamady, to fire into the bottom corner and send Leeds fans into raptures.
The 95th minute winner was enough to fire Leeds to the top of the Championship. At that point, the team who was top of the league at Christmas had been promoted in each of the last ten seasons.
For Villa, it was the beginning of a relegation-rivalling run of form. They won just twice between then and the match against Derby County on 2 March, a run of 11 games.
Jack Grealish was out for the entire run and James Chester's injury troubles finally got the better of them. He would never play a league game for the club again.
Smith began to feel the heat following a 2-0 loss to West Brom at home in February, leading to some question marks over his future as Villa boss.
For Leeds, they continued to storm towards promotion. While Norwich eventually took top spot, Leeds still looked nailed on for automatic promotion. However, that dream was crumbling by the time they faced Villa again.
The gloves are off
The fortunes of both sides had completely switched by the time they met again at Elland Road in the penultimate game of the season.
Norwich were running away with the league while Sheffield United had beaten Leeds in March to take the advantage in the hunt for second place.
Their form and Premier League dream was crumbling away, even losing 2-1 to ten man Wigan Athletic at home to give the Latics their first away win of the season.
The Blades had won the day before Leeds and Villa met, meaning Leeds had to kick the 'Bielsa burnout' to have a hope of second place.
Villa had already shook off their poor run, coinciding with the return of Jack Grealish who was then appointed captain. A 4-0 win over Derby County catapulted them to a record breaking 10 game winning run, carrying them from 14th to fifth in the league.
They had qualified for the play offs two weeks earlier and had no chance of automatic promotion, putting all the pressure on the hosts. All Villa wanted to do was set the record straight after their collapse at Villa Park.
The game was tight, tense, almost claustrophobic affair. The tackles were flying in, especially towards the new Villa skipper, but a bizarre flashpoint caused the match to descend into chaos.
Leeds and Anarchy
In the 72nd minute, Jonathan Kodjia pulled up with an injury after a Leeds defender dragged his studs down the back of his leg. Tyler Roberts had the ball on the touchline and paused, as if to put the ball out of play. However, he instead chooses to play the ball to Mateusz Klich who fired home an opening goal.
To say Villa took offence to this apparent poor sportsmanship would be the understatement of the century.
Conor Hourihane immediately pulled Klich back after scoring, leading to Patrick Bamford swiftly clattering into him which was missed by the referee.
Ironically, Bamford feigned injury to get Anwar El Ghazi sent off later in the brawl after his own attack on Hourihane was missed.
The brawl that ensued from this lasted for three minutes and the entire crowd was bewildered. Villa were no strangers to violence that season after Birmingham fan Paul Mitchell ran onto the St Andrews pitch to punch Jack Grealish earlier in their run.
However, this time they were the instigators. The brawl was eventually broken up as El Ghazi was sent off while Hourihane and Bamford were given yellows.
In a move that cost Leeds second place, manager Marcelo Bielsa ordered his players to let Villa score unopposed. However, this didn't end the controversy for the Whites as Bielsa's orders didn't reach Pontus Jansson.
Every Leeds player on the pitch stopped to let Albert Adomah through, apart from the Swede. Though he failed to stop him scoring. This enraged both Adomah and Bielsa and it is thought that this played a part in Jansson's surprise move to Brentford shortly after.
The game ended 0-0, with fans expecting the two sides to meet again at Wembley in the Play Off Final. Villa did their part, beating local rivals West Brom on penalties.
However, Leeds collapsed in spectacular fashion at Elland Road to give Derby their spot in the final. Villa beat the Rams 2-1 to take Leeds' place in the Premier League.
Ghost of Peacock's past
Ever since Leeds redeemed the failures of 2019 by winning the Championship title last season, they have been at loggerheads with Villa. The managers have been constantly compared by fans. Villa supporters have taken issue with the amount of positive coverage Leeds have been getting since promotion, while Leeds fans haven't quite gotten over the indignity of their manager giving Villa away a free goal.
Neither side have quite given up the ghost from 2019 and the bad blood is certain to rear its head again. Keep your eyes on Villa Park on Friday night.