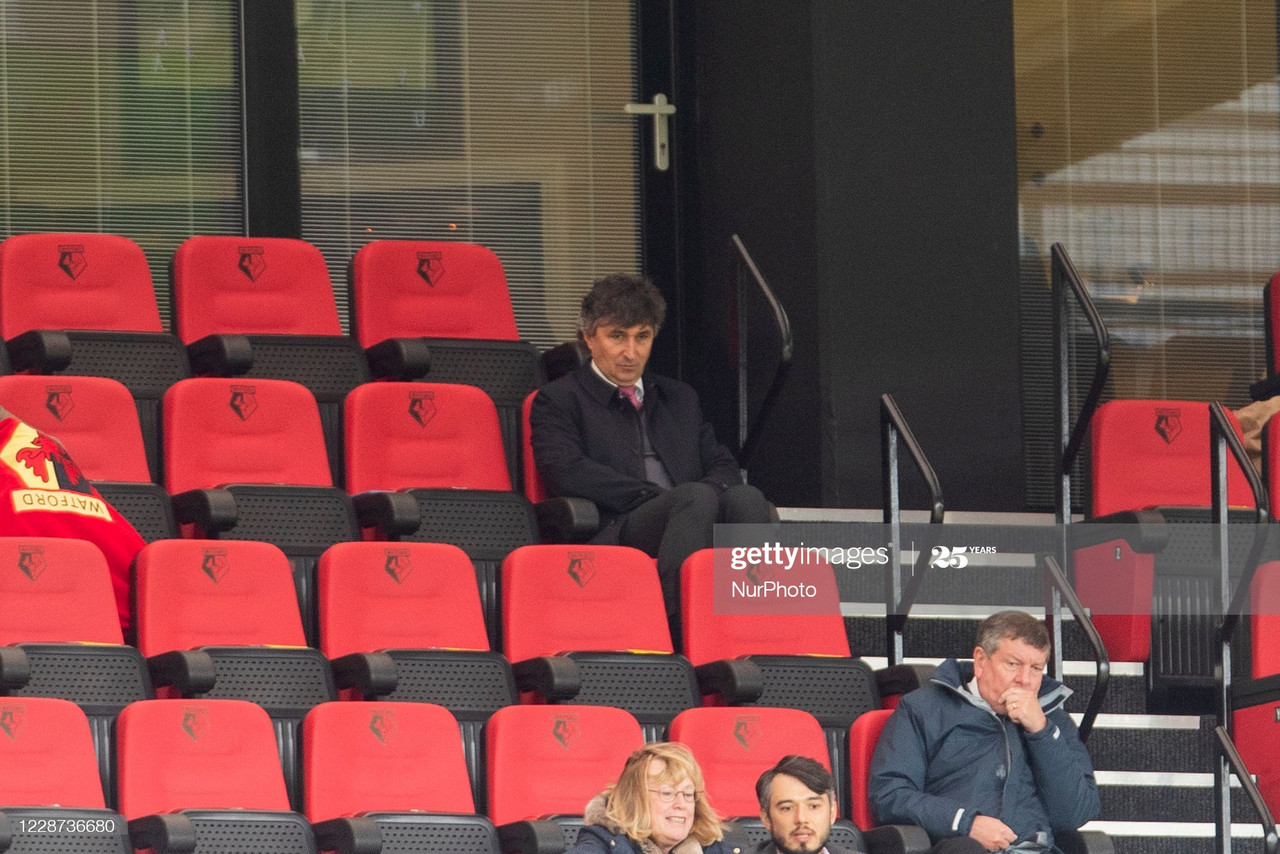 On 26 July 2020, five straight years of Premier League football came to an end for Watford. A positive spell around Christmas gave more than a glimmer of hope, but ultimately it would be sandwiched between woeful runs of form at either end of the campaign. The Hornets weren't good enough, they deserved their relegation and couldn't complain when it finally occurred.
But here's an interesting query: why is relegation so dreaded? It's a question that's not often asked, more likely ridiculed, the answer presumed to be obvious. A football club's on-field aim is to succeed — relegation is the antithesis to success, clearly. But by employing a more long-term perspective, the adversity of the short-term becomes far less pronounced.
With relegation increasingly likely as 2019/20 went on, some supporters of the Hertfordshire club actually warmed to the idea of a stint in the second tier. Claims that the club was "rotting" in the Premier League were more than dramatic, but a succession of poor results and an obvious disconnect between fans, players and staff made it apparent that something needed to change.
The caveat to the relative triumph of the season prior — in which Watford achieved their best-ever Premier League campaign and also reached a FA Cup final after a 35-year wait — was that it seemed like an impenetrable ceiling had been reached, as if the Hornets had accomplished everything they were capable of.
It's a melancholy thought, but it does feel as though at an outfit such as Watford — where, in all honesty, even just one season of Premier League football would traditionally be interpreted as a club punching above its weight — relegation is an impending fate at any given time.
Perhaps that's why 2018/19 was so cherished: fans were cognisant of the fact that following their team could become so much less enjoyable at any given moment. They savoured the success, but the thought lingered that it could only get worse from here.
That's quite a barren and despondent way of looking at matters; it's not how football should be. On some level, fans, players and staff alike will have longed for a chance to rebuild, to reset the club's objectives and expectations — a season without the burden of defeatist thinking and an opportunity for the optimism that fuelled the success of the mid-2010s to be reignited.
Of course, no one at Watford wanted the club to be relegated. But, and please excuse the cliché, every cloud has a silver lining and, certainly in this case, demotion to the second tier is not the detrimental event it is so often made out to be.
Something that will have concerned those loyal to the Hornets most about relegation is the fact that Watford is not the only club subject to the management, and thus interests, of owner Gino Pozzo.
Italian outfit Udinese still cling onto their place in Serie A despite a difficult period during Watford's ascendency in England, no doubt the result of unashamedly clear priorities in Pozzo's thinking and decision-making. But with the Hornets now consigned to the second tier for at least a season, there couldn't be a better time to invest attention, time and resources into the success of i Bianconeri — right?
Well, perhaps to an extent. Fans in Udine have grown increasingly disillusioned with the ownership of their beloved local club. They've competed in Italy's top flight for 25 consecutive years, but that status has been placed under great threat in recent seasons. The supporters desire and deserve reconciliation. They want the club to feel as if it's capable of achieving again, to compete for those European places as they so often used to.
Let's not allow sentimentality to cloud over reality, though — Pozzo wouldn't, and hasn't. Football is a business nowadays; he's an esteemed businessman. As long as both of his clubs remain in the top division in their respective nations, he'll continue to rake in his profit year-on-year.
It's just that there's more of that profit to be made on that little island north of the English Channel than anywhere else in the footballing world at the moment. It's the allure of the English financial climate that gives Watford the edge over their Italian counterparts in the eyes of their owner.
It would be nice to assume that there's a little more to it than that, though. Vicarage Road is now home to a club with potential. A youthful and talented squad, a head coach with an impressive track record and intricate footballing philosophy, and a shrewd recruitment set-up which should allow the club to continue its development both on and off the pitch: it all makes for an attractive mix.
One of the biggest concerns in English football is how relegation from the top flight can so often be the first step in the downfall of any club, irrespective of pedigree or stature: see the recent misfortunes of Bolton Wanderers, Sunderland, and so on. Relegation can be disastrous for some clubs — for others, it can go perfectly well, serving as the beginning of a fresh and positive era.
On initial viewing, Watford appear to be on the latter path. Pozzo will certainly be pleased with how the summer renovation job unfolded. The club has been equipped well for a promotion push and is now widely expected to live up to its lofty expectations for the Championship campaign.
So, then, it's likely that relegation will only have upped the extent to which Watford are Pozzo's premier club. He wants and needs them back in the big time; clever business in the transfer market shows his desperation to make it happen at the first attempt.
Udinese matter a great deal to him and, in all fairness, they've been prepared adequately for a positive season, too. But it's Watford that Pozzo will have his eye on in 2020/21 — and don't expect that to change any time soon.