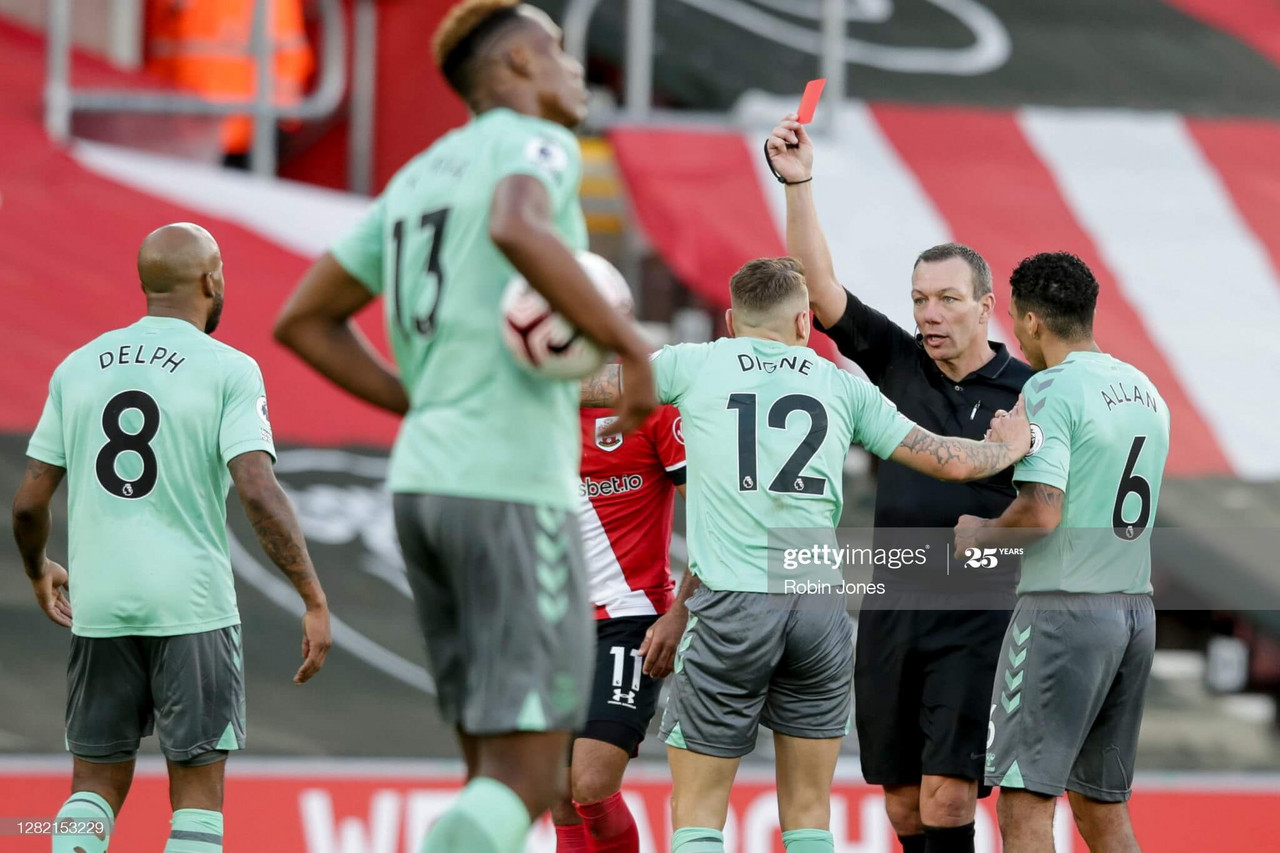 There was little Everton could do against Southampton to save their unbeaten start to the season. Understrength and down to two quick-fire goals before having a player dismissed for a foul, but it was a bad afternoon on the south coast for Carlo Ancelotti's side.
The Everton manager has said before that his team's fine run since the start of the season was always going to end at some point and it will be the manner in which they respond that will truly signal how they will do over the full course of the campaign. Despite their first loss in nine games, Everton are still top of the Premier League table. Perspective is needed.
Everton caught up by changes
This was an off day for Everton and Southampton could have scored more than the two first half strikes that James Ward-Prowse and Che Adams put past Jordan Pickford. The visitors were without Richarlison through suspension and Seamus Coleman due to injury and so Ben Godfrey and Alex Iwobi both made their first starts of the league season.
Godfrey struggled to settle and was out of position at right back, it was a shame because Ancelotti had highlighted the players boldness to take on that responsibility. Yet despite his commitment he was constantly outrun by Nathan Redmond and didn't exhibit the agility that is required of a full back in today's high-paced Premier League. What's more, Iwobi didn't make it past the break - he was subbed for Bernard.
It did show that beneath Ancelotti's trusted starting XI there is still a layer of depth missing. If Everton are to continue to be a force at the top of the table then deviation from the team that went unbeaten in the opening nine games of the season must be minimised. Nevertheless, with such a packed schedule that will not be easy. Here, Everton were without two crucial elements of their team and it told.
Everton to appeal Digne's red
What's even more frustrating for Everton is that they will also be without Lucas Digne for their upcoming games against Newcastle United and Manchester United. The French full back nibbled at Kyle Walker-Peters before stamping on the Southampton defender's achilles. It was a needless, if unintentional, tackle and spoke of the frustrations that ran through the visitors midway through the second period.
It means that Everton have lost a man to a straight red card in their last two outings and will be something Ancelotti is keen to stamp out himself. However, the Everton manager did not conform to the view that Digne's tackle was worthy of a sending off: "It was not a bad challenge. As I said, it wasn't intentional because he was running behind and had a contact with the ankle of the opponent."
Everton are looking to appeal the decision to the Premier League. "I think we are going to appeal because it was not intentional and was not violent conduct," Ancelotti continued. "I think it could be a yellow, it was unfortunate contact and the red was unfair. We have to lose Digne for three games, I think it's too much. We have to appeal because it was not the right decision."
Saints have efficient striking duo
What this game did demonstrate further was the virtue of playing a front-two. Southampton are one of the few sides that do it and the Danny Ings-Adams pairing is reaping rewards for Ralph Hassenhuttl - they have already scored six between them this season.
Their runs in behind the Everton defence and the front-foot pressing destabalised the visitors from the start. Everton's backline was not given too much protection apart from Allan as James Rodriguez, deemed fit to start having suffered a hepatoma during the week, in particular didn't always track back - further exacerbating the inexperienced Godfrey behind him on the right.
This was Southampton's fourth successive game without defeat and sent them into the comfort of the top half of the table having started iffy. It was also the anniversary of their infamous 9-1 defeat to Leicester City and this efficient display both at the back and up front demonstrated the strides that the team have made since then by sticking with their manager.