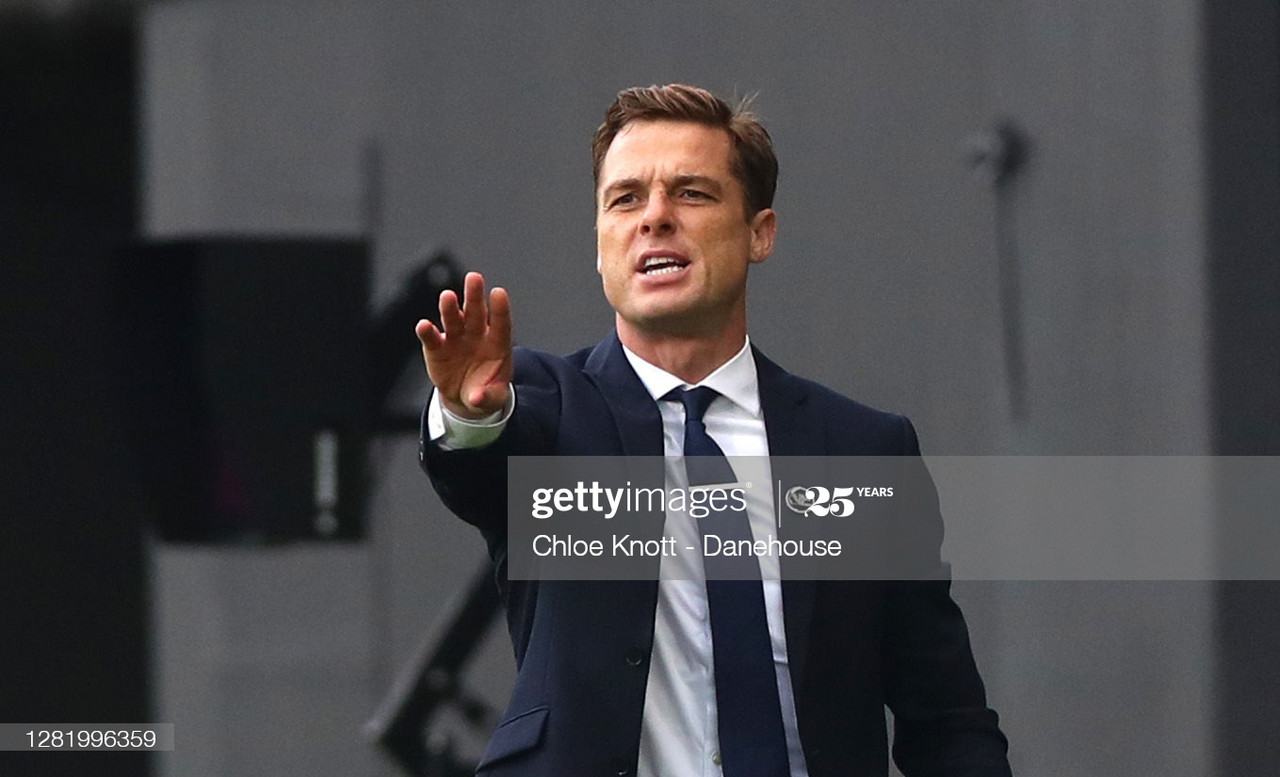 Having finally got their season up and running with a point at Sheffield United the previous weekend, Fulham once again slumped to defeat at the hands of Crystal Palace on Saturday — their fifth loss in six games to begin 2020/21's instalment of the Premier League.
The visitors took the lead early on through Jairo Riedewald and Wilfried Zaha extended their advantage just past the hour mark. Fulham's route back into the game wasn't helped by the straight dismissal of Aboubakar Kamara, and Tom Cairney's emphatic strike deep in injury time was but a consolation.
Cottagers manager Scott Parker addressed the media virtually after the match — here are his most noteworthy quotes, as per the official Fulham website.
On a difficult result to take
Many considered Fulham's opening six fixtures to be on the kinder side, hence why there is such concern at their solitary point obtained so far. This was certainly a damaging loss in a game that — and no disrespect to the Eagles, who fully deserved to win on the day — will have been earmarked early on as an opportunity to earn a point or three.
Leeds United, Aston Villa, Wolverhampton Wanderers and now Palace have dispatched of the Cottagers with relatively little challenge in doing so, while they should have beaten Sheffield United in their assignment prior to this but threw away their lead in the closing stages.
Parker made no attempt to hide from the bleakness of the raw and predominant facts, but dwelling on them serves little: Fulham still have 32 games remaining in this season, and with that knowledge comes the hope and expectation that things will start to look up at Craven Cottage.
"It's a young team that's trying to gel," Parker asserted. "There were some positives, but we didn't get any points. We now have to dust ourselves down and we need to face up, keep working hard and hopefully we'll come out of the other side. I'm sure we will."
On self-esteem
Losing more often than not is a footballer's — and football club's — worst nightmare. The impact it can have upon the psychological side of the game is profound.
Bottom of the pile, winless, not scoring enough and conceding far too many: it wouldn't be surprising to hear that this Fulham side are low on confidence, but Parker insists it's not the case, and the recent misfortunes are merely a learning curve from which everyone at the club will grow.
"I don't think confidence is proving an issue," said the 40-year old. "The dynamics of this vision show that we need to learn, and we need to pick up goals. For the first 15 minutes we showed pure domination; we lack a real threat but we had control. The first time they go forward, they score. It was the same in the second half."
On stern opposition
This result took Palace up to fifth in the table momentarily. They've started the campaign excellently despite a difficult run of fixtures including games against Manchester United, early high-flyers Everton and Chelsea.
In short, the Eagles are no slouches, and their success in recent times has been achieved in line with the brilliantly pragmatic and effective footballing philosophy of boss Roy Hodgson, who Parker played under for the England national team early in the 2010s.
"We were playing against a team who are happy without the ball at times," Parker noted. "It became very difficult for us. We need to learn from how this game panned out. We had a dominance but at times in the final third we lacked a dynamic."
On the crucial next fixture
A six-pointer this early in the season? Certainly. There will be no room for error for either side as Fulham welcome West Bromwich Albion to west London next Monday.
Deep down, Parker will know just how much is riding on that game, but he was reluctant to admit that those 90 minutes will be the key factor in determining whether or not he and his players have what it takes to beat the drop this season.
As the former midfielder points out, there have already been — and will be plenty more — opportunities to prove that across 2020/21.
"It's going to be massive for us but this was a massive game too," he insisted. "We need to learn from the mistakes. The next game is huge for us but it's only as big as the other ones have been."
On job security
The season is only six games old, but it's clear to see which of the 20 managers are likely to see their posts held under scrutiny early on, and one point from six games renders Parker's name a likely feature on that list.
He wouldn't be drawn into discussion about the Premier League sack race, though, focusing instead on trying to ensure Fulham's fortunes take a turn for the better as soon as possible.
"I can't control how long I have. What I can do is what I've done throughout my career: during these hard times, you need to front it up and work as hard as you possibly can to get the rewards."