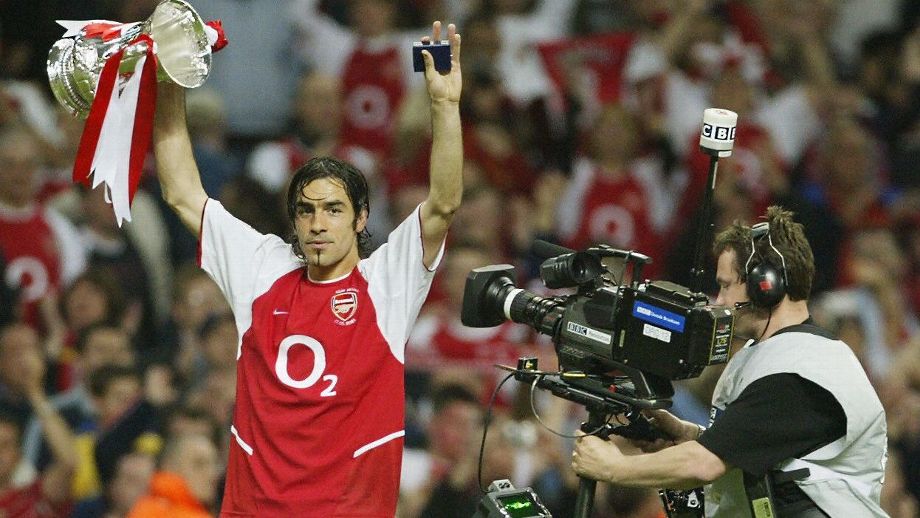 Robert Pires played 284 times for Arsenal, scoring 85 goals and registering 56 assists.
He was part of the iconic 'Invincibles" team of 2003/04 and finishing runner-up in the 2006 Champions League final in his last season with The Gunners', where he won two Premier League titles and three FA Cups.
Pires departed Arsenal at the end of the 2005/06 season, Arsenal's final season at Highbury for Villarreal, where he spent four seasons before returning to England for Aston Villa.
He retired in 2015 following a spell in the Indian Super League but remains an Arsenal icon and is held in high regard by the Arsenal faithful.
He has spent some time with the Arsenal coaching staff and has revealed his desire to become a manager.
That goal against Villa – March 2002
Pires helped lead Arsenal to the Premier League title in 2001-02, his best involvement being that audacious goal he scored away at Villa Park.
He ran onto a long ball from midfielder Freddie Ljungberg, Pires first flicked the ball over George Boateng to go clear on goal and then sent another cheeky dink over goalkeeper Peter Schmeichel and into the Villa net.
That piece of brilliance even had Sky Sports commentators praising the finish with live on-air applause.
Deciding the FA Cup final - May 2003
Arsenal were the clear favourites ahead of their fixture against Southampton in the 2003 FA Cup final, but the fixture didn't go their way, and found themselves needing Pires to get them over the line to secure a narrow 1-0 victory and retain their title.
Arsenal's famous foursome were all involved in the goal, with Thierry Henry and Dennis Bergkamp linked up to find Ljungberg, whose shot from inside the box was deflected by a defender and fell to Pires.
The elite winger controlled the ball one touch before slotting it into the net to win the game.
2003 – 2004. Arsenal became Premier League champions [their most recent league title] and went the season without losing the game.
Pires played a huge part in achieving this success, making 36 Premier League appearances and chipping in with 14 goals and 11 assists.
His most important contribution that season came at Anfield, arriving in sub-par form and only winning one of their last five games, the Gunners' fell behind to an early Harry Kewell goal, before an own goal from Liverpool defender Sami Hyypiä levelled the tie.
Pires secured the winner for Arsenal with just over 20 minutes left to play with a stunning goal.
The Frenchman picked up the ball at the edge of the area, bending his shot into the top right corner of Jerzy Dudek's goal.