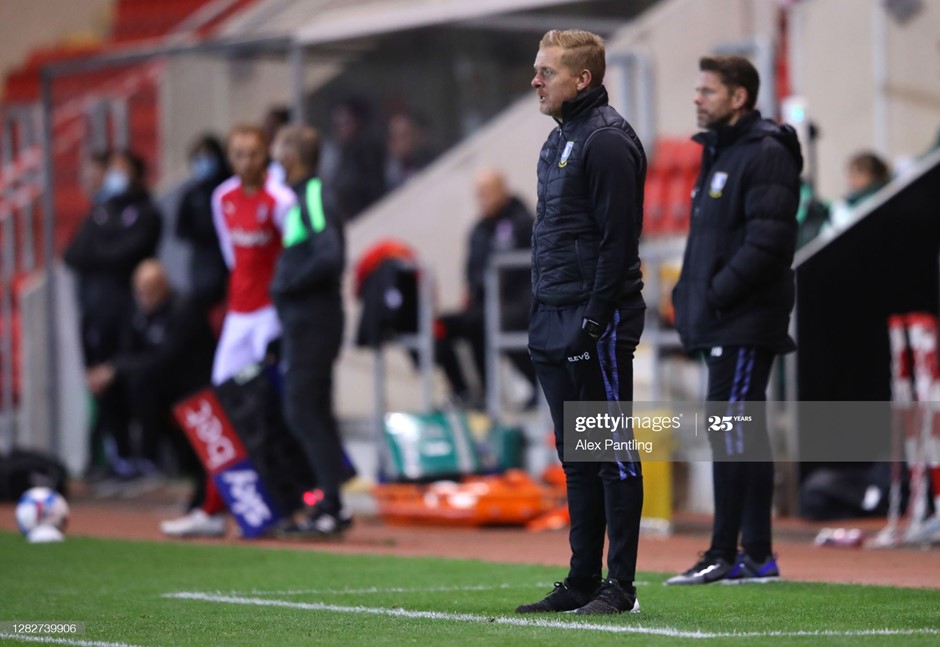 Garry Monk saw his Sheffield Wednesday side suffer a third straight defeat away to local rivals Rotherham United on Wednesday night.
The Owls were already behind when Tom Lees's dismissal saw them reduced to 10 men, with Rotherham scoring twice more at the end of the first half on their way to a very comfortable 3-0 win.
On mistakes
Monk was left surveying the wreckage at the side of the pitch at the New York Stadium after the match after a disastrous showing that he admitted was largely self-inflicted.
"Everything that could have gone wrong went wrong in the first half," said the Owls boss. "In the last two games what we've seen is those mistakes creep back into our game, and they're costly mistakes. Then we've got an uphill battle and, down to 10 men, the lads have a good go at it, but it was too little too late.
"It's been more self-infliction than what the opposition have been doing. Those mistakes have crept back into our game for whatever reason which is very difficult to understand. And then coming back from that adversity, following that mistake with another, compounding that mistake, and you just can't do it.
"It's hard to put your finger on the reason why because the preparation has been good, they work hard, they're good lads. But there's obviously a fragility there in terms of when something goes against you, you then need to stick in the game instead of compounding it with other mistakes, in these last two game especially."
On blip in form
Wednesday lost only one of their first five league matches, on the foundation of a more solid defence, and were only looking up after returning from the last international break with a win at Birmingham City.
But they have now lost three on the bounce, with a respectable showing in defeat to Brentford followed by abject defeats to Luton Town and now Rotherham, two of the sides with the lowest budgets in the Championship.
Monk said: "It's amazing – you go back 10 days to the Birmingham game and the feeling with where we're at and the performances we're able to deliver, and within a 10-day period, especially the last to performances, that's an unexpected twist. That's what football can do.
"It's amazing what happens inside a week. It's not a long period of time but it shows in this league when you're playing quick games, it's turned on its head from where we were."
On Cameron Dawson
Goalkeeper Dawson had an evening to forget in this derby, with his hesitancy leaving him exposed for Rotherham's opening goal before a failure to claim the ball led to the red card and a poor parry allowed their third.
Monk, however, refused to lay any blame on his stopper and maintained collective responsibility.
"It's what I make of the team's performance," he said. "Everything has been under-par these last two games. It's not about any individual, it's the team as a whole."
On next games
Monk knows he needs performances in results in the next trio of games before the international break, which begins with a trip to the division's only winless side, Wycombe Wanderers, on Saturday, before hosting Bournemouth and Millwall at Hillsborough.
"The next three games before this period is over will be a big, big test of the character that's in that changing room, for all of us," said the Wednesday boss.
"The question now is can we turn that around very quickly? Can we turn that around straight away? We're going to have to. Of course it can't continue, but it has only been two games below-par. It's a week that we're talking about."
On his future
Monk had to field some difficult questions after a bitter derby loss that left some fans questioning whether he was the man to continue in the job.
"That's not a question I can answer," he said on how long he would have to turn things around. "All I can do is work as hard as I can. In the space of a week, it turns around very quickly.
"After a week where we've had two performances that have been below-par to what we need, what we expected and what we demand, these three games that are left will be a big answer to those questions.
"I try and stay balanced and keep that anger inside me, but the last two games have not been good enough, of course not.
"I believe in what I do, I believe in these players and I believe they're good enough to get the club out of this situation. It's only been a week, it's only been two games. I understand the way it works. But I'm confident we can turn it around."