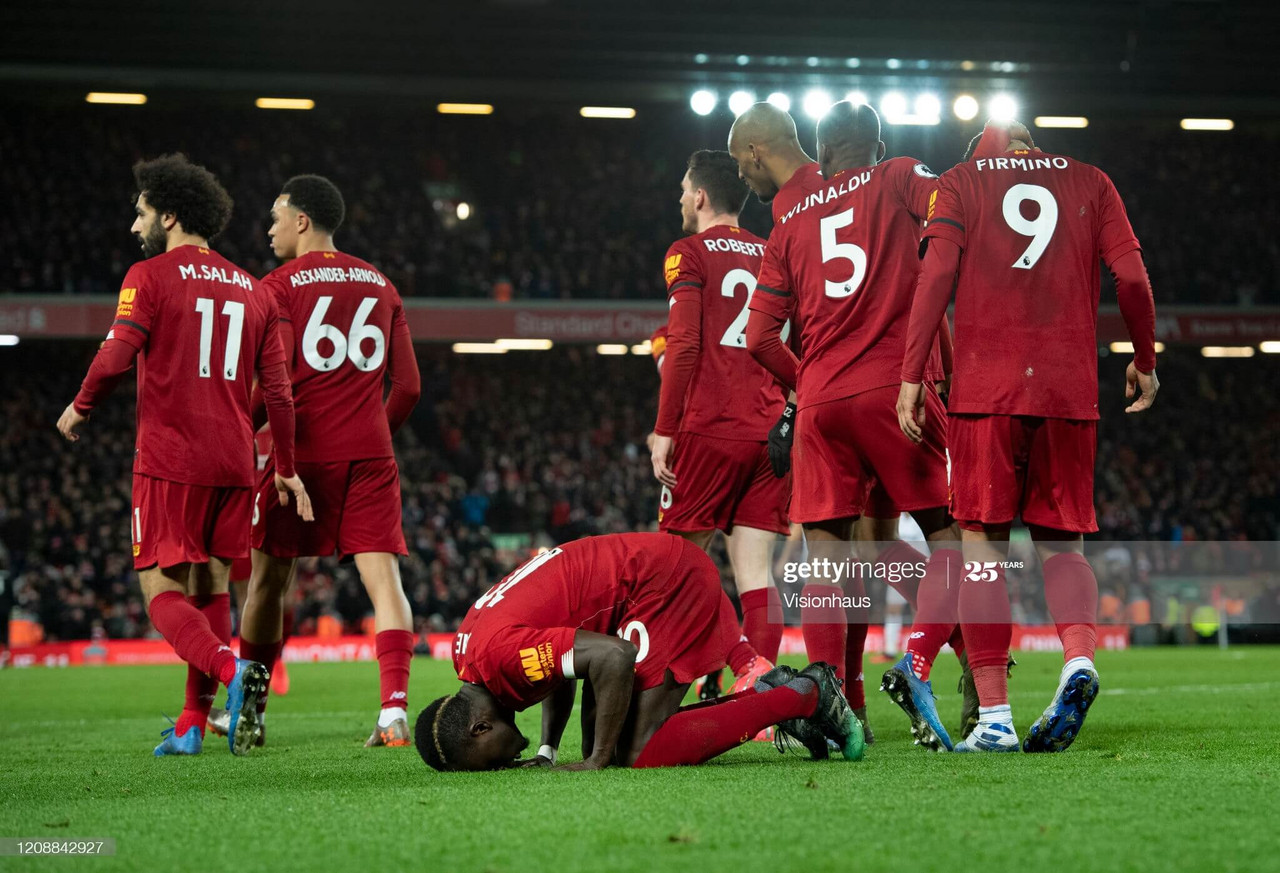 Jurgen Klopp has faced difficulties with injuries so far this season but may have re-found a formation that could prove to be the difference between retaining the Premier League or not.
Injuries to Virgil Van Dijk, Joel Matip and now Fabinho has left his centre back options very limited. Whilst with Naby Keita, Thiago Alcantara out as well, options in midfield are limited.
This has left Klopp with no other option than playing a 4231, with Liverpool using their attacking options to help win games.
This formation was first used this season against Sheffield United and was also used in the Champions League against FC Midtjylland. Many first-team regulars were rested against FC Midtjylland, giving other players a chance to play in this system. For someone like Takumi Minamino, the game on Tuesday would have been his first opportunity to do so. It is also likely that we see it against West Ham.
One of the key reasons Klopp has reverted to a 4231 is due to the players who are available. That much speaks for itself.
However, the formation also helps Liverpool grind out wins. In the last two matches, Liverpool have kept two clean sheets and despite not playing amazing, scintillating football, the points have been gained.
Liverpool walked to their first Premier League title last season by being a very solid and defensively sound team. This was something that has taken a while to see again, and without Van Dijk will be especially hard to replicate.
When Liverpool play in their normal 4-3-3 formation, they tend to have one player in the defensive midfield role. The other two midfielders are playing box-to-box roles and therefore attacking more.
Changing the formation offers an extra player defensively but one less offensively. This has worked well with the increase in clean sheets and overall solid play. But slightly hindered Liverpool attack wise. This won't worry Klopp too much though as he still has one of the best attacks in Europe.
This similar approach was taken two seasons when the formation was first introduced. After a drop-off in results in the New Year, Klopp changed the formation, sparking positive results.
Jota getting his chance to shine
Since his arrival, Diogo Jota has impacted the team instantly, already bagging himself three goals. His quick thinking and movement has helped him break into the team. Unlike some of the other attacking options available, Jota's style of play suits Liverpool very well. His versatility and hard-work has been rewarded early on.
It's been a match made in heaven and with Klopp using the 4231, Jota's minutes should begin to increase. Against FC Midtjylland, he started on the right-wing, before moving to his favoured left side. This is where he has shown the most danger.
When playing on the left side, Sadio Mane has moved into a central role and still been able to show his quality.
Finding a fourth attacker has been one of the few areas for Liverpool to improve on, but the early signs for Jota are really promising that he will be able to do so.