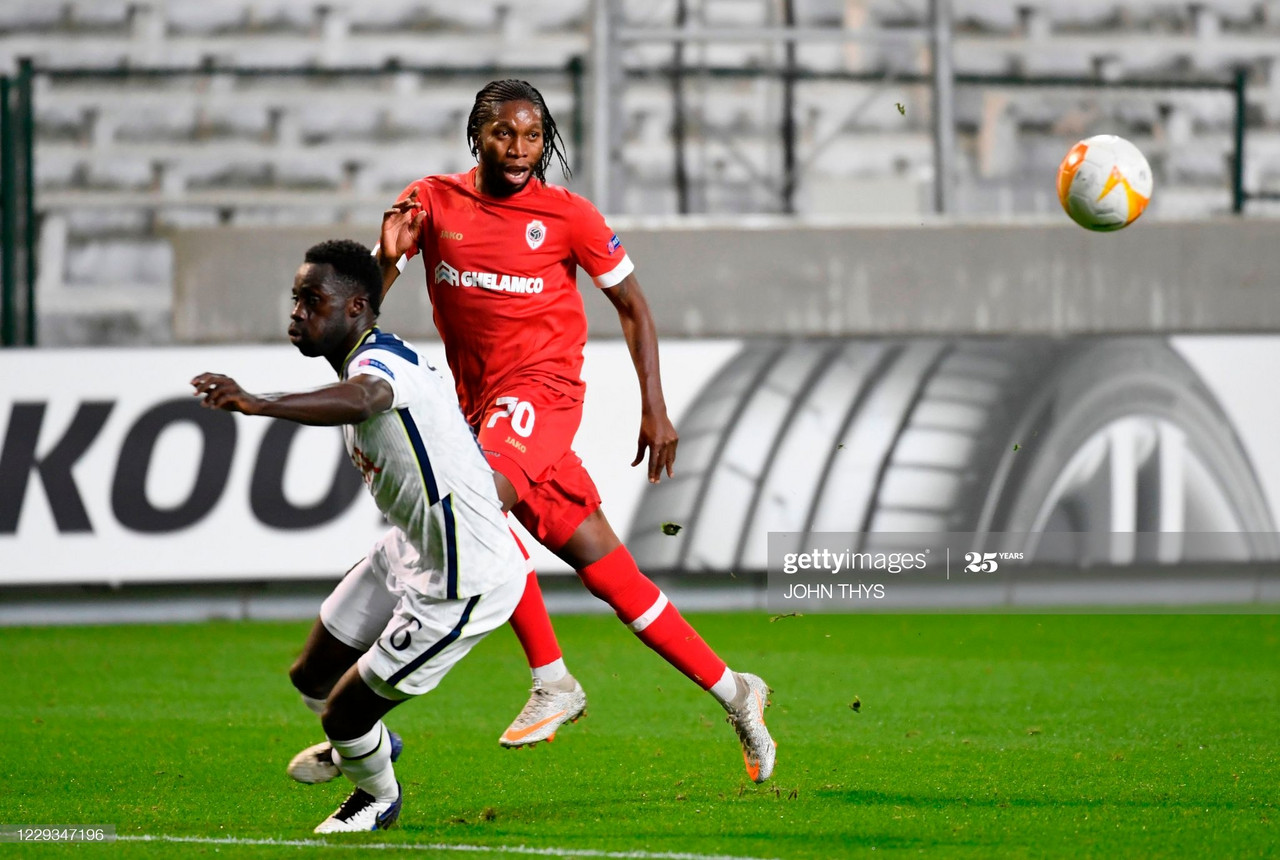 Tottenham Hotspur lost 1-0 to Royal Antwerp in the Europa League with a poor showing in Belgium.
The only goal of the game came in the 28th minute. Ben Davies lost the ball in a bad position which eventually led to Lior Refaelov smashing home past Hugo Lloris.
Spurs' reaction was less than impressive: failing to muster up any great chances against a resolute Antwerp defence.
It was a memorable night for the Belgian side but an equally awful one for Jose Mourinho.
Spurs now find themselves second in Group J after Antwerp have had the perfect start - achieving six points from two games.
Mourinho made nine changes from Burnley, but the starting XI was still very strong. Gareth Bale and Dele Alli started, while Davies and Lloris were the only two to retain their places.
The first 15 minutes was proof that Antwerp were not a side wanting to sit and watch the stars.
They scuffled around and made life hard, disrupting any patterns of Spurs holding possession in the final third. This happened throughout the encounter.
Carlos Vinicius was a good outlet from deep, often winning knock-ons. Giovani Lo Celso had the first half-chance: curling a shot from outside the box straight into the goalkeeper's clutch.
Antwerp, however, had the first real chance of the game in the 26th minute. Refealov had a good sight of goal but blasted his shot over.
Only moments later, then they went onto take a deserved lead.
Davies pondered on the ball, allowing Dieumerci Mbokani to rob him and have a clear run on goal, but he took the unselfish route and looped the ball over Davison Sanchez into the path of Rafaelov, who powered home well.
It was a moment of madness for Davies, who was centre-back for the night. He did little to show he has a future in this position.
A response was expected, but it never came.
Spurs continued similar trends - uninspiring in possession and lazy in defence. Bale, Steven Bergwijn and Vinicius had good moments, but just fell short when it came to the decisive moment.
The half-time whistle blew, and it was a poor showing from Mourinho's side, but a response felt inevitable in the second half.
Instead of letting the original line-up rectify happenings, the Portuguese manager made four substitutes to try and give Spurs a much-needed body shot.
Erik Lamela, Lucas Moura, Pierre Emile-Hojbjerg, and Heung Min-Son were the players that entered the pitch.
Vinicius, Dele, Lo Celso and Bergwijn were the unfortunate culprits of a Mourinho switch-up, which he does all too often when his side is not up to standard.
Antwerp should've made it 2-0 minutes into the second half. Rafealov played the ball across to Mbokani, who from three yards away somehow blasted it over.
It was easier to miss - an absolute let off for Tottenham.
His new-look side showed no signs of improvement, so Bale was shipped out for Harry Kane in the 56th minute. The Welshman didn't offer much but will make a positive in the fact he has more fitness under his belt.
The more minutes droned on; the more Spurs continued to look underwhelming. The new signings injected some life but continued the theme of lacking the final pass.
Suddenly, it was the 80th minute and if anything Antwerp looked much more threatening on the counter-attack. Tottenham were horribly disorganised at the back.
Antwerp were sensing an unbelievable upset on the horizon as fireworks were seen outside the ground, and the incredible irony was that Spurs lacked them all night.
Tottenham gained more entry into the final third as the game entered its final moments but played all of their football in front of Antwerp's solid wall, never looking like piercing or breaking down the Belgian side.
Antwerp were utterly brilliant - blocking everything, halting the Lilywhites at every opportunity and looking dangerous when running at Spurs' defence.
The full-time whistle was met with immense cheer from Antwerp's camp as they pulled off a memorable victory and were the better side on the night.
Spurs will look at this as a stumble, but nothing more. They will still qualify from the group with relative ease, but this dire ninety minutes will be a massive reality check for Mourinho.
Breaking teams down
A big issue associated with Mourinho's Spurs came to light.
They sometimes struggle when teams deploy a low-block as they thrive when teams come onto them – allowing mainly Kane and Son to hurt their opposition in transitions.
They have improved in this aspect, scoring the most goals in the Premier League so far.
But the issue is still relevant. When faced with a lot of the ball, they always struggle for a creative source in midfield. Tanguy Ndombele is turning into this, but he did not travel with the squad to Belgium.
As seen against Burnley, the defence or midfield would always look for a long ball, but more often than not it was forced too quickly and resulted in gifting possession back to the opposition.
In the first-half, Vinicius was the constant outlet, and he did have some success in knocking the ball down to his support.
Bale had moments but still doesn't look match fit. Dele was poor, and Bergwijn looked too eager to impress.
All of the above were axed before the 55th minute and Spurs did then put Son and Kane on the pitch. However, even with these two world-class players, they still didn't look sharp in the final third.
Antwerp had an answer for everything Spurs threw at them. Which wasn't much, to be honest.
Tottenham didn't muster up one clear cut opportunity throughout the entire match. A really poor showing for the attackers.
Horrible showing in defence
As much as Spurs' attack looked flat, their defence was equally as bad. The Antwerp goal was a horrible run of two big mistakes.
Mistake one: Davies was incredibly lazy on the ball and allowed ex-Premier League striker Mbokani to steal the ball off him and bear down on goal.
Mistake two: When faced in the two v one, Sanchez was poor in his attempt to nullify the situation. He didn't cut the pass off, and also didn't shut the striker down enough. It was far too easy for Mbokani to square it for the goal.
It wasn't just this which was a poor showing. Antwerp looked like scoring most times they gained entry into the final third.
Harry Winks and Lo Celso offered them far too much space within the lines, and Hojbjerg coming on at half-time didn't have the desired effect.
They had two brilliant opportunities to increase the score just after the break.
Mbokani missed from two yards out, and shortly before that it could've been even worse when Winks' incredibly poor pass set Antwerp in a 1v1, but Sanchez had a rare moment of brilliance to thwart the opportunity.
Serge Aurier, Sanchez, Davies and Sergio Reguilon did little to impress Mourinho about their defensive abilities all night.
Spurs having vulnerabilities is not breaking news, and tonight showed on full blast that they have big issues to deal with.