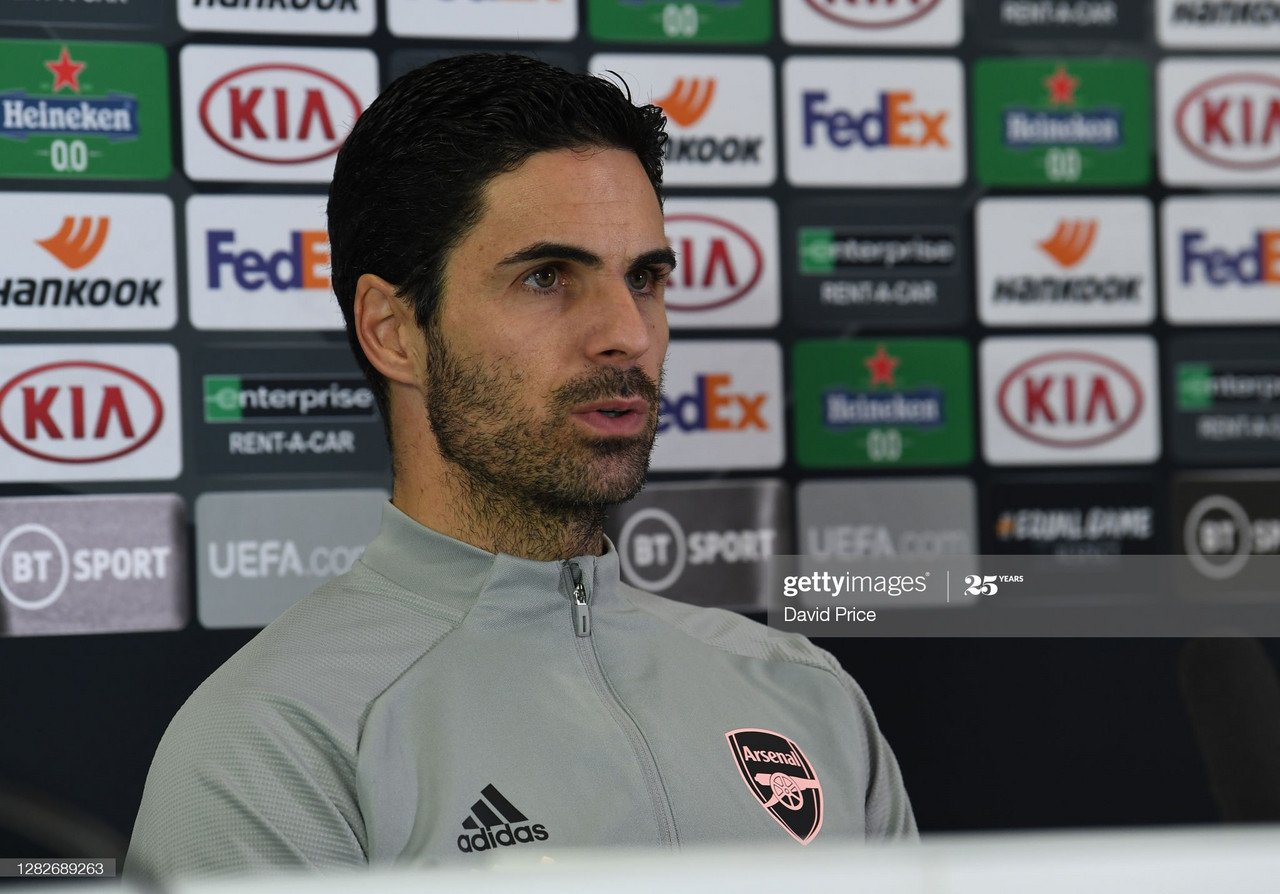 Arsenal produced a second successive win in the Europa League as they beat Dundalk 3-0.
Eddie Nketiah opened the scoring, with Joe Willock adding to the tally quickly after.
Nicolas Pepe struck just as the second half began, to put the game to bed. Folarin Balogun came on in the 70 minute to make his professional debut for The Gunners.
Mikel Arteta spoke to the media after his side's win.
On his side's performance
"I'm really pleased with the way we went about the game. It's always a danger that you feel it could be a comfortable game and then you make it really complicated.
That wasn't the case. I think our attitude from the beginning was spot on. We knew they were going to use a really low block and what we had to do, I think we did it better [than against Rapid Vienna]."
Arsenal began the game on the front-foot, controlling possession and having the stronger chances.
It appeared Arsenal would be going into the second-half with the score still goalless. However, Nketiah and Willock struck in quick succession to give the London side a comfortable lead.
Pepe scored Arsenal's third goal, planting the ball into the top corner. Arsenal saw out the game for all three points, making it two wins from two in the Europa League.
On resting the 'big' players
"We had everybody involved because we know how these games can turn around but obviously there are a lot of games coming up. It's not because they don't deserve to play, it's because there are a lot of players who needed minutes and opportunities. We used them, they've done well, so now let's prepare for Old Trafford."
Arteta rested some of the 'big name' players, Pierre-Emerick Aubameyang, Alexandre Lacazette and Thomas Partey all looked on from the substitutes bench.
Key minutes were given to other players, Reiss Nelson had a lively performance and Balogun came on for his debut. These players have not been playing regularly under Arteta, so these minutes would be crucial to them.
Arsenal also face Manchester United on Sunday, Arteta must have been looking to the fixture as he selected his team for the Europa League tie.
On Granit Xhaka at centre back
"We need one or two players who are able to drop into that position in the way that position looks at the moment.
We need to try them and the best way to try them is obviously in training, but sometimes you have to do it in games so they have a taste, the feeling and the confidence to do it as well.
It was good that they got through that, got the clean sheet and obviously that will bring them some confidence as well."
As Arsenal's centre back injury crisis continues, Granit Xhaka may have to fall into the role. David Luiz was added to the injured list as he came off in the loss against Leicester City.
Xhaka has filled in at centre back for The Gunners before, most notably against Chelsea in January 2020.
After a Luiz red card, he joined Shkodran Mustafi for the remainder of the match. He put in a solid performance, with the away side claiming a much-needed point.
Arsenal will be hoping for quick recoveries for their centre backs though, as a stronger side may have been able to expose Xhaka's defensive inabilities.
On Joe Willock and Reiss Nelson
"They [Joe and Reiss] looked good tonight and always looked like threats. They looked like they could do something different in the game to change it. They were good around the box, they were creative, they had courage to make the right decision in the right areas. I'm pleased with both of them."
Willock and Nelson both put in very creative performances, something Arsenal have been lacking in recent times.
Nelson was electric on the ball, gliding past oncoming challenges. Willock marked his start with a well taken goal, to double the host's lead.
Neither player has been a regular starter for Arteta, they will be hoping that their display at the Emirates will help change that.
On whether any of the team staked a claim to start against United
"Yeah they are always in the frame to play. It's not because we lose or win, it's what they bring to the team, how they play and what they have shown. The results at the end are the consequences of many things but individually how they do things is what determines whether they have the opportunity to play or not."
Playing away against Manchester United in the Premier League has never been an easy task for Arsenal, in fact the side have not won for 14 years. Arteta will be looking to change this at his first time of asking.
Many players who faced Dundalk would have shown the Spaniard that they have what it takes to compete for the league start. With creativity being Arsenal's current problem, and Mesut Ozil's omission from the squad, Nelson and Willock could provide.