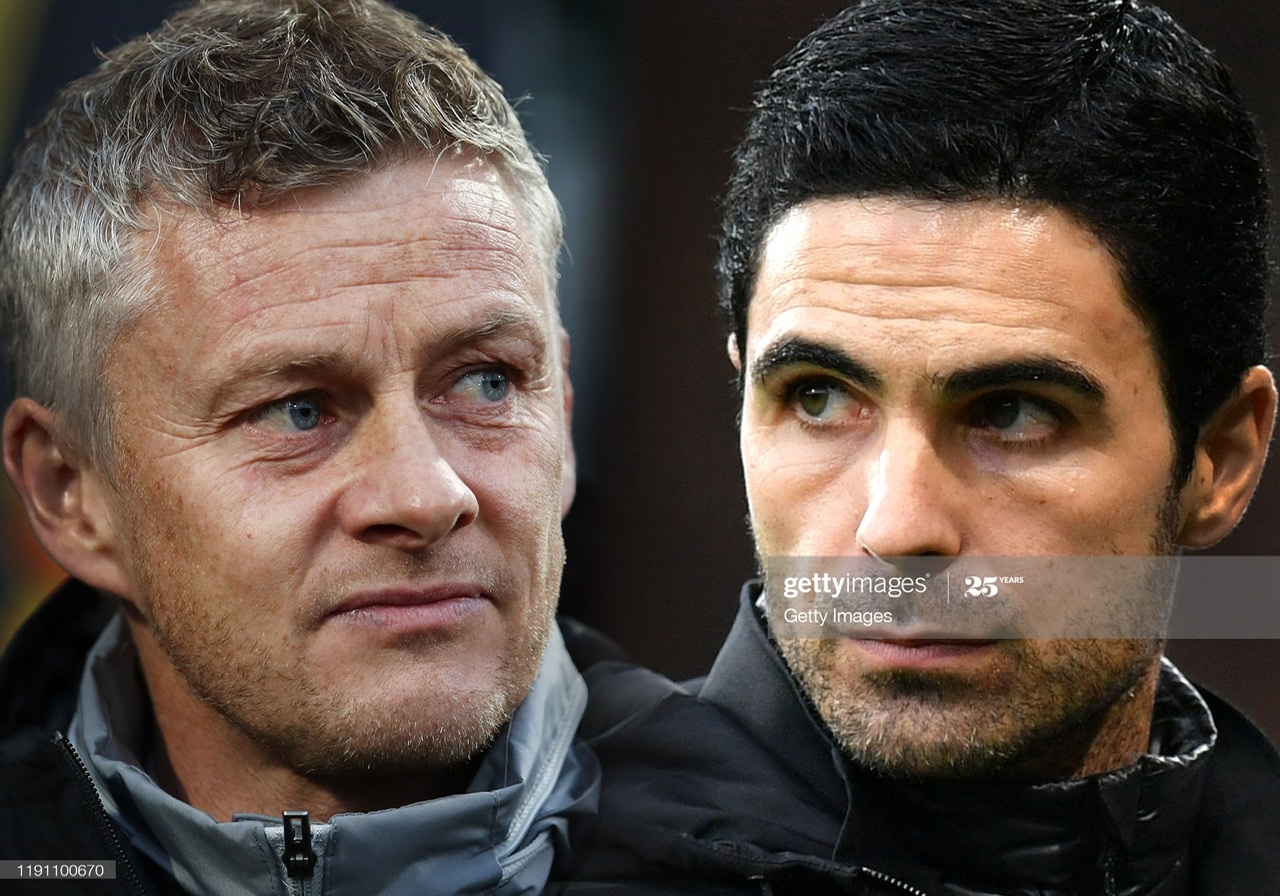 Arsenal come into this fixture in poor form, losing their last three Premier League games, add this to their awful record at Old Trafford, and you would not be crazy for thinking they would come away with another loss.
Manchester United have had a strong run of recent performances, they have not lost since that match against Tottenham Hotspur. Wins against PSG and RB Leipzig being the picks of the bunch.
Arsenal will need their 'big' players to be on top form if they are to leave Manchester with a result. Pierre-Emerick Aubameyang and new signing Thomas Partey are set to return to the side that beat Dundalk earlier in the week.
Partey will have a huge role to play for Arsenal, shutting down Bruno Fernandes will be key for The Gunners.
The Ghanaian mastered this on his debut against Rapid Wien, earning himself a 'Man of the Match' award in the process.
Bruno has been 'pulling the strings' for United this season. The 26-year-old has picked up two assists and three goals in the Premier League so far.
If the hosts will break through Arsenal's defence, it is likely a moment of Bruno magic could supply.
Aubameyang will most likely be deployed in the left-flank, much to the dismay of the some of the Arsenal faithful.
However, this could be crucial to Arsenal's success. Aaron Wan-Bissaka will be tasked with stopping the Gabonese forward. Since his move from Crystal Palace, the Englishman has looked the strongest part of a weak United defence.
Aubameyang will look to exploit the other areas, runs inside between Wan-Bissaka and Victor Lindelof may provide the space for Aubameyang.
United's attacking threat
Marcus Rashford and Anthony Martial will be looking to run riot against a weak Arsenal defence. David Luiz was added to Arsenal's centre back injury crisis when he was taken off against Leicester City.
It is likely that Shkodran Mustafi and Gabriel Magalhaes will partner each other at Old Trafford.
This pair is inexperienced together, there was brief moments during the Leicester match where the two played side-by-side but it was not a successful one. The side lacked all creativity and composure that Luiz offered.
Rashford has scored twice in the Premier League so far for United, however his confidence will be booming after completing a hattrick from the substitute bench against RB Leipzig.
Martial has not hit the same heights as his strike-partner, he is yet to register a shot on target in the Premier League, let alone a goal.
The potential for destruction of Arsenal's defence is there though. Martial and Rashford both have electric pace and Bruno has the capabilities to pick out the killer-pass.
Arsenal have been playing regularly with a 3-4-3 formation, especially away against top opposition. There has been a tendency to sit back, play compact and drop the wide players to sit in a five at the back.
The counter-attack has been deadly, Aubameyang's pace has been crucial to the side bombing down the left-flank.
Alexandre Lacazette has also played a key role in his holdup play, waiting for the forward runs from either flank. Although Lacazette has been poor in recent performances, he had a great start to the season, scoring three goals from the first three games.
Arsenal played a 4-3-3 against Leicester, the first half was strong with chances falling to The Gunners.
However, as the game continued, it became increasingly obvious that the home side would not score. This also left them open to the counter-attack, something that United have been utilising this season.
It is more likely that Arsenal will deploy a 3-4-3 formation and without possession fall into a five at the back. Whichever formation they choose, this is a much needed win for both sides as they chase the Champions League positions.