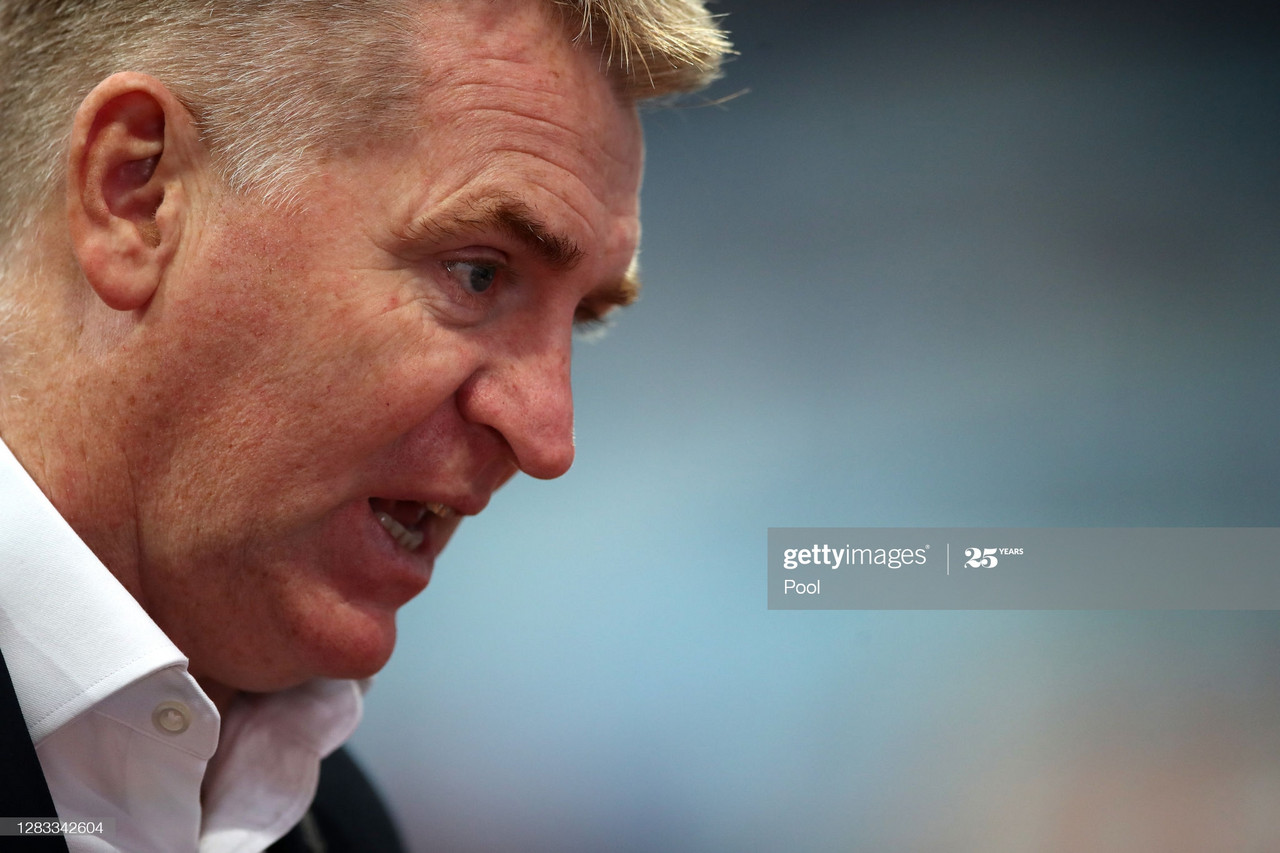 After kickstarting their season with four consecutive victories, Aston Villa's season has been dragged back down to earth following two straight defeats to Leeds United and Southampton.
A James Ward-Prowse double sandwiched in between goals from Jannik Vestergaard and Danny Ings saw Dean Smith's side 4-0 down.
However, Tyrone Mings, Ollie Watkins and Jack Grealish all netted in a much-improved second-half performance from Smith's side.
The Villa manager addressed the media after the defeat- here are the five key quotes from his post-match press conference.
On the defeat
Despite confirming he was aware of the dangers Southampton offered, Smith saw his side concede three goals from set-pieces in a poor first-half showing.
Speaking to avfc.co.uk: "We know the qualities they have [from set-pieces], so giving fouls away is inexcusable.
"We're disappointed and frustrated as well.
"I went in at half-time thinking it was never a 3-0 game- let alone 4-0 when Danny Ings sticks one in the top corner.
"We found our rhythm in the second half but that's what we should have had in the first half. Credit to them because they stopped us getting any rhythm."
On the missed the chances
Villa failed to test Alex McCarthy much in the first half, however, the second half saw Villa test the Saints number one on a number of occasions.
Mings, Trezeguet, Watkins and Grealish all were denied by the Englishman. Smith spoke about his side's opportunities: "Trez could have scored a hat-trick himself with the chances he had at the back post in the second half.
"If the goals had come a bit earlier, I'm sure we would have got something out of it. It's a mountain to climb in this league, coming back from four goals down."
On nearly rescuing a draw
As the clock ticked to the 90th minute and the score was 4-1, Villa seemed down and out. However, two goals in injury time meant the scoreline reflected the second half and Smith believes his side were close to being back in it.
"We nearly got back but it wasn't meant to be.
"The momentum that we had has been paused slightly with the last two results.
"The way we finished the game was really good and we need to take that into next week at Arsenal."
On the goals conceded
In a very lacklustre first-half performance, Villa allowed Ward-Prowse three opportunities from set-pieces, with all three resulting in goals.
Speaking about the first period, Smith said: "It was damage that was a little self-inflicted because we give away free-kicks in stupid areas where they've got a specialist set-piece taker.
"I went in at half-time scratching my head. It didn't feel like a 3-0 game at that point. It was a second-ball affair in midfield, it was scrappy and there were no real chances."
On what was changed
With Villa winning the second half 3-1, Smith expressed his disappointment at his side's first 45 minutes, before explaining his decisions.
"The assistant referee has given them an opportunity to put a really good ball in. Then we've allowed them to play through us.
"The players thought something more tactical was involved but there wasn't in my opinion," Smith fumed afterwards.
"We did change it and put Ross [Barkley] in as a No.10 with the other two [John McGinn and Douglas Luiz] sitting a little bit more."