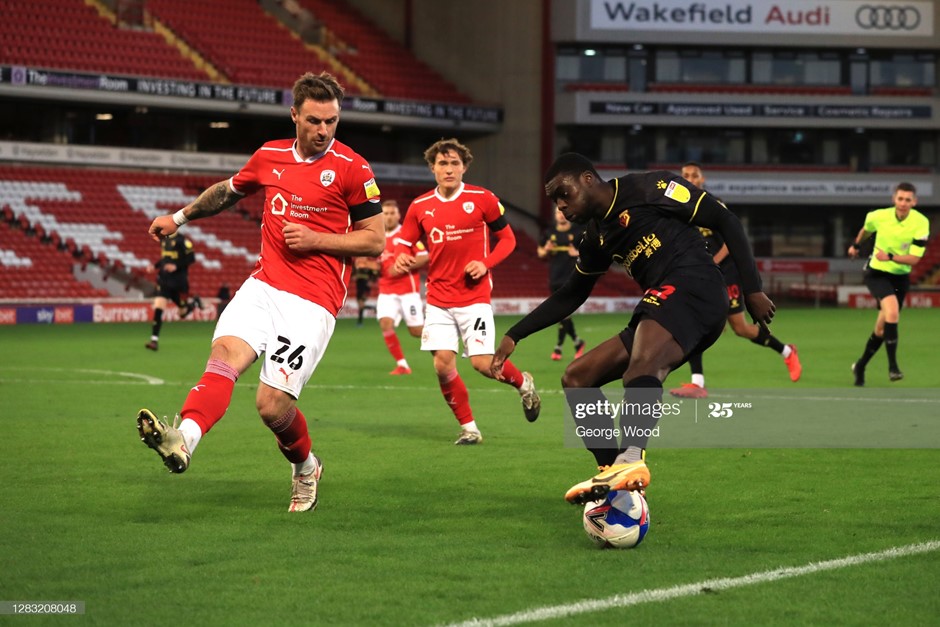 Barnsley defender Michael Sollbauer has praised the cohesion of the team after back-to-back wins to begin Valerien Ismael's reign as head coach.
The new boss is getting a tune out of his players on the pitch, taking a previously winless side to consecutive home victories over Queens Park Rangers and Watford.
Austrian centre-back Sollbauer has been key in both successes but said after the 1-0 victory over the Hornets that the most pleasing thing was the whole team "working together".
'Team performance'
"If you want to have success against a team like Watford, I think you have to work together," said the 30-year-old, who joined the Reds at the beginning of the year from Wolfsberger in his home country.
"Today was a really good team performance. We worked really hard to get these points. Of course our skipper scored a really good goal and we also had some chances to score another goal. I think this is the only point we have to work on. I think the rest was really solid and, in the end, I think it was a deserving win.
"It's great to see that the team is working together, with the new manager and assistant coach (Joseph Laumann). We have worked very fast to learn their way of playing, the team has learned a lot in the last few days and we will learn more in the next days and months as we work together.
"At first it has been really positive that we have created the performances and also two wins. I think it couldn't be better. We will work on some things for sure but the team has learnt the way of playing very fast."
Knockout blow
Before these two fixtures under Ismael, Sollbauer's previous game at Oakwell finished in concerning circumstances.
Barnsley secured a 2-2 draw with Bristol City through Cauley Woodrow's injury-time penalty, after Sollbauer had been caught in the head by Callum O'Dowda in the penalty box. He needed lengthy attention having been knocked out, but thankfully suffered no longer-term effects and only missed the next match against Stoke City.
Recalling the incident, he said: "It wasn't so scary because I could remember the last three seconds before I touched the ball, then I cannot remember everything.
"It was much harder for my family at home, they were sitting in front of the television and it was hard for them. But in the end, luckily it wasn't that bad.
"I had a little headache the next day so I had to rest the Stoke game, because I don't want to risk missing more games and the club officials told me it is not worth it. That is what the team is about; when somebody is injured or cannot play, the next (players) step in and the guys did a great job in Stoke.
"It was hard when you cannot act, you cannot help. I wanted to be with the team so in the end I'm happy that I didn't need to miss more games and I'm back."
Committed to club
Sollbauer was brought to Barnsley in January by previous boss Gerhard Struber, with the two having worked together at Wolfsberger, where the defender made over 300 appearances in a decade.
After Struber's departure, Sollbauer confirmed that he was fully committed to remaining in South Yorkshire, and he explained why he wanted to stay with the club through to at least the end of his contract.
"At first I came here because of Gerhard, but in the end I'm a player of Barnsley and I'm happy to be here," he said.
"Of course for me it was also a shock that Gerhard left the club, but I am a professional so I have to deal with this situation and I am happy to be at the club. I think it is the best for me and I think they have helped me a lot.
"I will be here until 2022 with my contract and then we will see what is going on, but I am very happy here."