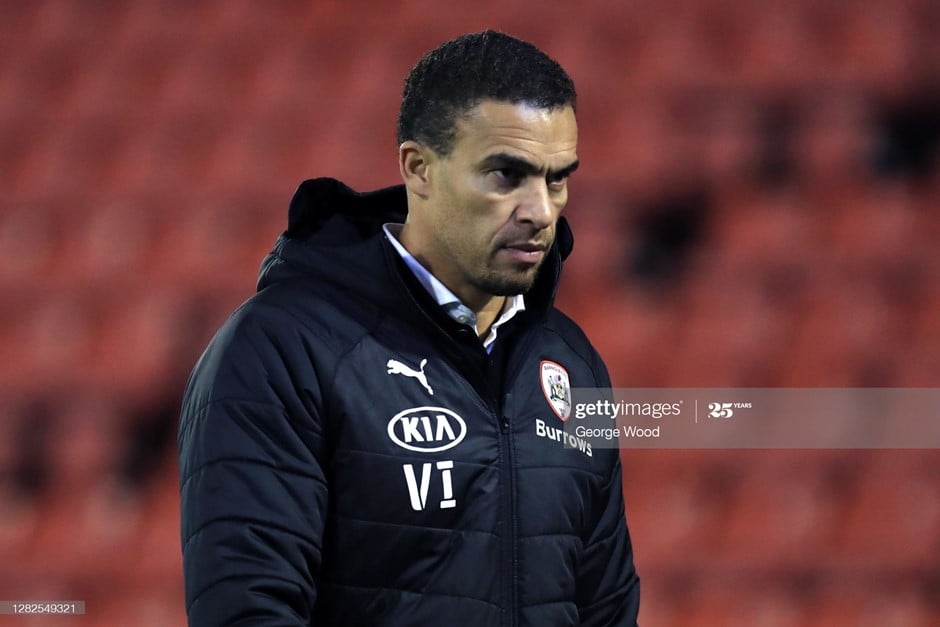 One occasional delight when foreign players take media duties is their slight miscalibration for which English words are suited to the dinner table or, in this case, an interview with the press.
So it was after the unveiling of Valerien Ismael as Barnsley's head coach last Monday, when Dominik Frieser described his thoughts when he learned of the departure of Gerhard Struber three weeks earlier.
"At first I was thinking 'Oh s***!'" he laughed. "Then when I heard Valerien was coming I was happy."
Many Barnsley fans would have been reaching for their own expletives when Struber's move to New York Red Bulls was confirmed. In less than a year in charge, the Austrian had taken the Tykes from bottom of the Championship table to securing survival in remarkable circumstances, with injury-time winners in their final two games when they were minutes from the drop each time.
The mood was less positive come the beginning of October as a lack of transfer activity, a poor start to the season and then Struber's exit left a climate of anger and anxiety among supporters, and the concern spread to the dressing room.
But Frieser knew better than anyone that, when Ismael was appointed two-and-a-half weeks later, Barnsley were in safe hands. For the winger, there was a sense of deja vu as the same man who took over his LASK side in the Austrian Bundesliga in 2019 arrived for a quick reunion in South Yorkshire just months after their respective departures from Linz.
Ismael, a Frenchman who featured for Crystal Palace and Bayern Munich among others during his playing career, arrived in England in time to see Barnsley's draw at Millwall, a respectable enough result but one which saw them extend their winless run at the start of the season to seven games, and demonstrated the challenge that he had just signed up for.
The next day, he got to work.
Familiar faces
Ismael was unveiled to the media at the beginning of the week, and quickly made clear some of the demands that he had laid out the previous day in his first session with the team.
"I believe in this way of football – high-pressing, intensity, a vertical game," he explained. "It is a tough way to play football and I want the mentality of the players to be 'we are not happy with a draw, we never accept losing a game and we fight until the last minute with our philosophy.'"
The high pressing game was already familiar as a key component of Struber's Barnsley, as was the intensity although it was immediately clear that Ismael wanted to take this to a whole new level. Central to that was a new way of playing with the ball, progressing it forward at the first opportunity with a very direct passing style – that "vertical" game.
Frieser was signed up to those plans before his old coach had even touched down in the country, having experienced first-hand his impact at LASK, spending much of last season top of the domestic league and beating Sporting Lisbon, PSV and AZ on their run to the Europa League last-16.
"I'm 100 per cent happy," said the forward. "Last season I think we won 35 out of 45 games. He's a really good coach."
Barnsley's two other Austrians, striker Patrick Schmidt and defender Michael Sollbauer, also knew it all too well, having come up against Ismael's former side back home.
Schmidt told the club's official match programme: "He came to LASK before I moved to England but we only played against each other in one game, before I left Admira. And of course, I'm a big follower of the Austrian Bundesliga still, I watch it every weekend. So I know that he did a very impressive job with his last club and had them doing really well.
"I know his style, I know what he expects of us," he added. "It's a very similar kind of game to what we usually play in Barnsley, but a slightly different shape in and out of possession, with extra running. It's a little faster, more intense I feel."
The demands that would be placed on the centre-backs were no surprise to Sollbauer, who had faced LASK with Wolfsberger. "He wants to have this high press," he said. "I knew this before (he arrived) because I played in my former team against his team. It was really hard to play against his former team."
Ismael had some receptive ears in the squad already, and it would take no time at all for the rest of the group to be converted as well.
New ideas
Sollbauer explained the ideas that Ismael was quick to put across from that first day in charge. "At the beginning he told us that we have to believe in his philosophy of playing," he said.
"We learned that we have to press very high and very aggressive, we have to believe in our skills, and we have to play straight forward. You can see on the pitch we put in a lot of energy to play forward, to win the balls high and then to try to play very deep.
"(In) the first days everything was a little new for the team, but not completely, because we knew this type of play a bit. But he put in some details and it worked well."
The new touches were all very fresh for striker Conor Chaplin, who scored his first goal of the season in Ismael's first game on the Tuesday night, a 3-0 victory over a Queens Park Rangers side reduced to 10 men in the first half. He explained how the boss had been able to get his ideas across so quickly to culminate in a first win of the season being recorded in just his third day working with the squad.
"It's been really impressively put to us," he said. "Everyone was clear going into the game. There was a lot of information but we worked on the training pitch two or three days. Even if we had a recovery day we were out there on the training pitch, watching the sessions to understand his ideas and understand what he wanted.
"There was actually a lot of training time where we had that opportunity in such a short amount of time. There was analysis, there were tactics meetings where he'd explain the way he wanted to play, his philosophy.
"For a new manager there are new ideas, new things that are important for him, for the way he wants to play. We all need to buy into that and we all need to understand it. I think he's done a really good job with his coaching staff already to make us understand the important things for him. He's driven that into us and it's worked well so far."
Instant impact
The players identified some of the same traits that have allowed Ismael to get his ideas across so well in such a short space of time, particularly his communication skills – helped by his English proving to be very good – clarity and enthusiasm.
"He's only been here for a week, but I get a positive energy from him," said Danish central defender Mads Andersen. "As a coach, you feel his power and energy in the game and in the changing room. I think everyone is on the same page, we all have the same focus."
Schmidt said of the first few days under Ismael: "I know what the gaffer wants, and from what I've heard in training so far, he seems a really good coach, where communication is really important to him. That's a big key for players, to have a coach who explains everything clearly, and you know exactly what he's wanting from you."
Part of his clarity, and ability to bring in a number of new ideas very quickly, is his way of simplifying commands and instructions, according to Sollbauer.
"First he tries to teach us his way of playing. We have some key words, some triggers that are important for our way of playing," he explains. "We want to play a higher intensity game to mention but one way, so we have to learn these new principles, and also he has this mentality. He has a lot of power on the bench and everybody feels this in the dressing room.
"I think the first days were really good; the team worked really hard on the pitch. We had a tough training session; I thought 'this is a little bit new' – one day before the game! But we see it worked well and, in the end, if we are successful, everyone will want to work like this."
There seems little doubt they already do, with the players proving more than willing to take it all on board and carry out his plans almost to the letter in the opening two fixtures, especially in the second, an impressive 1-0 win over Watford, in which the first half in particular stood as an exceptional template for how Ismael wants his side to play.
He went as far as to describe those first 45 minutes against the Hornets as "perfect", but he showed his humble side in crediting the squad for how they have adapted, as well as to his coaching staff. They too have been crucial with former Schalke striker Joseph Laumann joining the Reds as an assistant coach, alongside the continuity provided by Adam Murray, who took caretaker charge of the team after Struber's exit, and Tonda Eckert, who have both fully bought into his plans.
"The players were ready to get the messages," says Ismael. "They wanted to play this way, but I put some structure (in) and the players were ready to do this. The second part was the staff, with Adam Murray and with all the guys, with Joe, Tonda, Kevin (Pilkington, goalkeeping coach).
"We all think one way and when everyone thinks in the same way you can see you can quickly get the message and transfer on the pitch what you want to see, and when you win like this you believe more in this way."
Making a difference
The impact has been clear to see from the opening two games. Both were exceptional team displays in which they showed their ability to press very high as a unit and move the ball forward at speed in the fashion demanded.
The starkest aspect of the performance, however, was not technical but physical. The demands under Struber were great, but this was something else entirely. Because the ball is moved so quickly, lost so frequently and then gained so frequently, the number of transitions is immense.
For poor old centre-backs like Sollbauer, it's quite the job. "You need more energy because you can't take this time to rest," he explained. "Of course you want to. If it's needed you can step on the ball and play a square pass to take a breather, but in the end he likes to play powerfully, to keep deep.
"I like this style of playing. I think also both centre-backs next to me like this way of playing, then we can step on and defend high, then we can win balls high, so I think it works good.
"I think it's quite easy – (in that) it's easy to play, you don't have be creative. For example he tells us to play straight, and he wants this to be perfect, so it's also not that easy, but I think for all of us we know how to play this."
That direct style brought plenty of ball, particularly in the first game against QPR, for forwards like Chaplin, who has also benefitted from the main alteration in system from the previous regime. Where before the attack was focused very centrally in a 3-4-1-2, now the 3-4-3 is bringing the best out of both him on the left of the trio and Frieser on the right.
"It was enjoyable," he said of the ferocious display that blew QPR off Oakwell. "I found myself in pockets of space that I wouldn't usually find myself in because there's there three of you up there instead of one or two.
"It's not a winger, it's more of a narrow forward. That's probably perfect for me playing with the other two, and I think we complement each other quite well. You could see that for my goal, with Cauley (Woodrow's) great invention with the flick and Frieser picking out the box. It's something we'll definitely look to build on."
So far, so good. But one week doesn't make a season and Ismael knows that only too well, with the Watford win described by the head coach as only "a step in the right direction". Having made great strides with just these first few steps, fans can certainly be optimistic about where the next leaps might take them.