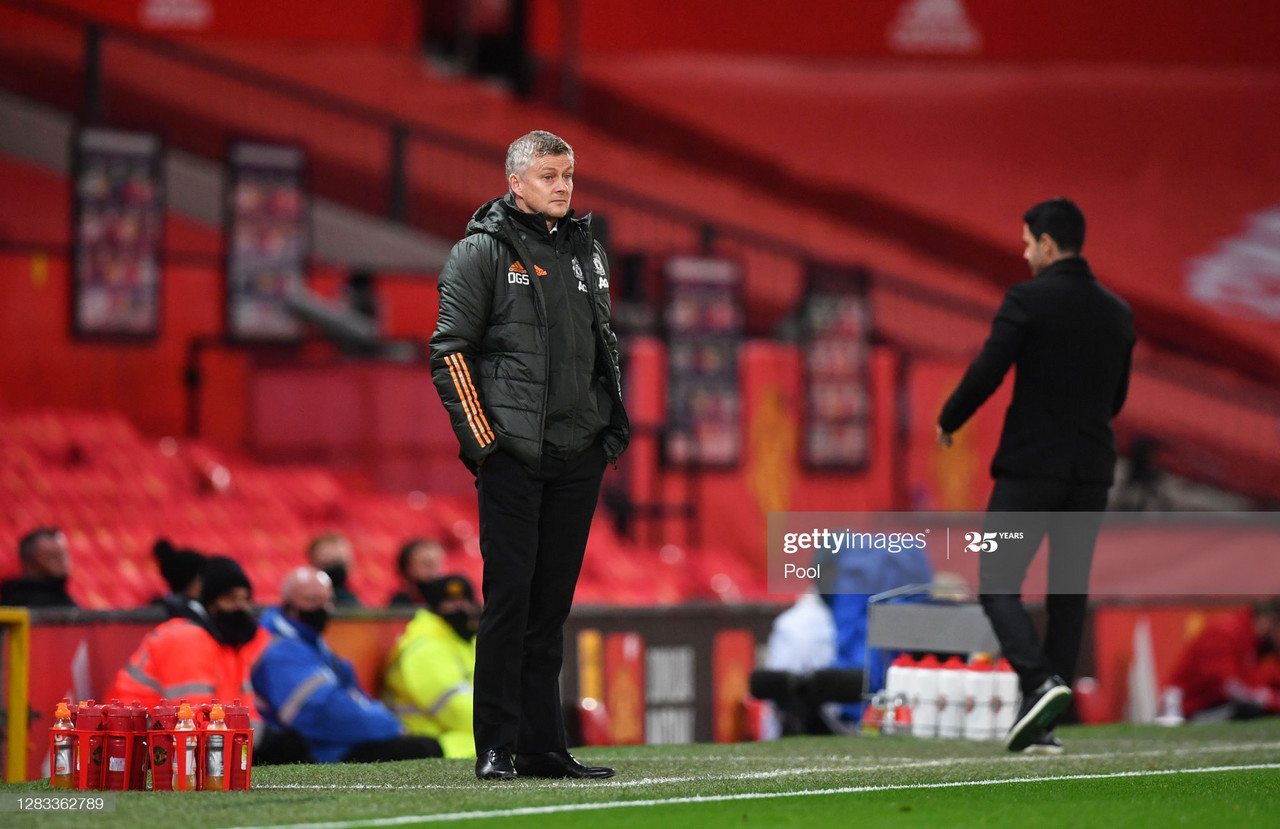 Saturday's Premier League contest between Everton and Manchester United is being described as Ole Gunnar Solskjaer's last chance to save his job.
The Red Devils manager has been on the hot seat ever since his side lost 6-1 to Tottenham Hotspur at Old Trafford. Wins against Paris Saint-Germain and RB Leipzig in the UEFA Champions League seemed to ease the pressure on him, but since then, United have been beaten at home by Arsenal and have lost against Istanbul Basaksehir.
As a result, many have called for his sacking. It seems Solskjaer will survive the week, but a loss versus Everton would surely be the final nail in the coffin for him.
However, even if the Red Devils are able to secure all three points, Solskjaer should still be let go.
Don't delay the inevitable
It's become clear that Solskjaer is not the right man for the job.
Some thought he had redeemed himself when United snuck into the top four at the end of last season, but this campaign has shown his true colors.
A borderline disastrous start to the year, the Red Devils currently sit in 15th place in the Premier League standings. Sure, they have a game in hand, but even if you add a hypothetical 1-0 win to their points total, they would still only be in 13th.
Old Trafford used to be a fortress, but that's not been the case this year. United have only picked up one point from their first four home games in the league, losing three and drawing one with a goal differential of -8 from those matches.
It seemed they were playing better in the Champions League, but even that has gone out the window as they were beaten by an Istanbul Basaksehir side that lacks real quality.
The Red Devils have a flawed roster, of course, but Solskjaer is still the main reason why the team have started this campaign so poorly.
He hasn't developed a set style of play despite being at the helm for nearly two years. His side do know how to counter when playing against teams who leave space in behind, which would be a useful tactic for Solskjaer to constantly turn to if he was coaching a smaller club.
However, as United boss, he's often forced to deal with teams who sit deep and park the bus. In those instances, Solskjaer just doesn't know what to do, and as a result, neither do his players. That was on show once again in Turkey, and it's something that isn't going to change anytime soon.
Solskjaer's substitutions and man management also leave a lot to be desired. He waits way too long to make changes during matches, and even when he does make adjustments, they're usually the wrong ones. His starting lineups aren't great either, as he sometimes picks favorites instead of turning to players who are in form.
Solskjaer really should have been sacked at fulltime versus Istanbul, but with another game only days away, at least there's some reason why he's still in charge for now.
A win versus Everton, no matter how dominant, would only paper over the cracks that have developed under the Norwegian, so keeping him just delays the inevitable.
Timing is key
With the upcoming international break following this weekend's game, the timing could not be better to make a coaching change.
The Red Devils won't have another game for two weeks, which means there's plenty of time for a new manager to come in and settle to life at Old Trafford. It's what Spurs did last year when they sacked Mauricio Pochettino, giving current boss Jose Mourinho a few more moments to build chemistry with his team.
Speaking of Pochettino, it's unclear how much longer he and other quality replacements will be available. The former Spurs man took a bit of a hiatus since being fired, but he now seems ready to return to the touchline. It's a similar story for Italian manager Massimiliano Allegri, who might just be waiting for the right job opening.
With the amount of coaching changes that happen across the continent on a weekly basis, there's a chance Pochettino and Allegri could be gone before Solskjaer himself is sacked. United can't afford to risk that happening, so they need to commit to a coaching change soon.
The move would also save this season. The Red Devils have dug themselves into a hole, but there's plenty of time to get back out of it. It's still only November, so the team has several months and lots of games left to right their previous wrongs.
They're getting help from others as well. Almost everyone in the Premier League is dealing with something, whether it be injuries or inconsistent performances on the field. No one has established themselves as clear favorites, so United could potentially climb back up the table with a new manager at the helm.
All things considered, this weekend needs to be Solskjaer's last in charge even if he does beat Everton. It's simply time to move on.