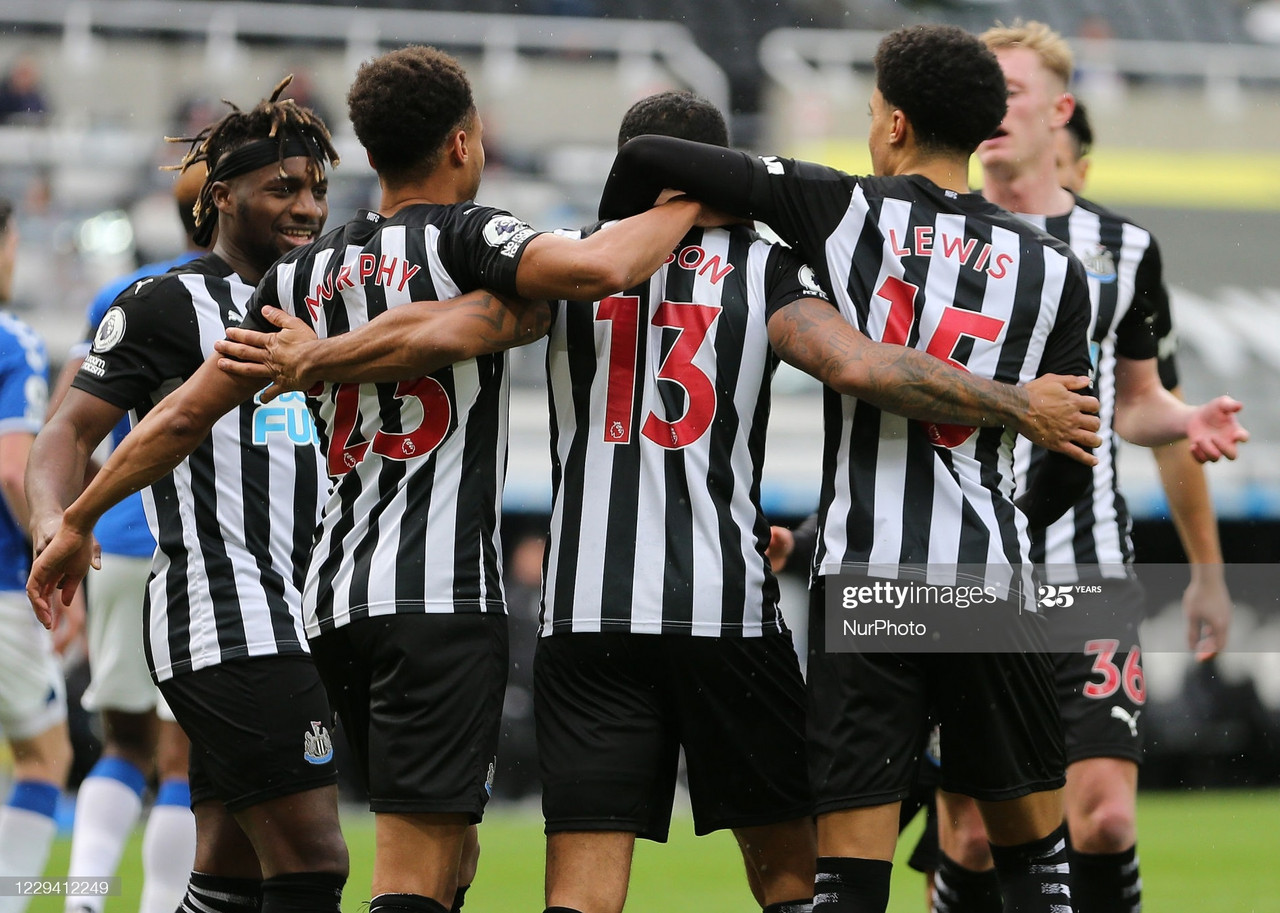 Newcastle United have picked up eight points from the previous five games.
The Magpies have picked up good results and specifically over the past two fixtures look to have turned a corner on the season and gone past the constant relegation fears.
With the two previous results, including four points against teams who have big expectations surrounding them this season. Wolverhampton Wanders being a 1-1 draw and most recently last Sunday a 2-1 home win against second-placed Everton has not only seen a change in formation but a steadiness in personnel.
Now with the 322 mile trip to high flyers Southampton, Newcastle Vavel predicts the lineup:
The smile is on Karl Darlow's face because the Englishman is enjoying a brilliant run in the first team. The talk about Darlow's introduction into the team should be done; this is his time now until Darlow shows Steve Bruce different.
Darlow still sits at the top of saves this season in the entire Premier League. The shot-stopper has shown that he deserves to be in a discussion of being a top-level goalkeeper at this level and will start when fit.
Right-wing Back- Jacob Murphy
Jacob Murphy at right-back, yes, since the loan spell at Sheffield Wednesday Newcastle fans have to thank Gary Monk for this reassurance in the young player's comeback.
Murphy has been brilliant, and Newcastle has a history in making wingers into wingbacks with Matt Ritchie being the other example. Murphy, in his three appearances for The Magpies, has not lost a tackle, made seven successful 50/50 tackles and five accurate through balls to release other players through. Murphy will start.
Centre Back- Fabian Schär
The Switzerland international has had a bumpy reintroduction into the starting elven four weeks ago. The centre-back has been targeted in the air as he has lost six times more aerial duels than he won in his four starts this season.
Where he loses the ball in the air he makes up for passing, Schär makes the third most amount of passes per game of any Newcastle United player, that is a career wide stat, not just this season. He has his part to play in a back three for The Magpies.
Centre Back- Jamaal Lascelles
Captian fantastic has returned. The Newcastle Skipper put in his best performance against Everton on Sunday. It is always around this time of the season some Newcastle fans wonder why Lascelles isn't considered for international duty. The fact the captain has a 58% pass accuracy on passes above 15 yards could be a reason, but leading the line communication and a physical presence will again be on show this Friday against Southampton.
Centre Back- Federico Fernandez
Newcastles dark horse this season, Fernandez has been exceptional. His performances against Everton was the opposite to Schär, and the Argentine recovered the ball more than any other player on the pitch Sunday. His bright patch of form isn't just one game or even this season we can track it right back to project restart.
Left-wing Back - Jamal Lewis
Lewis has played every minute he has been fit for Newcastle this season and will continue to do so against The Saints Friday.
The Northern Ireland international is still settling into his role for The Magpies and needs time. Lewis's contribution going forward is exceptional when you watch him, his defensive duties are a bit of a worry, and going against Stuart Armstrong will be a test for him Friday.
Centre Midfield- Sean Longstaff
Welcome back, Sean Longstaff. Plenty of Newcastle fans would have rejoiced when the Homegrown talent played on of his better games in the last 18 months on Sunday. Now it was only one game, and one of Longstaff's big critiques is consistency, but his passing quality fills the gap left by Jonjo Shelvey.
Centre Midfield- Issac Hayden
Issac Hayden is another one of those players who are not in the starlight often, but his job of breaking up the play, not many players in the Premier League are up to Hayden's level. He is one of the English core of this Newcastle team and should start when fit.
Centre Midfield- Miguel Almiron
The firecracker does not stop; Miguel Almiron runs and runs. It is brilliant to watch how much ground he covers, and the pace at which he covers the ground is breath-taking. With Almiron and Longstaff in the midfield, Newcastle has legs.
Almiron covered a total of 289km last season and will continue to run. His running ability allows overlaps in the channels which created vast problems Sunday.
Newcastle fans have a striker to cheer for this season. Wilson was annoyed when he was substituted with ten minutes to go on Sunday. Wilson scored both of The Magpies goals on Sunday with two very different goals, but both showed Wilson's class. He the Englishman misses out on an England call up in the recent upcoming international fixtures with players who have scored fewer goals, and some are not even the main man in their teams. Wilson will have to prove to Gareth Southgate it was a mistake to leave him out.
Striker-Allan Saint-Maximin
The striker position for ASM is getting some slack from certain fans. However, if scores the one on one chance in the first half on Sunday fans would not be launching criticism.
Southampton is vulnerable to the high defensive line, this season it has caused a lot of problems when a pacy attacker breaks through the high line. Examples include Timo Werner, Jack Grealish and Son Heung-min. If Newcastle plays it correctly, ASM could have a good day.