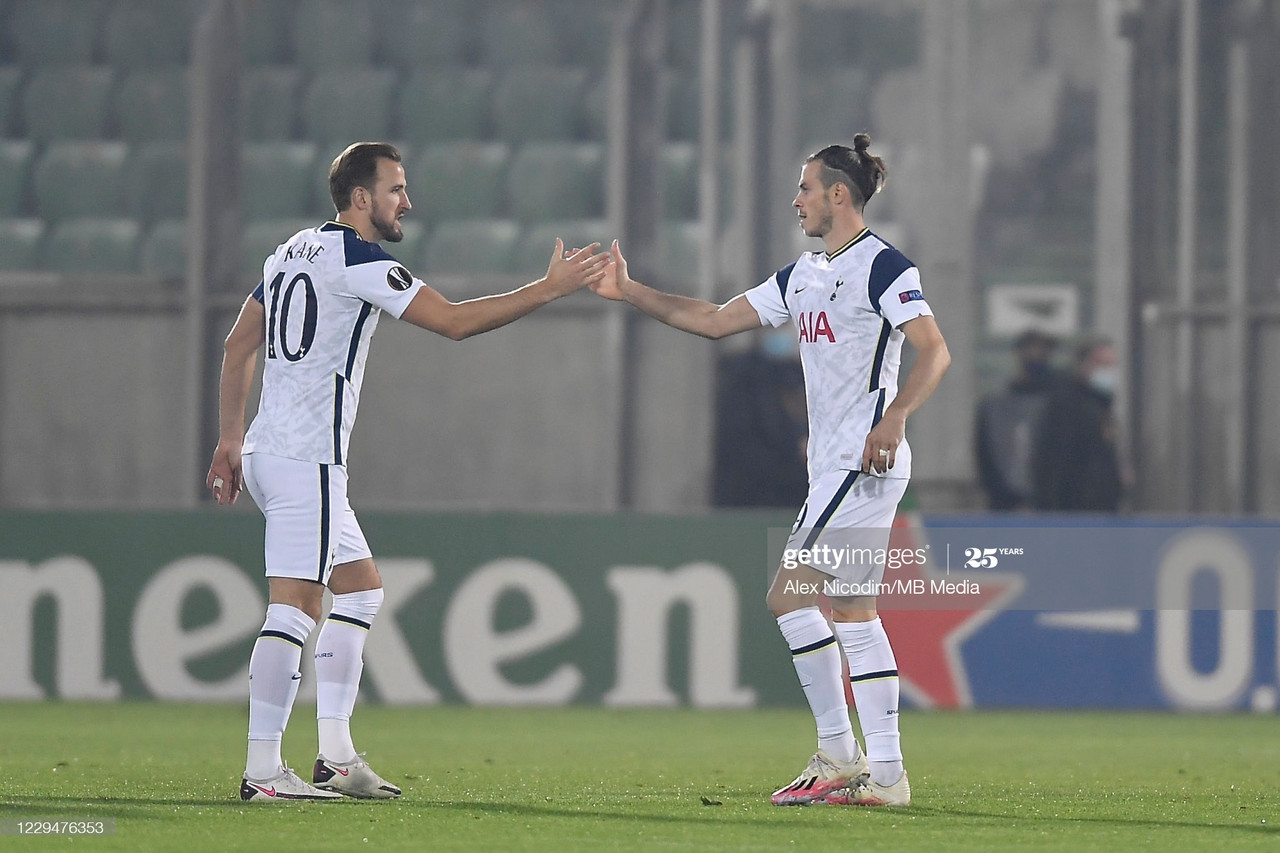 Tottenham Hotspur cruised to victory in Bulgaria, beating Ludogorets 3-1 in the Europa League.
It was a memorable night for Harry Kane as his opener in the 13th minute was his 200th goal for Spurs on his 300th appearance.
Only 1960s legends Jimmy Greaves and Bobby Smith stand ahead of him in the club's records and if he stays fit - and at the club - the England captain looks set to break record after record.
He then took to his new role of creator to set up Lucas Moura, meaning Spurs cruised into half-time at 2-0.
Ludogorets injected some life into the game and made Jose Mourinho's tension rise when they pulled one back five minutes after the restart - Claudiu Keșerü thumping home after a very fortunate deflection.
Despite this, Spurs still had the game in their grasp and achieved some breathing space when Giovani Lo Celso tapped home to give Tottenham a much-needed three points.
After the loss to Royal Antwerp last week, this win was important psychologically and Spurs were well worth their victory as they controlled the affair from start to finish.
They now have six points in Group J after three games.

Mourinho did state before the match that he would go "full power", and it's fair to say he did not lie. There were six changes from Sunday's victory over Brighton but the starting XI was extremely strong.
Gareth Bale, Lucas, and Kane were the chosen front three, while Harry Winks and Lo Celso came in for Pierre-Emile Hojbjerg and Tanguy Ndombele in midfield.
Ben Davies replaced Sergio Reguilon, who has the flu.
The chosen team provided optimism for Spurs that this had promise be a comfortable night in Bulgaria, and a reaction was expected after that hugely disappointing result against Antwerp last week.
Within the first two minutes, Spurs already mustered up more than they did in Belgium last week.
It was a fantastic one-touch move. The ball pinned around the edge of the box between Lo Celso and Bale.
The ball eventually found Winks, who produced a beautiful lofted ball which split Ludogorets' defence apart and found Kane with only the keeper to beat.
The England captain somehow didn't score and saw his rushed shot fly over the bar.
Kane looked in disbelief that the net didn't rustle. This was a massive let-off for Ludogorets but it was only a teaser of what was to come.
The 27-year-old striker then had another opportunity to open the scoring, this time the chance being completely self-made.
He picked the ball up deep, darted towards the Ludogorets goal, and then whipped up a fantastic low shot aiming for the bottom-right, but it cannoned off the post.
On another day, Kane may have scored two goals within the first five minutes.
But it was already a completely different showing compared to last week, and it felt a matter of when Spurs were going to score, not if.
The opening goal came in the 12th minute, and the English striker finally got his reward – powering a header home from point-blank range after Lucas' brilliant corner.
That was his 200th Spurs goal on his 300th appearance. An incredible record for an incredible footballer.
Lo Celso then had a shot fly over, and Lucas had one inches past the post a few moments later. Spurs looked so comfortable and were probing at every opportunity.
They then had a golden chance to make it 2-0 in the 25th minute. Lo Celso made a great forward run, carrying the ball excellently. The Argentine slipped in Kane.
With his first touch, he put the ball across the box trying to find Lucas. The Ludogorets defender got there first, but could only clear towards Matt Doherty in the box.
The right-back thumped a left-footed strike towards the goal, but Plamen IIiev did well to tip the powerful shot over.
Spurs got the breathing space they deserved in the 32nd minute. Toby Alderweireld's great forward pass found Bale in a nice pocket centrally. The 31-year-old turned well and eventually found Kane on the right-hand side with a lovely weighted pass.
Kane, as he has so often this season, turned creator. He put a lovely teasing ball across the box for Lucas, who tapped home to put Spurs 2-0 up.
The game was then put into cruise control, and the whistle rounded off a brilliant first-half display from Mourinho's men. The only negative would be that they did not score more goals.
Spurs made two substitutions – Kane was rested for Carlos Vinicius and Moussa Sissoko came off for Hojbjerg.
The game sprung back into life in the 50th minute - Ludogorets pulled one back with their first real chance of the game.
Bernard Tekpetey cut in from the right and took a desperate shot. In unfortunate fashion, the ball ballooned up off Winks and dropped perfectly to Keșerü, who was alone and onside.
He slammed past Hart from six yards and for the first time of the evening, it felt like there was a proper contest on show.
Mourinho's heart rate had been upped a tad.
Spurs almost hit back immediately. Lo Celso scampered down the left and cut the ball back for Vinicius, who leaned back and spooned it over from ten yards.
It was a great chance and a moment to forget for the Brazilian who is still in search of his first goal in a Tottenham shirt.
The tension was upped, but the game was always still in their control. Son-Heung Min was brought on for Lucas and the Korean made an instant impact.
Hojbjerg won the ball well, drove into space, and then slipped in Son through on goal.
His first touch was a good one, and just when you thought he was going to put the ball into the back of the net – he unselfishly squared it to Lo Celso for an open goal to make it 3-1.
It was brilliant play all round and the game was back to where it was. Any whisper of a comeback was then diminished.
Spurs' tempo dropped after their third goal; some sloppy sequences started to seep into their game, and they gave Ludogorets too much space in the final third. The Bulgarian side carved out some good chances but failed to threaten Joe Hart with their final ball.
However, much to Mourinho's delight, Tottenham fixed up in the last 20 minutes as they changed their intentions from scoring more goals to making sure they got to full-time with no more scares.
The referee's whistle marked a good night of work for Mourinho and his team.
ANTWERP FORGOTTEN
After last week's dire performance against Antwerp, this game was potentially viewed as more banana slip potential – especially as it was another away trip and not in the comforts of the Tottenham Hotspur Stadium.
But within the first two minutes, Spurs already carved out more than they did in the entire ninety minutes last week and there was an immediate visual difference in pressing, desire, and quality.
Let's be real, Tottenham's qualification from the group was always going to be achieved – but if they slipped up again tonight, and Antwerp got three more points, it would've meant for an unneeded uphill battle.

Neither ended up happening, but it's worth mentioning
The win tonight puts them in a great position with only three games remaining, especially as they've only got one away trip left, which is LASK in Austria.
Mourinho will be hoping he can get qualification tied up with games spare, so he can rest valuable players in what looks to be a really daunting run of Premier League games.
The main essence of the result tonight is that the horrible Antwerp outlier of Spurs' good start to the season has been forgotten quickly.
Mourinho will be delighted at the bounce back he saw from his players, as a repeat of the performance in Belgium would've been damaging.

IMPRESSIVE BUILD-UP PLAY
Spurs sometimes struggle to break down teams and fall into lazy patterns of possession play. This was seen in recent games against Antwerp and Burnley.
There would've been fears of a similar trend occurring tonight as Ludogorets were obviously going to deploy a low block to restrict space.
Tottenham, however, were excellent in build-up play tonight. The tempo was quick, and this was mainly down to Winks, Sissoko, and Lo Celso's impressive displays in midfield.
All three looked to play progressive passes whenever they could.
Sissoko mainly broke lines with his brilliant and powerful forward dribbling, as did Lo Celso – who was Spurs' best player on the pitch.
He was deployed as a free eight, and connected with the attack brilliantly, while also working hard when Spurs didn't have the ball. His goal was a tap-in but rounded off an excellent performance from the Argentina international.
Winks has come under criticism in recent times, and many were questioning whether he deserves the call-up to the England squad that he got earlier today.
However, the midfielder was impressive tonight – especially in the first half. He was really vibrant, looking to poke the ball into dangerous areas from deep at all times.
Hojbjerg came on and was his usual brilliant self. He won the ball in great fashion and set away Son for Tottenham's third goal.
The defence was equally as impressive and were really good on the ball, setting the tone for the forward players. Toby Alderweireld's brilliant zipped forward pass to Bale eventually led to Spurs second goal.
All of this is well and good but means nothing if the front three aren't firing. But Kane, Lucas, and Bale all looked really, really sharp.
It was Bale's best performance since his return as he looked really dangerous every time he got the ball.

Lucas was equally as sharp, but unlike Bale he got a goal and an assist to show for it.
Kane was just, well Kane. Although, he probably should have had a first-half hat-trick.
When they came on, Son and Steven Bergwijn were vibrant. Vinicius didn't have his best showing, he should've scored and his link-up was a bit sloppy at times.
Going back to the main point, Spurs were brilliant in build-up play today. They created countless chances, and the performance would've been better represented by a 5-0, rather than a 3-1.
Today's performance, especially how Spurs were on the ball, was refreshing to see after three average showings against Antwerp, Burnley, and Brighton.