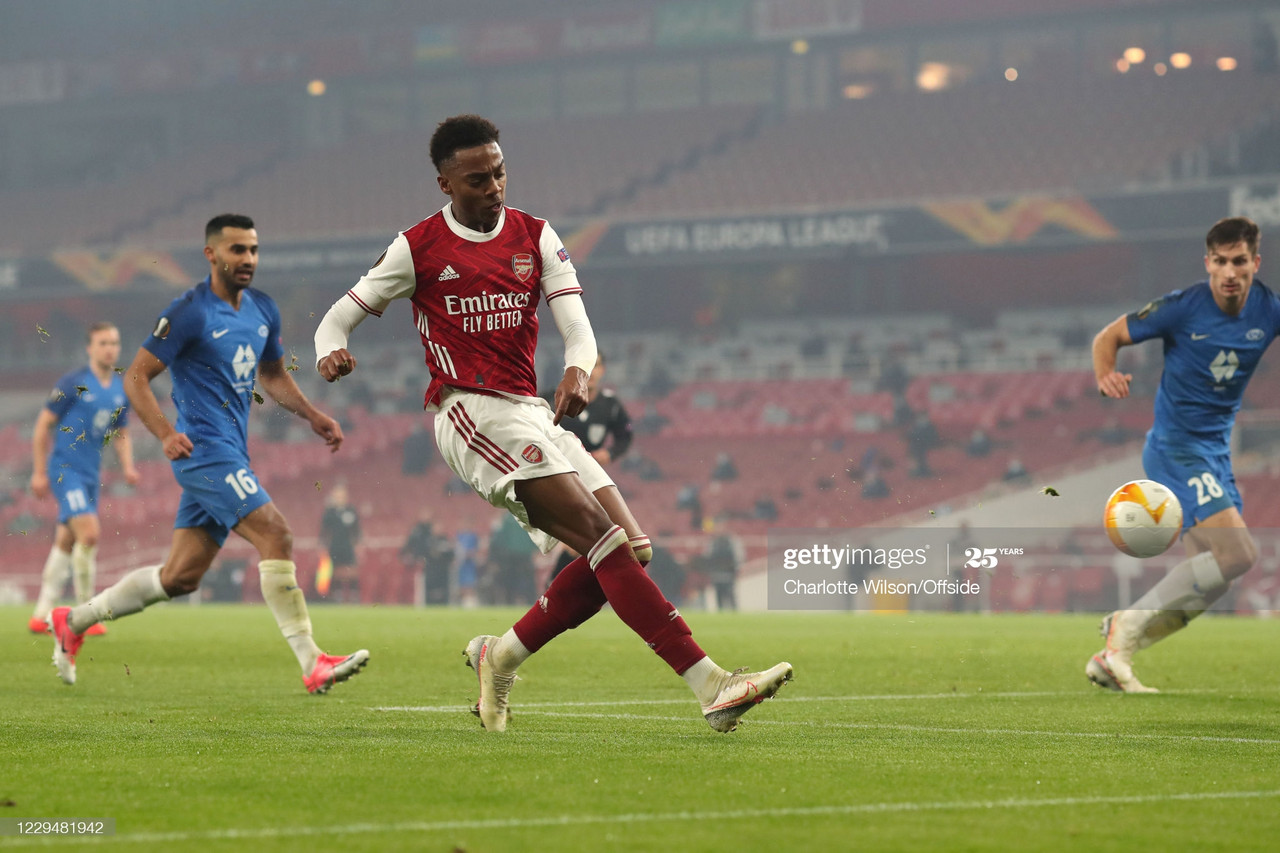 Arsenal defeated Molde FK in the Europa League fixture on Thursday, with Joe Willock putting in a strong performance.
The Hale End graduate has taken this season's European competition by storm after impressing last night and last week agaisnt Dundalk.
The 'number 10' position is free after Mesut Özil's axe from the squad. Can Willock take this chance with both hands and be the long-term replacement.
He was consistently driving into space and creating opportunities for himself and his teammates. This forces the question: does Willock warrant a Premier League start?
Creativity and forward runs
For the first time in what feels like forever, Arsenal's problem lies with creating chances.
Gone are the days of Özil, Santi Cazorla and Aaron Ramsey slicing balls through an opposition defence.
Most of Arsenal's displays have been dull and defensive this season, but none highlight a lack of creativity as much as the fixture against Leicester City.
After being on top for the majority of the game, The Gunners were unable to create any chances and seal off the win.
However, Willock may be the answer to Arsenal's problems. Against Molde, he was drifting into space between the defence and midfield lines and making driving runs behind the Norwegian side.
He was unlucky not to be able to claim the first goal, with Kristoffer Haugen turning the ball into his own net, however he added his name to the scoresheet in the final stages of the match.
This was a similar case as to the tie against Dundalk, where Willock was instrumental in the home side's win.
His persistent, forceful runs offer Arsenal a different style of midfielder, one that they have not had since Ramsey left.
For the majority of the season, Arsenal have been playing in a 3-4-3 formation, with Mohammed Elneny and Thomas Partey having their place set in stone within the centre of the midfield.
This leaves little space for Willock to come into. However, this has usually been seen against 'top' teams, most notably against Manchester United where Arsenal claimed their first win at Old Trafford since 2006.
If Arsenal were to change formation, it would most likely be to a 4-3-3. This could accommodate Partey, Elneny and Willock.
The Englishman would have to play in a more advanced role though, to combat the lack of forward movements from the African pairing.
It only seems a matter of time before Willock gets his first Premier League minutes for the season, especially if he continues his undeniably strong Europa League form.