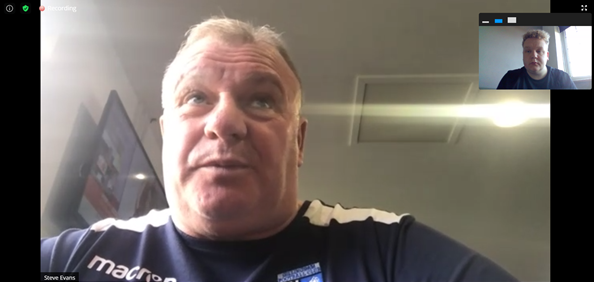 Gillingham will host non-league Woking at Priestfield Stadium on Saturday in the first round of the FA Cup.
The Gills go into the game off the back of a win on Tuesday night against Crewe Alexandra, and will be hoping to double up on that win and progress through to the second round of the cup on Saturday.
Ahead of the game, Gillingham manager Steve Evans spoke to the press. Here are five of his key quotes.
On his FA Cup memories
"The FA Cup has given me some of the best days of my life that I will remember forever. Who can forget the cup run that finished at Old Trafford? On that run we beat Championship Derby County, championship Bristol City, championship Hull City. I will never ever forget those days. It is massive for Woking. You only had to look at their celebrations when they got through the last round."
The FA Cup can be magical for lower league teams, and Evans knows it. When manager of non-league Crawley Town in 2011, he took his team all the way to the fifth round before they narrowly lost to Manchester United – 1-0 – at Old Trafford.
Lower league team dream of big ties. Gillingham isn't exactly massive for Woaking, but they will be more than up for it on the day.
On ex-Gill Matt Jarvis
"Matt Jarvis will cause us problems. We had Matt in for a few days last year, but we wanted some assurance and to see him for a bit longer because of his injury. He is a wonderful talent and a wonderful human being.
"It is a shame there are no fans because he would have got a wonderful reception from the Kent faithful – we hope he comes back and enjoys his day, but we hope he goes home out of the FA Cup."
Matt Jarvis made his way through Gillingham's academy before going on to make 122 appearances for their first team between 2003 and 2007.
When he moved on, he went onto play in the Premier League and even for England, doing the county of Kent proud.
He tore apart Gillingham's defence when returning to Priestfield with Walsall in 2019, and so nearly made a fairytale return to the club last year when he was training with the Gills with a view of signing for them again. Things didn't work out, but he will be hoping to cause plenty of problems for their defence once again on Saturday.
On Woking
"We have done our homework. They have some really good players. They are probably a little bit inconsistent in terms of performance and results, but it is a big day for them.
"We know the system they will play. We have a large degree of knowledge of what the personnel will be, but they have a preferred system and preferred way of playing and they are very good at it.
"They are a good club with good people, and we have to make sure we are professional and go about our business properly. If we do that, we should progress."
Woking sit 44 places below Gillingham in the football pyramid. The Gills should get the job done, but they still have to scout and analyse their opponents ahead of the game.
Evans won't underestimate them. Woking will be more than up for causing an upset, and Gillingham have to make sure that doesn't happen.
On Woking captain Josh Casey's comments
"No fans has been a levelled since lockdown. I do not know if they have been able to play in front of fans at times, but if I was the Woking manager I would want 1500 Woking fans behind me.
"I am not going to knock the kid because he probably wants to come and play at Priestfield in front of seven or eight thousand. We have accepted we will not see supporters for the whole season – it changes things, home form has not dictated things."
Woking captain Josh Casey told the press in the week that having no fans is a leveler. Evans didn't really say if he agrees or not, but suggested to Woking players would still rather play in front of a packed house with their fans behind them.
We will see if having no fans makes a different on Saturday.
On a potential FA Cup run
"I would love an FA Cup run. The group behind us need to handle it in terms of numbers and what we are about – we would love the opportunity to see.
"We had wonderful memories last year of West Ham coming to us in front of the TV cameras in a packed Priestfield and I would love the opportunity to take Moyesey [West Ham manager David Moyes] on again – he knows he got away with one! But you do not get those magical days unless you deal with the first and second rounds."
As aforementioned, Evans is no stranger to an FA Cup run.
Gillingham reached the third-round last year before losing 2-0 at home to Premier League West Ham on TV in a game that was closer than the score may suggest. The Scot sounds hungry for the big games, and wants another chance at one this season.